_
A SIX STAGE MANIFESTO ON ACTION - PART 2
A PERFORMANCE WRITTEN AND DIRECTED BY CALLY SPOONER
Devised with and performed by Dulcie Lewis. Musical Arrangement by Peter Joslyn
Accompagnied by Christophe Castan, Stéphane Zef Richard, Davis Timsit
October 3rd, 9:30pm, Montévidéo, impasse Montévidéo, 13006 Marseille
Coproduction: International Project Space, Birmingham / Triangle France / Actoral.12
For the fifth consecutive year Triangle France is renewing its partnership with Actoral.12. Within this context, we are very pleased to introduce British artist Cally Spooner with a performance adapted in French for the very first time. Untitled "A six stage manifesto on action - Part 2", this performance is part of a project produced this year by International Project Space in Birmingham (UK). After "Part 1" was shown at the ICA in London, "Part 2" was created exclusively for Triangle France in collaboration and co-production with the artist and IPS. A third occurrence of this project will travel to Les Ateliers de Rennes Contemporary Art Biennale this fall.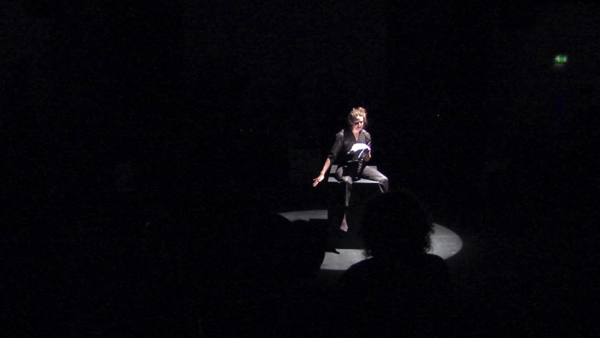 Cally Spooner, A Six Stage Manifesto On Action - Part 1, ICA, Londres, Devised with and performed by Dulcie Lewis, Musical Arrangement by Peter Joslyn. Photos courtesy of Kirsty Bard at Bard productions and the artist.
'A Six Stage Manifesto On Action - Part 2' is a 40' performance developed by Cally Spooner as part of 'Collapsing In Parts', a long term project commissioned by International Project Space in Birmingham (UK). Since June 2011, the project has been an investigation into progress, publicness, and the notion of performance as promise, wherein the challenge to produce and the constant revisions involved become part of the performance itself.
Part musical theatre production, part perpetual rehearsal, for a future production, 'A Six Stage Manifesto On Action - Part 2' is a structure for a solo performer and a changeable collective of musicians. The piece operates in versions, developing new works within a Six Stage sketch show system, using this model to explore the notion of innovation and improvement. Responding to different conditions, casts and musical genres, the piece produces a new performance that never finally arrives, as part of an evolving work that continues remaking itself from the same fixed structure and changing contributors.
For more information on 'Collapsing in Parts' final exhibition at IPS: http://internationalprojectspace.org/exhibitions/cally-spooner-exhibition/
Cally Spooner (b. 1983) is an artist based in London. Recent solo presentations include Seven Thirty Till Nine, Shanaynay, Paris (2012); At Five to Ten, Neue Alte Bruecke, Frankfurt (2010) and A Solo Event for Thinking, Basso, Berlin (2009). Recent and upcoming group shows include Memory Marathon, Serpentine Gallery, London; I Proclaim You Proclaim We Proclaim, Stroom, The Hague; Making Words Marking Words, Cooper Gallery, Dundee; An Exhibition to Hear Read, ICA Philadelphia (all 2012); Outrageous Fortune, Hayward Touring; Double Bill (with Tai Shani), LOOP Festival, Barcelona; The Department of Wrong Answers, Wysing Arts Centre (all 2011); Perform a Lecture!, The Office (curated by Ellen Blumenstein and Dieter Roelstraete), Arsenale, Berlin (2010).