_
ASCO and Friends: Exiled Portraits
Harry Gamboa Jr., Gronk,Willie F. Herron III, Patssi Valdez. With works by Oscar Castillo, Cyclona, Jerry Dreva, Humberto Sandoval, John Valadez, Ricardo Valverde, Agnès Varda.
March 8 2014
— July 13 2014
Opening: March 7 2014.
La Friche Belle de Mai, R+4, 41 rue Jobin 13003 Marseille
From Tuesday to Sunday 1pm to 7pm
Night on last friday of each month till 10 pm.
Download the press release here.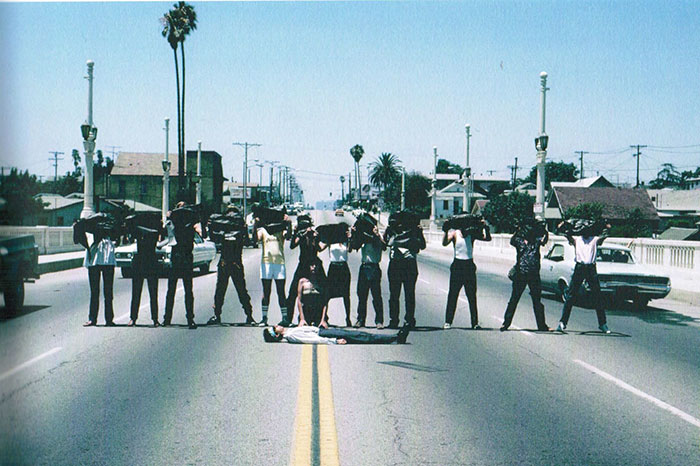 Asco, Pseudoturquoisers (fotonovela), 1975 Photographie couleur par Harry Gamboa, Jr.
Courtesy Harry Gamboa, Jr. et UCLA Chicano Studies Research Center
Triangle France, The UCLA Chicano Studies Research Center and Le Cartel are pleased to announce ASCO and Friends: Exiled Portraits, the first major exhibition in France of works by the artist group ASCO, active in Los Angeles from 1972 to 1987. As a multi-disciplinary group who came of age during the Chicano movement, ASCO employed performance, photography, film, urban intervention and public art to respond to the social and political inequities that surrounded them. Throughout ASCO's diverse practice, the concept of portraiture functioned in a counter-intuitive way, to simultaneously reject systems of erasure and to interject constructed images documenting an exiled, invisible group. Centering on works produced by the core founding members Harry Gamboa Jr, Gronk, Willie F. Herro?n III, and Patssi Valdez, this exhibition looks at Asco's conceptual and experimental works within the context of portraiture, community and social exile by exploring visual dialogues between the group and other artists of the same generation and locale, including Cyclona, Oscar Castillo, Jerry Dreva, John Valadez and Ricardo Valverde.
In reaction to the absence of imagery of Chicanos in the collective media, ASCO appropriated cinematic strategies and crafted alternate narratives through self- documentation. These staged and constructed images are ironic to the extent that they put something new into circulation and public discourse, but they do so from the margins of an increasingly global media culture. Their works do not claim a neutral space from which the artists can proclaim a greater authenticity, reclaim lost traditions or engage in heroic depictions of an oppressed yet defiant people. Instead their images index a mythology of self within an unequal set of power relations. While that irony expresses itself differently among the artists in the group and the friends they collaborated with, in all cases the artists understand that they are documenting something that cannot be documented: the politics and the poetics of erasure.
ASCO made use of both public and private portraits to build occluded narratives in their work. The artists imagined the city itself as a backdrop for documenting themselves and as terrain for street performances, often conflating these notions. In works such as Patssi Valdez with Self-Portrait (1972) by Harry Gamboa, Jr., Valdez is at once the sitter, performer, author and subject of the self-portrait painting next to her. Set on the street against a graffiti-covered wall, this photograph brings forward several levels of representation and complex interplay in one image. Similarly, interior portraits by ASCO and their friends depict "intimate" scenes in both authentic and inauthentic portrayals, thus signaling the private space as a location where certain kinds of social images are staged but at varying levels of disclosure. For example, NO MOVIE Six Chapters, (1978) by Gronk is suggestive of both a B-film narrative and early male "physique" photography, and touches on issues of gender and sexuality, while Ricardo Valverde's nudes question the orthodoxy of staged family portraiture.
In the realm of ASCO's performances, portraiture factored as a mechanism for constructing the self in fotonovelas, and in public events such as fashion shows and award ceremonies that referenced celebrity culture. With an emphasis on conceptual narratives, the group's charge derives from the affect associated with Hollywood film genres and how that industry blurs the distinction between production culture, publicity, and on-screen performance. Within these works, ASCO interposes an often absurdist self-portrait within the context of cinema and mass media, from which they felt excluded, while keeping the limits of these concepts flexible.
The works in ASCO and Friends: Exiled Portraits look at questions of presence and absence within the collective's production and associated artist friends. Notions of the ephemeral in ASCO's practice, including concepts such as rumor, innuendo, and gossip, often supplant factuality in the photo documentation of their work. In that sense, they provide visible evidence of events, but often function as more of a provocation than an absolute or empirical truth. Through the visual dialogs created between their works and that of their friends, a larger depiction of the erasure of image and displacement of portraiture emerges from the context of the moment in which the works were made.
Curators:
Céline Kopp, Chon Noriega and Pilar Tompkins Rivas.
Production: Triangle France.
Co-production :
Le Cartel, a federation of six visual art organizations :
Astérides, le Dernier Cri, Documents d'artistes, Group/ART-O-RAMA, Sextant et plus, and Triangle France, The UCLA Chicano Studies Research Center (CSRC).

Sponsors & Partners
Ministère de la Culture, Direction Régionale des Affaires Culturelles Provence-Alpes-Co?te d'Azur, Conseil Régional Provence-Alpes-Côte d'Azur,
Conseil Général des Bouches du Rhône,
Ville de Marseille,
Fondation d'entreprise Ricard
Chateau La Coste
Picto méditerranée.
Media partners :
COTE Magazine, Les Inrockuptibles, ParisArt, le Quotidien de l'Art.