_
BOUILLAQUE
Simon Asencio
Performance - conversation
Friday 6 December, 2019
7:00–9:00P.M.
Atelier-Assemblée
Red staircase - 2nd floor
Friche la Belle de Mai
41 rue Jobin
13003 Marseille
Capacity is limited. RSVP required: contact@trianglefrance.org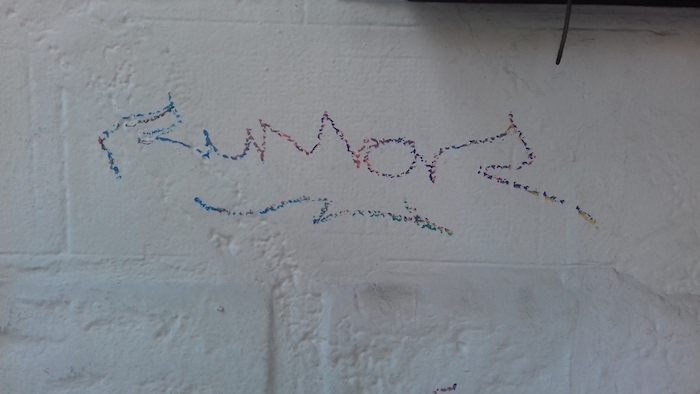 graffiti in the streets of la Roma Sur, Mexico city
Bouillaque* is an event dedicated to word of mouth exchanges, shared living stories, contagious information and things that are not what they seem.
Rumor has a bad reputation. The rumor-mill, which is made of collective speech acts apparently authorless and seemingly uncapturable, document the dissonances of a collective unconscious. Yet, the oldest media in the world (it is said so) is also a mode of communiction, that, aside with flyers, graffitis and subjective stories enable the sharing of unofficial information.
The audience is invited to a collective conversation around a dinner, accompanied by Stephen Wright, rumorologist and founder of Observatoire de la Rumeur in Marseille.
*In the tongue of Languedoc (South of France) a bouillaque means a rumormongers or a gossip.