_
MARGARET HONDA
SCULPTURES
Version Française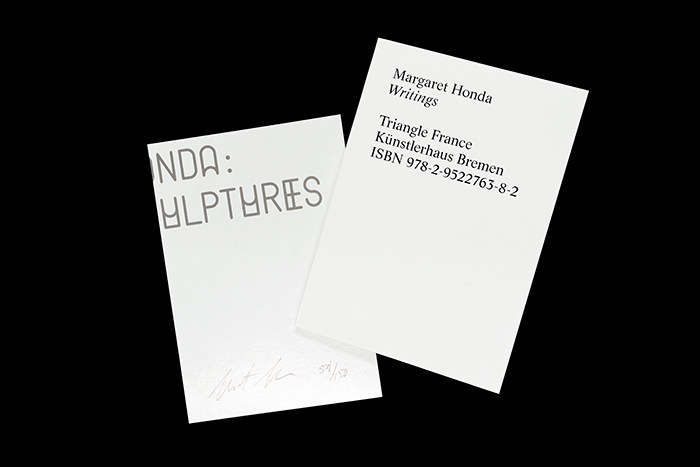 Solo exhibition
Curator : Tenzing Barshee.
Invited by Dorothée Dupuis, Céline Kopp and Sandra Patron.
As part of the program conceived in celebration of Triangle France's 20th anniversary, and for the 2015 season of Le Cartel.
February 14 - April 19 2015
Opening February 13 at 6 P.M.
4th floor Tour-Panorama
Friche La Belle de Mai
41 rue Jobin
13003 Marseille
Open from Tuesday to Sunday
1-7 P.M.
Late night opening every last Friday of each month until 10 P.M.
Rates / Schedule
On the occasion of the twentieth anniversary of Triangle France, Margaret Honda (b. 1961) presents a project that is both a site-specific work and a retrospective approach to her practice.
Since the 1980s, she has been making works that include sculptures, performances for both general and intimate audiences, photography, and, more recently, film. A common thread is the artist's investigation into the sculptural qualities and attributes of art, which she recognizes as an intrinsic element of all of her production. Invested in a nonlinear and atemporal approach to history, Margaret Honda has made use of biographical elements, reinterpreted previous works—by actually melting down existing sculptures—and highlighted specific modes of cultural production throughout history. In all cases, these initiatives do not stem from a project of nostalgia but rather from an active engagement with historicity, continuously interweaving different points in time to produce work infused with the present.
The room-sized, labyrinthine installation at Triangle France allows you to explore Margaret Honda's artistic production sites. Eponymously titled Sculpture, its constructed rooms represent all of her previously used studios to scale, arranged in a circular fashion. The collection of rooms creates a retrospective experience of the artist's practice without—except for the sculpture itself—exhibiting a single artwork. The negative space formed at the center of this circular arrangement acts as a non-representative room. Inside this collateral space premieres one of Margaret Honda's latest projects, a 16mm film titled Wildflowers. Challenging your imaginative abilities, Sculptures emancipates itself from the literality of representation, suggesting a void not as an empty place but rather a site of powerful production.  
From the outset of her artistic practice, Margaret Honda has been writing about her work. As the third work of Sculptures, Triangle France publishes Writings a comprehensive collection of texts by the artist. Edited by Matthew Evans and designed by Dan Solbach, this signed and numbered edition, co-published by Künstlerhaus Bremen, is a complete written record of the artist's work.
Tenzing Barshee
This exhibition is the first comprehensive presentation of the artist's work. She previously exhibited at Centro de Arte Dos de Mayo, Madrid; the Drawing Center, New York; Estacion Tijuana, Mexico; Kunsthalle Wien; the Los Angeles County Museum of Art; the Museum of Contemporary Art, Los Angeles. Her film Spectrum Reverse Spectrum, a 70mm short, premiered in the Forum Expanded section of the 64th Berlinale and was screened at the 39th Toronto International Film Festival and the 58th BFI London Film Festival. In 2016 Margaret Honda will respond to Sculptures with a project at Künstlerhaus Bremen. She lives in Los Angeles.
Tenzing Barshee is an independent curator and author. Until recently he worked as the associate curator of Kunsthalle Bern. In Basel he co-founded the exhibition and events venue Elaine as part of the Museum für Gegenwartskunst Basel. He's a publisher of Wandering magazine. Tenzing Barshee lives in Europe.
Production :
Triangle France.
Co-production :
Le Cartel, federation of Friche la Belle de Mai based arts-visuals associations (ART-O-RAMA, Astérides, Documents d'artistes, Le Dernier Cri and Sextant & Plus), La Friche La Belle de Mai.
Partners :
Ministère de la Culture, Direction Régionale des Affaires Culturelles Provence-Alpes-Côte d'Azur,
Conseil Régional Provence-Alpes-Côte d'Azur,
Conseil Général des Bouches du Rhône,
Ville de Marseille,
Mécènes du Sud,
Fondation d'entreprise Ricard,
Caparol,
Chateau La Coste,
Hôtel La Résidence,
LUX,
Picto méditerranée.
Media partners :
Les Inrockuptibles, ParisArt, le Quotidien de l'Art, Zibeline.
/
EVENTS,
PERFORMANCE.
February 2015:
13 February, 2015:
06:30 P.M.:
Walk through of the exhibition Margaret Honda: Sculptures
with the artist and the curator Tenzing Barshee.
07:30 P.M. – 08:30 P.M.:
Performance by Rémi Illig
Je suis une bille (3e contact)
within Moucharabieh.
14 February, 2015:
02:00 P.M.– 06:30 P.M.:
Conference by Lili Reynaud-Dewar
Mon Épidémie
Géométrie de mes rêves
Panel discussion with Alessio Antoniolli (Director, Gasworks, London), Céline Kopp (Director, Triangle France), Sandra Patron (Director, Musée Régional d'Art Contemporain Languedoc-Roussillon and Vice President of Triangle France's board), Bruno Peinado (Artist, President of Triangle France's board), Clémence Seilles (Artist), Alun Williams (Artiste, Founder of Triangle France). Moderated by : Étienne Bernard (Director, Passerelle Centre d'Art Contemporain, Brest, and Vice President of DCA)
Performance by Sabrina Soyer
People . Are . Not . Strange . Coats
Moment by Laure Jaffuel and Deborah Bowmann
T.A.Z
27 February, 2015:
07:00 P.M.:
Four years later, critical review of Kathy Acker: The Office. Ruling 'n' Freaking.
With Dorothée Dupuis and Géraldine Gourbe.
(Details, schedule, and full program coming soon)