_
SUR PIERRES BRÛLANTES
Collective exhibition
With Victoire Barbot / Sophie Bueno-Boutellier / Madison Bycroft with Jeanne Rocher, Claude Cherel, Marie Perraud and Samir Laghouati-Rashwan / Timothée Calame / Nicolas Daubanes / Arthur Eskenazi with Belle de Mai à l'assaut du ciel - Organon Art Cie / Maïa Izzo-Foulquier / Fiona Mackay / Caroline Mesquita / Antoine Nessi / Sara Sadik / Alan Schmalz / Adrien Vescovi / Victor Yudaev...
Curated by Céline Kopp and Marie de Gaulejac
August 28 – October 25, 2020
Opening: Friday 28 August, 3:00–10:00 P.M.
Floors 3 & 5 - Tour Panorama
Friche la Belle de Mai
41 rue Jobin
13003 Marseille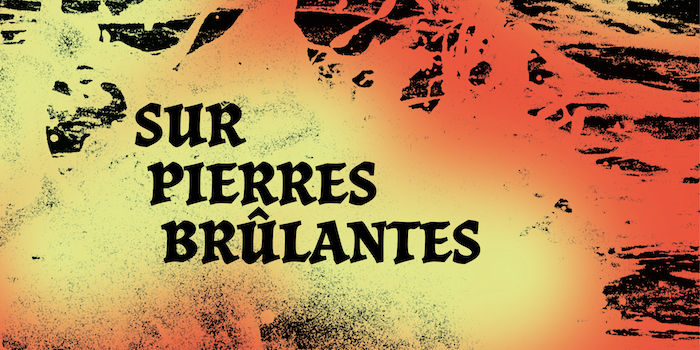 Design: Floriane Ollier, 2020
"There are cities in which we feel small… and others where we shine like a torch against the night. Where we are ceaselessly tossed between opposites and their metamorphoses" writes Haitian author Makenzy Orcel*. Some cities reach out and look you in the eye before swallowing you into the moving crowd of their collective body, touching you with their sounds, their empty spaces and street corners from another time, from where many stories have sprung. Sur pierres brûlantes is an exhibition taking as a point of departure the works of fourteen artists (with guests) working in the municipal studios of the City of Marseille. One of those "inferno [cities] whose heart grows as one enters into it", where each step, each stone, and each face seems to be able to bring continents closer to each other. What these artists have in common is that they all breathe in the same movement of the city, where they have decided to be, create, and live. They partake in its rhythm and feel its desires and its resistance.
This exhibition is conceived as a reflection of the rich and diverse local art scene that unfolds beyond the gallery walls. It is filled with voices from the neighbourhood and is bathed in the vivid light from the outside that thickens the shadows. This exhibition contains many encounters and invitations. It channels the outside filled with real life and experiences, a common backdrop of sorts that sometimes appears in the works through tone, materials and affects.
Since 1986, the City of Marseille has developed a program supporting local emerging artists. The City of Marseille provides 13 studios (11 of which dedicated to artists under 35 years old) at moderate rent for a duration of 23 months. Artists are selected by a jury of professionals. Since 2015 the City of Marseille also awards le Prix des Ateliers de la Ville de Marseille to one of the artists who will then exhibit their work in the City Museums. The laureate of the 3rd edition of the Prize will be announced in October 2020 as part of the exhibition's program of events.
*All quotes: Une boite de nuit à Calcutta, Nicolas Idier and Makenzy Orcel, Robert Laffont, 2019. (translation: Céline Kopp)
Exhibition guide
Press kit - Fall 2020
OPENING HOURS
From Wednesday to Friday, 2:00–7:00 P.M.
Saturday and Sunday, 1:00–7:00 P.M.
ADDRESS
Floors 3 & 5 - Tour Panorama
Friche la Belle de Mai
41 rue Jobin
13003 Marseille
The exhibition front desk is located on the ground floor of the Tour Panorama.
Production: Triangle – Astérides, Centre d'art contemporain.
Co-production: City of Marseille and Friche la Belle de Mai.
Partnerhsips: Documents d'Artistes PACA, MPT / Centre Social Belle de Mai.
Sponsors: PICTO Méditerranée, Hôtel La Résidence du Vieux-Port.


This exhibition is presented as part of Manifesta 13 - Les Parallèles du Sud.


This exhibition is part of Plein Soleil, the Summer of contemporary art centers, a project by d.c.a., the French network of contemporary art centers.