SOON
_
SUR PIERRES BRÛLANTES
Collective exhibition
With Victoire Barbot, Sophie Bueno-Boutellier, Madison Bycroft, Timothée Calame, Nicolas Daubanes, Arthur Eskenazi, Maïa Izzo-Foulquier (1991-2019), Fiona Mackay, Caroline Mesquita, Antoine Nessi, Sara Sadik, Alan Schmalz, Adrien Vescovi, Victor Yudaev
28 August - 25 October, 2020
3rd and 5th floor - Tour Panorama
Friche la Belle de Mai
41 rue Jobin
13003 Marseille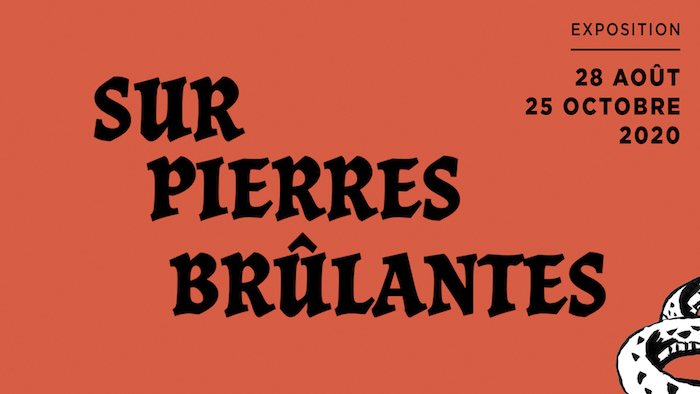 Design: Floriane Ollier, 2020
Sur pierres brûlantes ('On Hot Stones') is a group exhibition with works from artists working in studios attributed by the city of Marseille. Spread out over 1,400 m2 at the Friche la Belle de Mai, the exhibition is accompanied by a program of public events, invitations and performances. The program offers a glimpse into the richness and diversity of an artistic scene whose main through-line is living in this singular territory with its rhythms, desires and frictions - a common backdrop of sorts that sometimes appears in the works through colors, materials and affects.
The winning artist for the 3rd edition of the Prix des Ateliers de la Ville de Marseille ('The City of Marseille Studio Prize') will be announced in October 2020 as part of the exhibition's program of events.
OPENING HOURS
From Wednesday to Sunday, 2:00-7:00 P.M.
ADDRESS
3rd & 5th floor - Tour panorama
Friche la Belle de Mai
41 rue Jobin
13003 Marseille
The exhibition front desk is located on the ground floor of the Tour Panorama.
Production: Triangle France - Astérides
Co-production: City of Marseille and Friche la Belle de Mai
In partnership with Documents d'Artistes PACA


This exhibition is presented as part of Manifesta 13 - Les Parallèles du Sud.


This exhibition is part of Plein Soleil, the Summer of contemporary art centers, a project by d.c.a., the French network of contemporary art centers.