_
TRANSMISSION(S) / Nicolas Momein
As part of Triangle off-site series of projects
MAY 19 – JUNE 20, 2014
Opening: Friday 16 May, from 6:30 P.M.
Cour de la Mairie du 11ème
12 Place Léon Blum
75011 Paris
Open daily: 8:30 A.M. – 5:00 P.M.; 7:30 P.M. on Thursdays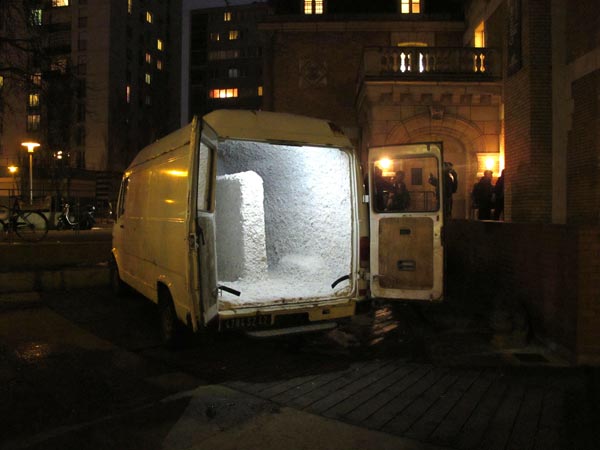 Nicolas Momein, Cul-de-sac, 2012, van, rock wool, 5,2 x 1,9 x 2,2 m, courtesy of the artist and galerie White Project
For the third and last project of Transmission(s), Triangle France's off-site series of projects with the City Hall of the 11th district of Paris, we are delighted to present the work of French artist Nicolas Momein. The artist, who was given a carte blanche, chose to install a work entitled Cul-de-sac (2012) in the courtyard of the City Hall. It consists in an 8 cubic meter van whose interior has been filled as much as possible with sprayed rock-wool, leaving only enough room for the passage of the person who did the spraying. Nicolas Momein's work evokes labour, traditional techniques and gestures, and proposes an ambiguous experience for the viewer where total silence and shelter leaves them with a single possibility: being stuck inside and stepping away.
Nicolas Momein will speak about his work during an art history class on Thursday 15 May, 7 P.M. He will also be present on site to speak about his project on Friday 16 May.
Latest exhibitions: Pop - Up, Astérides, Marseille (FR); Débords, Zoo galerie, Nantes (FR); Sacré Géranium, Galerie White Project, Paris (FR); Rendez-vous 13, Institut d'Art Contemporain, Villeurbanne (FR); L'atelier des testeurs, Chalet Society, Paris (FR); Quelques objets secs, Espace Kugler, Genève (CH); Exposition Hors-les-murs, La Galerie, Centre National d'Art Contemporain, Noisy-Le-Sec (FR); Speculoos Nebuloos, Académie Royale des Beaux-Arts, Bruxelles (BE).
www.nicolasmomein.com
Transmission(s) is a program initiated by the City of Paris (11th). Each year, it includes a series of three exhibitions, as well as free art history classes and writing workshops.
More information: www.mairie11.paris.fr