_
TUG OF WAR
Rafael RG and Perlla Rannielly
Performance
Tuesday 31 March, 2020
7:00 P.M.
Canceled event
Free admission (within the limits of available space).
Atelier-Assemblée
Red staircase - 2nd floor
Friche la Belle de Mai
41 rue Jobin
13003 Marseille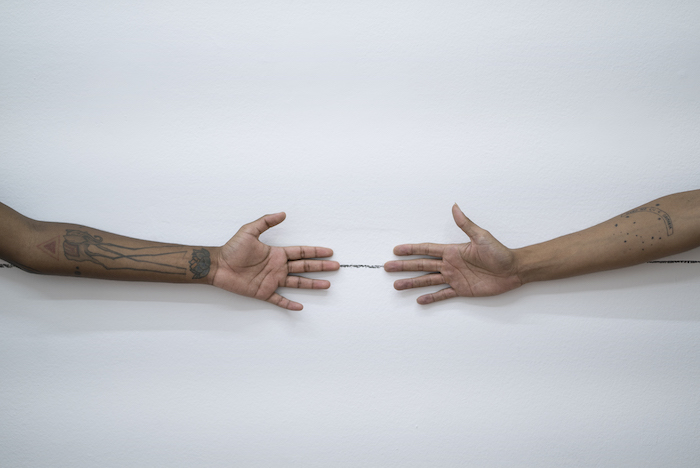 Rafael RG (collaboration Gabriel Francisco Lemos), Postludio (Belo Horizonte/Marco Túlio), musical composition, performance, publication (music sheet) and cassette tape, 2018.
Carte blanche to Rafael RG, artist in residence, for a performance evening featuring Perlla Rannielly.
Engaging their bodies, Rafael RG and Perlla Rannielly will question power relationships and current forms of domination.
Perlla Rannielly is a Brazilian trans woman performer, refugee, and activist. Her work is based on the themes of transidentity and black trans women bodies. Her aim is to swallow oppression, to redistribute violence, to empower and to "reaffirm negritude" to fight against control over women's bodies.
Rafael RG is a visual artist and writer. His practice focuses on sexual and affective relationships and their political implications as well as issues of racial identity. Working with institutional and personal archives, he presents his research through workshops, installations, performative texts, publications and objects. The materials he works with are often closely associated with narratives that involve himself or an alter ego in some way and the resulting projects that are close to or resemble fiction.