_
WICKED PROBLEM
Virgile Fraisse, Lauren Hall, Dan walwin
Group exhibition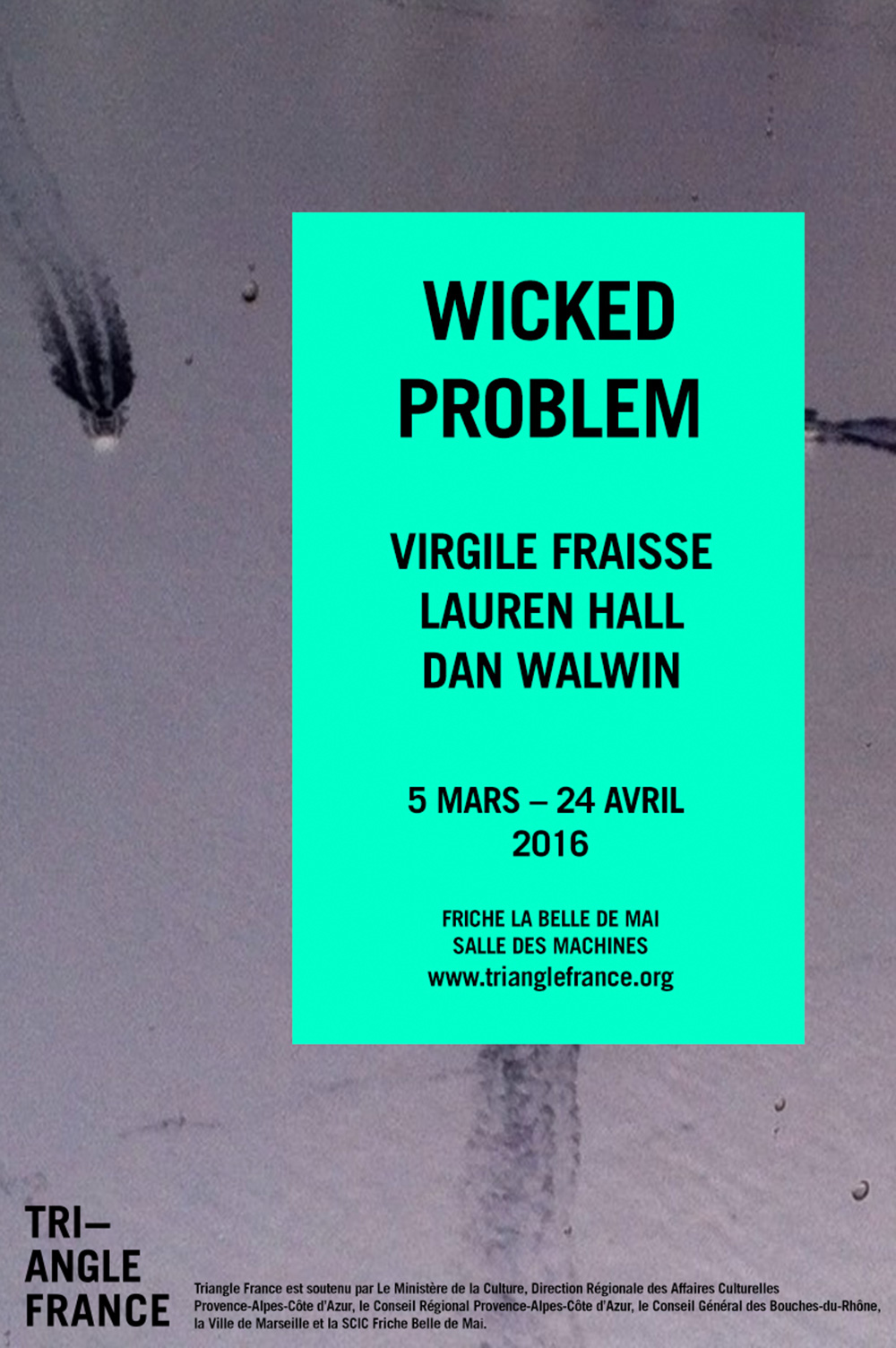 From 5 March - 24 April, 2016
Opening on Friday 4 March 2016 from 6:00 P.M
Salle des Machines - Friche la Belle de Mai
41, rue Jobin – 13003 Marseille
Free and open from Tuesday to Sunday, 01:00 P.M. - 09:00 P.M.
The expression "Wicked problem" designates a social or cultural situation resisting all type of resolution. Each attempt sees the context and frame of the problem shifting, making it impossible to be fully grasped. Without any definitive formulation, incomplete, always unique, and interconnected, wicked problems are also always the symptoms of something else. Climate change, political crisis, inequities, transition from the carbon economy, consumption, and heavy marketing of objects surrounding us…so many subjects infused with anxiety. This feeling, so current to our momentum, lies in the backdrop of many of the protocols used by the artists of this exhibition to create their works. Contemporary perspectives, analysis, visions…the gathered works question our common space and its apprehension, our troubled relationship to nature, and the entanglement of things surrounding us.
In Dan Walwin's work, spatial experiences end up being baroque or hyperrealistic and seem to take place before the mediation of language and definition. When language is actually present and creates a narration, such as in the work of Virgile Fraisse, it is to question the latest evolution of our modes of communication and the geopolitics of their materiality. Sometimes, it even allows for the subject to slip into burlesque. We might be situating ourselves into what psychoanalysis calls resistance, or at the very least witnessing the power of contradictory feelings. As suggested by Lauren Hall, our bodies, behaviours, individual responses, need for escape, comfort, and leisure seem profoundly embedded in social practices and in the construction of our identities.
Virgile Fraisse (b. 1990, France) lives and works in Paris.
In response to an anthropologist method, the work of Virgile Fraisse invests communication's protocols by film and installation. Through an image of a submarine fibre optic cable's deployment his film SEA-ME-WE, presented in this exhibition, investigate cultural influences of transcontinental relationships. He presents by its sides new pieces from his research on USA's diplomatic strategies : 21st Century Statecraft.
Virgile Fraisse graduated from l'École des Beaux-Arts de Paris with honours in (2014). His work was recently included in several group exhibitions such as the "Discovery Award" at LOOP Festival (Barcelona, Madrid, Johannesburg, Istanbul, Majorca, 2015), "Les Voyageurs au Palais des Beaux-Arts" (Paris, 2015) – for which he was awarded the Video Prize, and "Snake Road", Bolsky Gallery (Los Angeles, 2013). His next project will be exhibited at the next Salon de Montrouge in the Spring of 2016.
Lauren Hall (b. 1983, Canada) lives and works in Glasgow.
Lauren Hall relies on self-manufactured coincidence and anomaly in researching the objects she presents. The new works in this exhibition incorporate modified objects and text, considering, for example; devices of psychological measurement, relaxation rituals, and the ambulatory gaze. In her work, the subject and object are often the same thing. She holds an MFA from Glasgow School of Art (2014). Recent exhibitions include "That's Genetic", 16 Nicholson St., (Glasgow, 2015); "Life Like", Transmission, (Glasgow, 2015); "Comfortably Warm," Friends, part of Glasgow International (2014); "Archive Fever!", Canadian Clay & Glass Gallery, (Waterloo, 2014); "superpositions; New Wight Biennial", UCLA, (Los Angeles, 2012). Upcoming exhibition projects include Voidoid Archive in Glasgow, and ESP in Toronto.
Dan Walwin (b. 1986, UK) lives and works in Amsterdam.
Dan Walwin's work has previously made alternating shifts between video and objects, and the many variants in between, working with the differing ways these can create sensations for a viewer. The works here elaborate upon his attraction to the close observation of details and signs in forms both found and made, and of the interpolation of moving images and sound.
Dan Walwin studied at Goldsmiths College in Londres (2004 à 2007), and was resident at the Rijksakademie van beeldende kunsten in Amsterdam (2012 - 2013). In 2016 his work will be included in the exhibition "Inflected Objects #2: Circulation - mise en séance, De Hallen, Haarlem and Dorothea van Stetten Art Award", Kunstmuseum Bonn. He exhibited his work in the context of solo exhibition at Cell Project Space in London, and at P/////AKT in Amsterdam (all 2015). Recent group exhibitions include "VISIO Next Generation Moving Images" at CCC Strozzina, (Florence, 2015) ; "Marl Media Art Awards" at Skulpturenmuseum Glaskasten (Marl, 2014); "Out There - Video Art, New media & Photography on Landscapes in Public Space", (Maastricht, 2014); "Interzones", Wexner Center for the Arts, (Columbus, Ohio, 2013); "UTOPIA" at the Stedelijk at Trouw: Contemporary Art Club (Amsterdam, 2013); and "End Times" at the South London Gallery (London, 2012.)
Virgile Fraisse, Lauren Hall and Dan Walwin are currently in residence at Triangle France.