_
BULLROARER
Thomas Teurlai
2015 Laureate of the Marseille Municipal Art Studios Award
Exhibition from 5th May to 5th June 2016
Opening the Thursday 5th May 2016 at 01:30 P.M during the Printemps de l'art contemporain 2016
Night-time until 22:00 P.M.
Musée Cantini
19 Rue Grignan
13006 Marseille
From Thuesday to Sunday, 10:00 A.M. – 06:00 P.M
Free entrance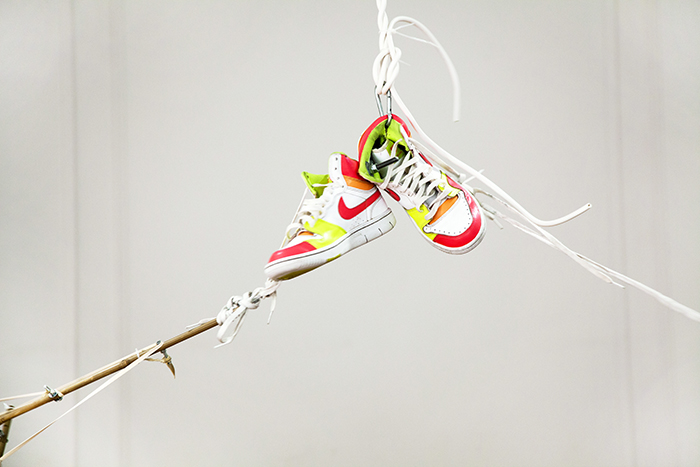 Thomas Teurlai, Bullroarer, 2016. Vue d'exposition, Musée Cantini, 5 mai - 5 juin 2016 © Printemps de l'Art Contemporain 2016, Philippe Munda
The Marseille Municipal Art Studios Award is presented every two years with every new session of residencies. The laureate artist is given the opportunity to show his work in one of Marseille's public museums. 2015 laureate Thomas Teurlai will present his piece Bullroarer at the Musée Cantini.
"When you walk around one of his pieces – and sometimes even earlier, when you haven't yet entered the exhibition space but your senses are already grasped by an unusual smell or by the depth of a sound – this is a sensation you experience in a very physical and immediate way", wrote Patrice Blouin about Teurlai's work. In this piece, the artist once again explores the connection between sound and machines.
A bullroarer or rhombus, one of the most instruments known to man, sometimes sounds like a choir of whispers sung to a proto-hardcore tune. The balance weight that keeps the instrument's string from being tangled is reminiscent of how some urban tribes mark their territory by hanging down their shoes from electric cables.
For more information, click here : www.ateliersvilledemarseille.fr
www.thomasteurlai.tumblr.com