SESSIONS 2008 BACK
_
Cigdem Mentesoglu (TR)
Lives and works in Ankara.
In residencie from april to july 2008
Today, time getting ephemeral. Related to this fact, the value of the life, reality and the meaning of love getting lost. Imaginat?on is lacking and gett?ng temporarily as well.
My painthings, I am catching image that connotating individual memories. In daily life's I feel getting lost in diversity of memories, objects, sense, ideas, news, experiments. For this, my paintings are like taking a breathe. Mostly, I chose metaforic way to express the value of personal history. Duality of meaning and the paradox of view surroundings us. My surroundings impulse me to ask quest?on that about that. Imag?nation improving itself trying to f?nd value of life. Bes?de these dual?ty of the mena?ng.
More or less these images come to my mind from relationships of things and people which touched me in a way. Somehow, these images also related with human life. In other words, the meaning of the images belongs to our collective conscious, value.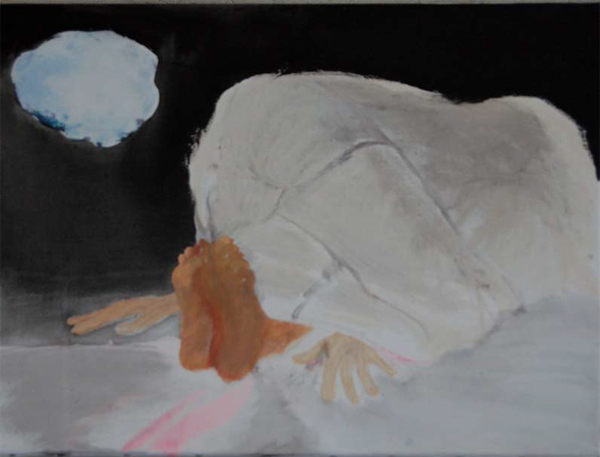 Cigdem Mentesoglu, Untitled / the cycle of Monologue, 2008, ink, collage and oil on canvas, 40 x50 cm
_
Colombe Marcasiano (FR)
en résidence d'avril à juillet 2008
Modelling, installation or photgraphies, works by Colombe Marcasiano aredrawn from our everydaylife objects things - pieces of nature, furnitures, design objects, street wandering assemblage. These things are produced by an intern process, more than they are founded or imitated. The fragile being of his works comes sometimes to a relation with painting, such as the wall that most of the time becomes an evidence.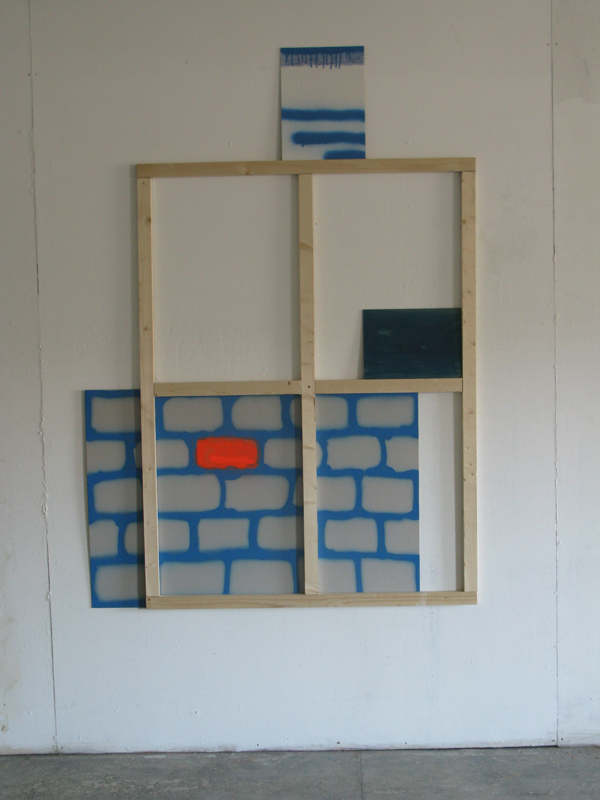 View of it's studio in Triangle France
_
Halida Boughriet (FR)
en résidence d'avril à juillet 2008
Lives and works in Paris, France.
Halida Boughriet is a contemporary artist of Algerian descent currently living and working in Paris. A graduate of the Ecole Nationale des Beaux Arts, she took part in an exchange program with the New York SVA cinema department until 2005. That same year she exhibited her work Attente du verdict for which she was awarded the LVMH Photography Prize. Her diverse body of work includes performance art, sculpture, photography and video installations that involve political, social and aesthetic issues.
Thanks to both her Arabic background and western culture, Halida is able to examine the power and violence of human relationships and portray humanity within its social and political context while engaging in poetic encounters with the individuals involved. Within each of her "Pièces" series, she brings to the spotlight those left behind.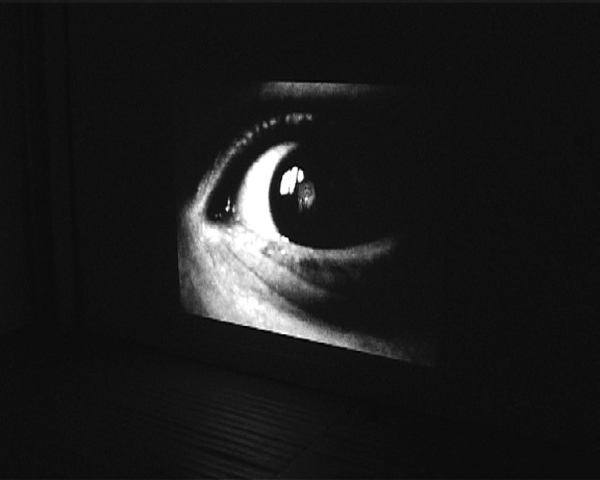 Halida Boughriet, Selfportrait, 2005 video projection, 3', Couleur, Son
_
Matthew Atkinson (UK)
"As a subject for my paintings I choose particular places that throughout time gradually lose their purpose and identity, becoming strange uninhabitable lands. They are abandoned remnants that can be better described as hinterlands that slip from our daily conscious and conclude in (in-) visible blemished absences in our surroundings. Expendable and worthless, they are at once everywhere and nowhere, subsisting in existence.
I perceive such places to possess otherworldly beauty rather than perceiving them to be classically beautiful. This then presents the opportunity to question ideas about beauty utilising traditional philosophical idioms in a bid to challenge perception and understanding. While the notion that such places suggest 'otherworldly' qualities, imparts liberty to create a language insinuating fantasy, and therefore simultaneously purporting them into a realm of ethereal autonomous existence; transcending the point where the 'nowhere' becomes 'now-here'.
My aim is to capture the intimate appreciation of their transience, rescuing them for eternity, while challenging assumptions and providing an alternative experience to people's norm." M.A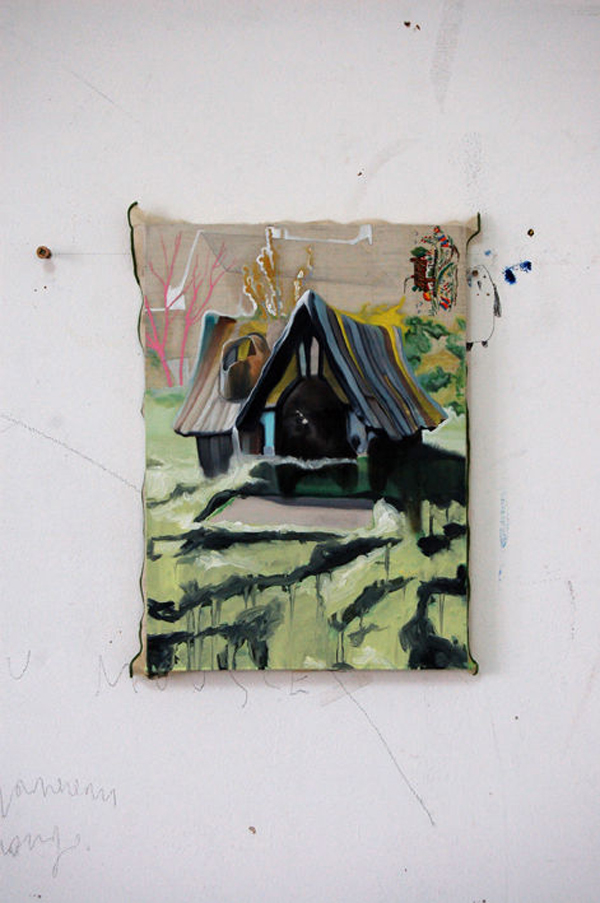 Matthew Atkinson, Kent & Essex: Esoteric Alchemy and Atonement, 2006-07
_
Yann Geraud (FR)

" What do you see from where you stand ? "
This sentence, extracted from a song of Tony Touch (Spoken Word, The Peacemaker 2, 2004), lays by my side at each moment. It helps me, backs me, strengthens me and questions me always and again. First, because it's a matter of vision, and also a matter of position and, finally, of point of view. I neither can nor want to give a definition of the world in which I live, for to define involves the end, the stop and the non-movement. However I want to try to circumscribe it, to surround it and to get close to it sideways through the shapes I create. This is a position and these shapes I make are the affirmation of these positions. These shapes are markers set on a trajectory, a movement of excitement and precipitation.
I work in this idea of art that consists in binding and unbinding, weaving, interweaving or undoing cleverly, crumbling, shredding, pulverizing the surface or space in an infinity of fragments that finishes to mass.
I gather those fragments in a kind of obstinacy, a headless obstinacy coming from entrails. I invent communities of shapes and I want that they be communities of equals and join together in one point, which is the sculpture. They must let appear nor a reductionist thought, but a thought bare in its abundance, embracing a unattainable totality.
How to give shape to this swarm of the thought, this effect of anthill, of crawling and of multitude, this hecticness ? The thought would be that which comes to disrupt the shape and jostles an overperfect order. Not that this one could be consider as a pure disorder, but rather as an overcomplex order, a muddle and a superposition of different readable orders if taken separately, but which reading becomes nearly impossible when all the elements are united in a single shape.
What is in play, it's finally the complexity of the thought taking shape. And at that very moment, I invoke the radicalness of acting out to exhort this meeting of art and life, of Ares and Aphrodite; the violent assertion of gesture that precipitates and crystallizes the thought and decision into the shape.
My work is the battleground of this war between the imperialism of the shape, the all-power of the thought inescapably structuring and structured, and the temptation of the unreadable, of the unspeakable and of the unnamable. Y.G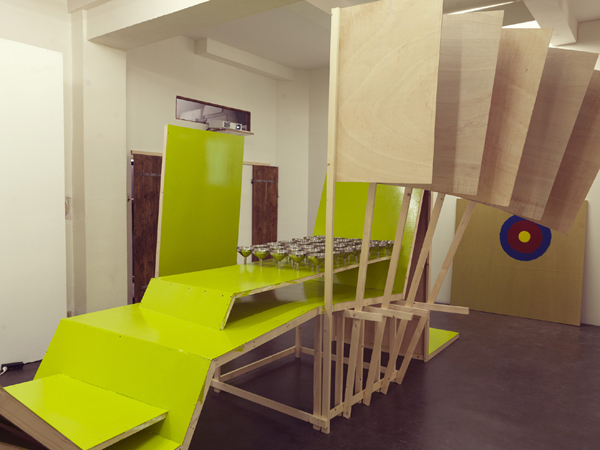 Panic Raide, with Georges Tony Stoll, 2008, wood, glycérophtalique painting, acrylic painting, wax, animation movie, inox 10/18, print, cardboard, 980 x 400 x 240 cm
_
Anna Fasshauer (All)
Born in 1975 in Cologne. Lives and works in Berlin. Awarded a degree in 2001 of MA fine art. Chelsea School of Art and Design, Londres, UK.
Anna Fasshauer works on sculpting from collage technic, setting her inspiration from groups of architecture images d'architecture cutted out in the press and found on the net, juggle with figure and abstraction. She enjoys making models of different scales, unexpected not to say obsolete. No more evidence, these utopic structures can be monumental or really small, their balance is determined by the force of gravity.
The rough and simple forms of her collage-sculptures makes possible a dimension and some relief to an unrealspace in principle define by two-dimension.
We could say that Anna Fasshauer gives birth to accretions : Anna captures and makes real materiels under the effect of gravitation. Like in astronomy, this materialization is possible when a compact object is located in an environnement of diffuse material...like stars in construction.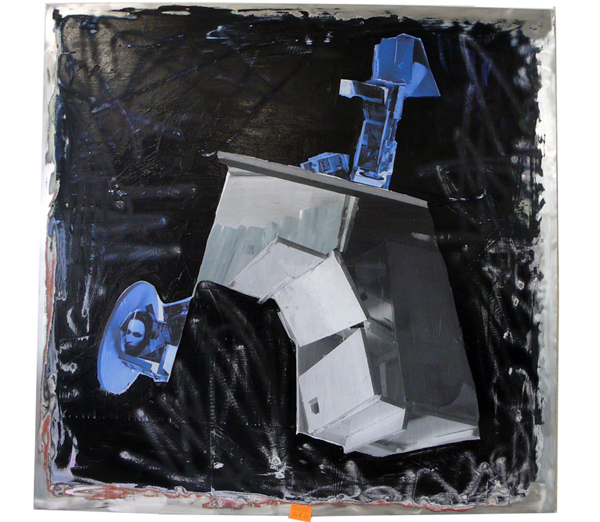 Anna Fasshauer, Sozial Satelit, 2008
_
Clark Walter (USA)
Born in 1983 in Lawrence, Kansas. Lives and works in Lawrence.
Licenced in 2006 at Kansas University, Visual Arts Departement.
First of all, some words by Clark:
«I am a white American male from Kansas, FUCK Y'ALL. This expression is what I represent in my painting, intaglio prints, and animation. I know I suck, because I know that I am an American, and I know that I am supposed to be ashamed of who I am and what my fore-fathers have done. It's from this pressure that I feel compelled to make work that experiments with America's absurd pride and stupidity. No imagery is off limits, nothing is too immature. You know why? Because I'm ignorant and dumb as most Americans are, the difference here is that I'm embracing it. I am the United States of America, balls-to-the-wall, bright colors, intense imagery, crude, and with a young sense of blind pride. It's not fancy, but it is in your face. These colors don't run. Everything is a stereotype and art is a faux-reality.»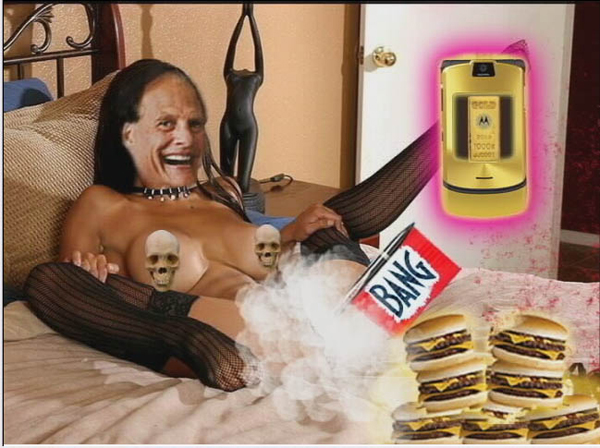 Clark Walter, Get It Out Of Me, Animation Still
_
Moussa Sarr (FR)
Born in 1984 in Ajaccio. Lives and works in Toulon, Licenced in The fine art school of Toulon.
Moussa Sarr creates contemporary tales using videos and performances, static shot without any montage. It uses «the political thing» that it raises, with an irony that crashes the surface, that sand the cliché. this ois more about giving space to his poetry and settled in devices that makes useless the words to talk about it. Humor, violence and ridicule are teh master words of his visual approach whereas dealing with the question of the alter ego is the foundation of his wonderings.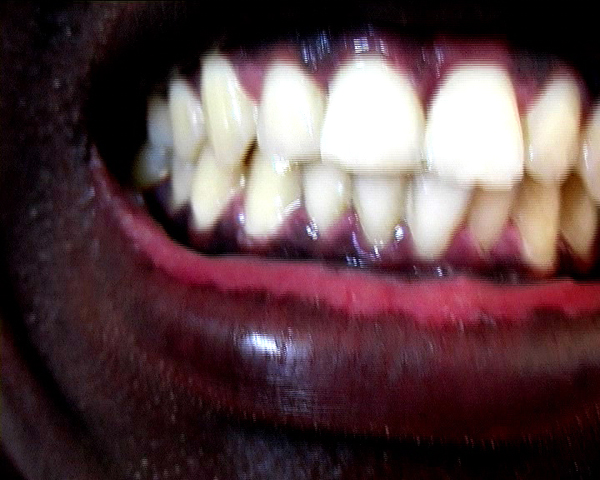 Moussa Saar, the wolf and the lamb, Video projection, 1'31 in loop, 2008