SESSIONS 2009
BACK
_
Emmanuelle Lainé (FR)
Lives and works in Paris, France.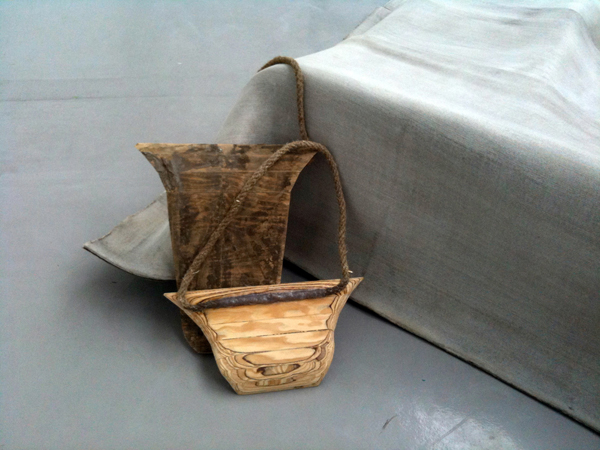 Emmanuelle Lainé, Doline, 2010, detail, production 40m3
"Emmanuelle Lainé produces an art of fiction, as well as we talk about « science-fiction ». It's then not really surprising, que cet art se donne moins « là » que comme l'indice d'un ailleurs : the pictures she shows at the galerie are views of her studio and short lived sculptures that she created there recently.
Science-fiction is a literary genre linked to the XXth century, but in a certain way, did cary this literary invention since it's beginings : the avant garde contemporary art of this new genre projected itself into the futur, pretending to be the foreshadowing of this upcoming world, or a visual extrapolation of mathematics speculations the most audacious of it's times (« n » dimensions, for exemple). As the futur became an obsolete phantasmagoria, art turned to other elsewhere – uchronies, hétérotopies, …"
Vincent Pécoil
_
Charlotte Cochelin (FR)
Lives and works in Paris, France.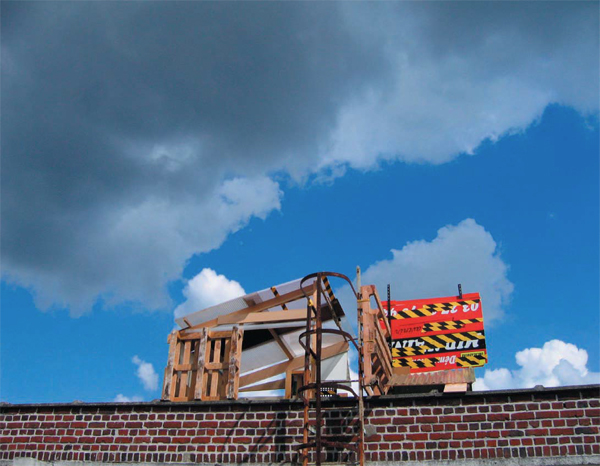 Charlotte Cochelin, Home sweet home #13, Construction project in public space, salvaged materials/ 15m2, Tourcoing, 2008
"My projects are strongly influenced by the history of the guyanese territory, it's identities and it's several communities : the cultural, tradition, technical know-how cross fertilization, but also conditionning, submission, perfusion and finally alternativ, resisting, la revolt. from travellings to meetings, I got interested to original ways of living, pop cultures and rebellious identities. there was born an interest for a minimalist political practice fitting to the social and economical context with a world wide visibility.
My practice is at the border of drawing, sculpting and architecture it takes form with plastics interventions in the urban space but also in the country side. Between performance and street art, my actions are a form of activismand tend to question several notions : public and private space conditionning, territory as a place for creation, exhibition and art emerging, the link between the work and it's audience in it's biggest meaning." CC
_
Kara Uzelman (CA)
Lives and works in Canada.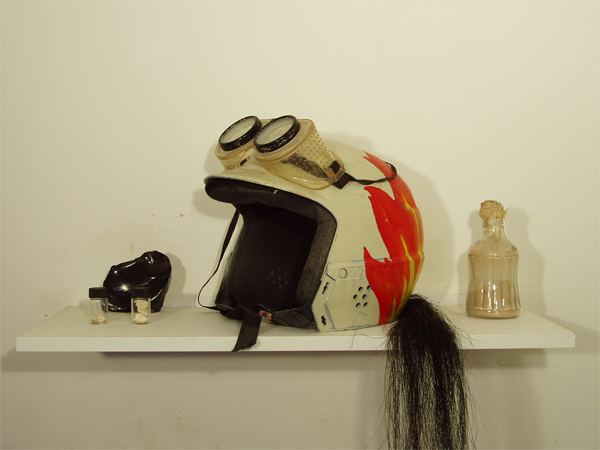 Kara Uzelman, Fire Watcher, 2007-09, Installation
"Kara Uzelman assemblage could seem weired if you didn't get the chance one of it's primary component : invisible phenomenon. From secret codes from the Chappe's semaphore (Master with articulated arms aimed, from french revolution to the middle of XIXth century, to send signals throught France), to clandestines FM waves, or mystical attraction of inuit monolithes assemblages, some of this artist workpasse throught elements that can't be cntroled by our senses.
Therefore, we can also face sculpture. And if, believing curators and artists, the precarious balance of these masses produce a singular wave, if mixing some of these materials produces essences with exclusiv powers, Kara Uzelman would show us a science and technique that challenges imagination : the exact place where knowledge takes the place of expérimentation, where theory replace the concept."
Damien Airault
_
Adrien Vescovi (FR)
Lives and works in Paris, France.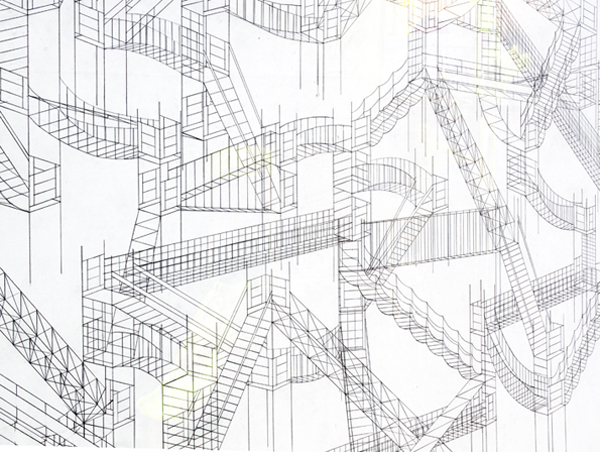 Adrien Vescovi, Vanishing Point, 2009, drawing, graphit on paper, 150 x 577 cm.
"The practice of Vescovi is then for the art what this unbearable kid is generally for the humanity: an unimportant pirouette capable to ask sensible and crucial questions, behind the posture of the minstrel. Vescovi puts at stake himself as a climber of the absurd on what he names his Junks playgrounds (1 and 2, 2010), playing fields were improvised with the materials of the edge and very too dangerous for the children: this Koh Lanta of an assumed poor man is used as a
theatre to a mechanics of childish movement on behalf of the performer, staged in his small boy's beauty, white undershirt and bare muscles, derisory comment on the place of the artist,
halfway between idol and animal of fair. The smoke screen, the metaphor assumed of an imaginary representation, is a recurring motive at Vescovi's: when he does not claim to
embody downright an authentic war scene (Remake, 2008), He created an anxiety rather fast revealed as being the product of a completely harmless tour become credible thanks to a set
particularly well chosen (Stupid White Men, on 2011), when he does not block roguishly the classic architectures of landscapes stemming from puzzles (level 9-13 years), what we could
even there see as an ironic comment on the obsession of the architecture that are touching about half of the plastic artists men currently acting (La dernière pièce, 2010)."
Quote of the text Small Urchin de Dorothée Dupuis
_
Tim Braden (EN)
Lives and works in London, United Kingdom.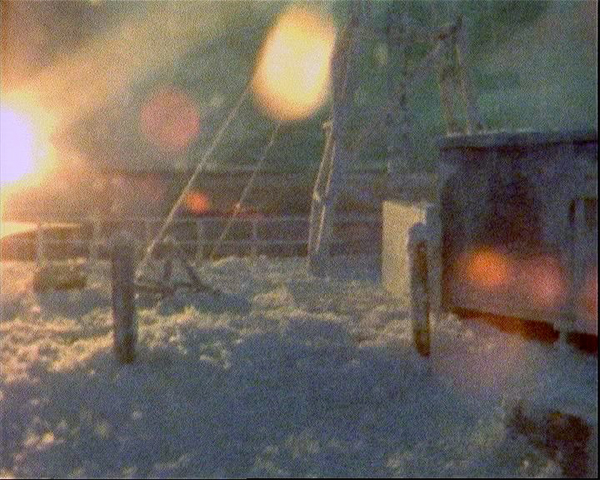 Tim Braden, Baltica, 2004, Still from super 8mm film, 3.04min
Tim Braden was in residence at the Rijksacademie in Amsterdam (2006 – 08), and studied in Ruskin School of Fine Art, at the University of Oxford (1996 – 1999) and at the St Petersburg Academy of Fine Art (1994 -95).
The previous exhibitions of Braden analysed 'the explorer' as a social type and cultural phenomenon and this work follow this theme: "I had the idea to reach Alger to make a serie of paintings of street scenes as the Orientalists did. I thought that with this process, I'd be able to understand them better, and give more fair interpretation."
_
Marc Dittrich (DE)
Lives and works in Stuttgart, Germany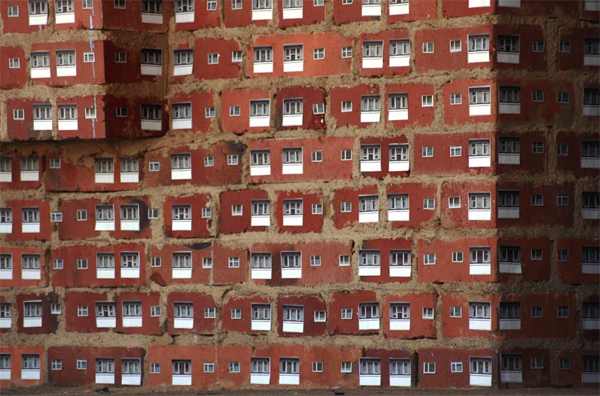 Marc Dittrich, From the Series Häuser, 2007,(Installation, Photography)
His work takes life with the city and it's suburb, in the theme like in his choice of materials. it's closely linked with wanders around in the city, it sits back to his activity, his rythm. Are then settled games with the architecture and scenery: trompe l'œil, play on scales, and "mise en abîme".
He uses quotidian objects (urban furniture or interiors ones), junk materials, in photography, videos, or projections. This work wants to question reality.
_
Anne Lise Le Gac (FR)
lives and works in Paris, France.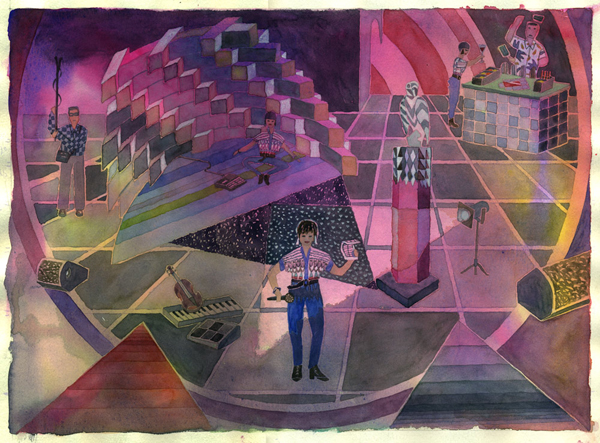 Anne Lise Le Gac, previous drawing for the performance Bravo cocktail on november 25th 2009 at the galerie de la Friche Belle de Mai
Her performances doesn't include necessarily the spectators. It offers her the oppportunity to control the action but also the public. This control is settled by her sidelined position, but also with the idea we made of the "quest" and the action that might be represented. « The practice of performance gives birth to a distanciation between identity and representation ».
Her work is often about constructing the scene where the action takes place, with a volunteer limit between work and life, in and out, hidden and showed. First place is given to the gesture, to go beyond our own limits by « sport », danse, construction. The physical aspect is strong. « By the way of dancing with different faces that I can, during my performance, think more precisely my gesture. »
_
Dominique Gilliot (FR)
Born in 1975, lives and works in Lille.

Dominique Gilliot, 48°4" N, 2°23 "E, Bétonsalon, paris 13ème, 9 avril 2008.
"All the work about performance I have progressively built for 5 years consists in staging myself (sometimes adding other performers) in performances that I design as a short-living body investment sliped into a various and complicated network of microterritories inserted, related or just adjoined (I am talking here about a physical territorialisation, which can be strictly geographical, but which makes abstract manifestation, semantically for example, or by many types of sliding, from an idea to another and can suddenly put together two elements supposed to be unfamiliar). Sometimes cross references do occur and reveals a contamination of these different spaces by capillary actions or by arbitrary connections"
_
Androa Mindre Kolo (CG)
Born in Dominican Republic in 1983, lives and works in Kinshasa.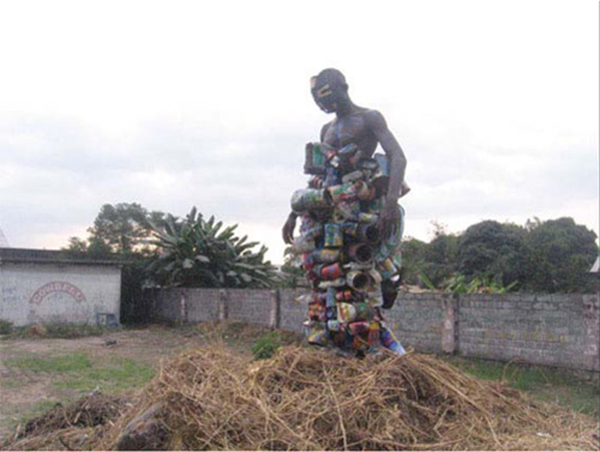 Androa Mindre Kolo, the chained slave, Mai 2005, ABA, Kinshasa, RDC
My education in interior design at the fine art school of Kinshasa gaved me tools to understand space, it was then easyer to paste these concepts in staging area as it was tought in Strasbourg school. When I discovered the existence of performing, during the first stay of the teacher Jean-Christophe Lanquetin, I immediately focused my experiences and my knowledge in this new subject. Since 2005, all my personnal work is develloped in this ambition, but every practicing stages gave me the possibility to define more precisely the conception of my performances making a real distinction within theater and dance.
My videowork born from an archive necessity, then it became independant. Sometimes it's part of the performance. i also had the possibility to build conciously spaces, close to a scene, that must be seen as symbolic objects or accessories. My DNSEP in Strasbourg is a sort of realization of all these experiences.
_
Lynette Yadom (EN)
Born in 1977 in London, lives and works in London.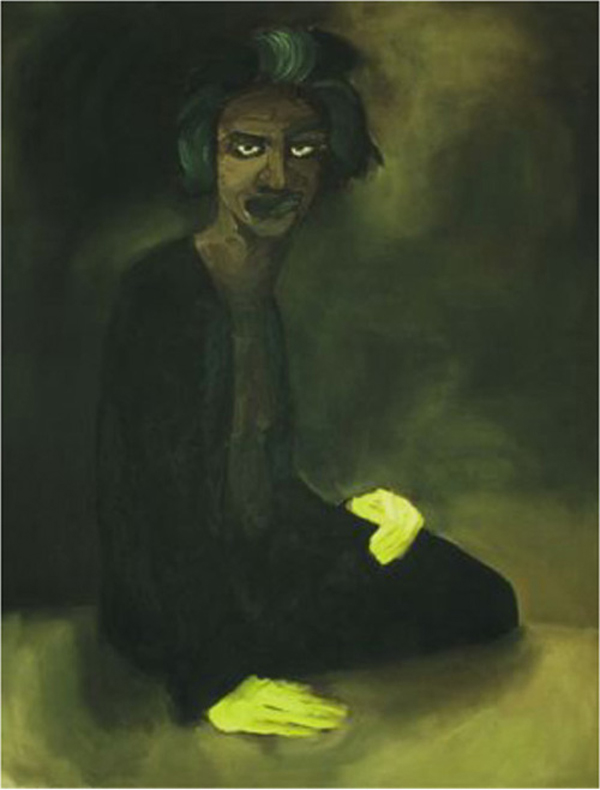 Lynette Yadom, Magret de Canard, 2005, Oil on linen, 213 x 162.5 cm, Private Collection, Israel
"My work alludes to the European portrait tradition. The nature and methods of painting inform what I do and generate my ideas. It is important that the subject matter comes out of the act of painting itself, that not everything is pre-empted and planned. I try to keep away from the habit of picking a subject or an idea and attempting to illustrate it. I prefer to start with a formal concern such as light or colour and attempt to make it work. The handling of paint is the idea and it must carry the subject to the viewer. I find this to be a much more surprising, sensual and logical approach to working. I work quickly and make a lot of mistakes. A lot of paintings get destroyed. I used to feel frustrated by the failures. But I have come to value them as a part of the work and an indication of what I do want. Things progress and regress and then progress again. I am driven by a sense of trying to get to something. I do not actually know what it is, but I feel that it is to do with power. I have a very grounded and practical approach to my work but I still believe that much of what happens cannot be explained in words. To some extent, I must believe in magic.
I really do not find painting very easy to do, but I do think that difficulty is the catalyst. I am beginning to grasp how to achieve a certain power in the paintings. I am trying to develop a sensibility that involves beauty. The beauty that I think about is not passive or gentle. I think about otherness but not in terms of celebrating it. I do not see my work as celebratory. None of the figures are heroes or victims. I am trying to bring them into being without cruelty or pomp and circumstance. I like the idea that they just are."