2011BACK
Andreas Fuhrer, Hayan Kam Nakache, Hélène Juillet, Olivier Dollinger, Roxane Borujerdi, Samuel Moncharmont, Samir Ramdani, Yannick Langlois, Marzia Corinne Rossi, Luca Monterastelli, Nicolas Pelzer, Dominique Hurth
ANDREAS FÜHRER (DK)
Danish, lives and works in Copenhagen. Born in 1980.
In residency from September to December 2011
"I am currently working on a project dealing with the difference folk music
meaning music belonging to a specific place, And on the other hand, the very
individual music belonging strictly to a person. In other words and more
specific the difference between western European music and North African
folk music." A.F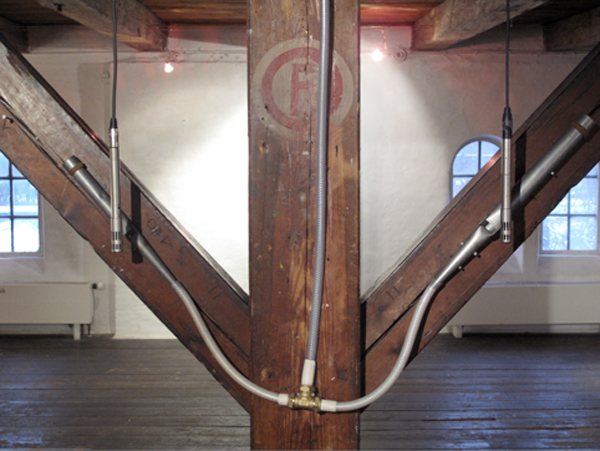 Andreas Führer, Still from the 2010 3 week long composition, a long the 628 riverrun, past, ©Andreas Führer
HAYANE KAM NAKACHE (CH)
Swiss and Syrian, lives and works in Geneva. Born in 1982.
In residency from September to December 2011
"Hi it's me Hayane, if you like dumb things like big foot big nose, you gonna like my stuff. There is nothing better than characters, but one day my father told me: "if you put eyes everytime and everywhere, it frankly becomes nauseating." So I starded to develop abstraction, while keeping my origins, a little in the manner of painters of the 80's or the surrealists. My artistic practice will always stay disrespectful, experimental, without precise goals, because all is good to take.
I like: Max Ernst; Pablo Picasso; Jim Nutt; Peter Saul; Paul Klee; line vinyl of the Seventies; Philip Guston; thrift store paint; kids and mads draw; tags and graffiti."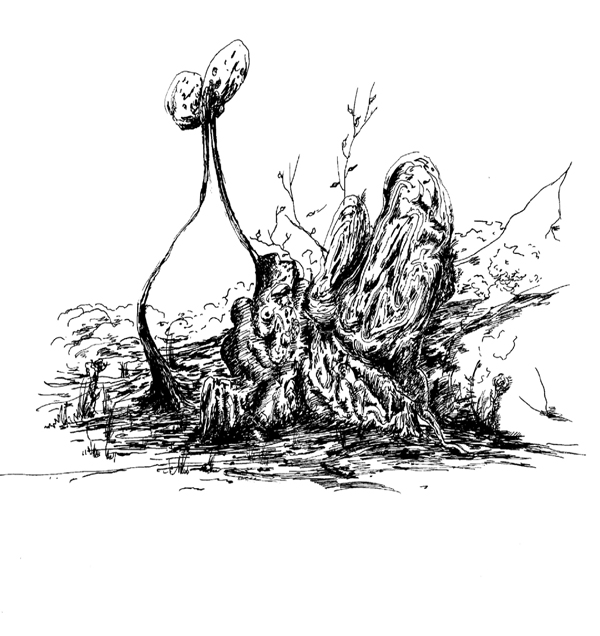 Wallis, 21cm X 29,7cm, Chinese ink on paper, 2010
HÉLÈNE JUILLET (FR)
French, lives and works in Courtenot. Born in 1985.
In residency from September to December 2011
«Blindness
10, August 2009
Two blind people with their guide dogs are saying goodbye.
The women is waiting for the bus.
She just violently hurts her face against a tightened cable.
No movement, it doesn't worth the pain, everything comes from the voice.
Seeing nothing, never.
Living in a world.
Knowing nothing.
I helped her to take the bus.
She always keeps her eyes closed.
She has long pink fingernails, red hair worn in a bun.
I'm watching her, she just open her eyes and close them immediatly.»
I can still see her.
H.Juillet
15 June 2010, Paris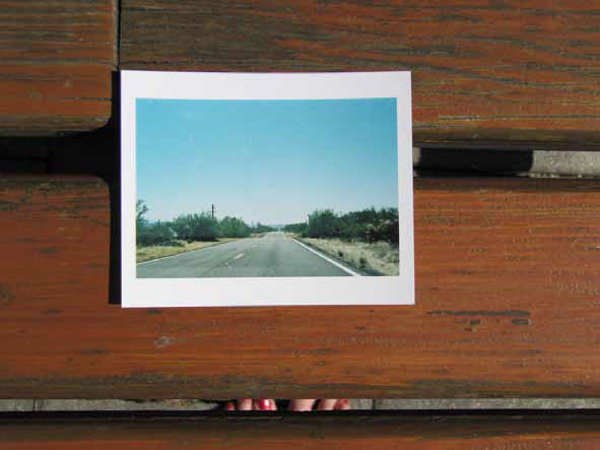 Hélène Juillet, Sans Titre, 2010, Courtenot, digital photography, 30 cm x 15 cm
_
ROXANE BORUJERDI (FR)
French, lives and works in Paris and St Denis, born in 1981.
Graduate of the École Nationale Supérieure des Beaux-Arts of Paris in 2006, she is currently represented by Lucile Corty Gallery, Paris, where her second personnal exhibition will be installed in September, 2011.
Her work uses different technics as drawings, videos, photos, performances, that are interacting and mixing with intuition and vitality.
She was previously in residency at « Astérides » Marseille (2008, 2009), at the Hospital Club, London (2009) and at Duende Studios, Rotterdam (2010).
She participated in collectiv exhibitions as « Plutôt que rien : démontages », Maison Populaire, Montreuil, « Commettre », 6b, Saint-Denis (2011), « Who stole the tarts », Tent, Rotterdam (performances evenings, 2010), "Convoi Exceptionnel", Galerie de la Friche la numéro Belle de Mai, Marseille (2009), "On fera quelque chose d'interessant la prochaine fois", Le Commissariat, Paris, "The Rehearsal Room", Form Content, Londres (2008), "J'en rêve", Fondation Cartier, Paris et Mots d'ordre Mots de passe", Fondation d'Entreprise Ricard, Paris (2005/2006).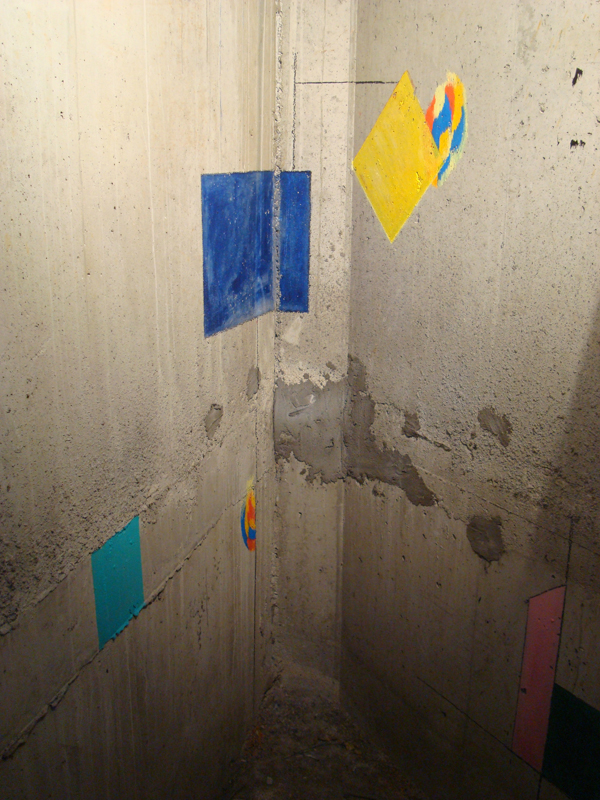 performance au 6B, Saint-Denis pour l'expo "Commettre", 2011
_
OLIVIER DOLLINGER (FR)
French, lives and works in Paris, born in 1967.
"My work, for ten years now, using the form of performative video installation, is going about the image status and the different ways of representing, in our contemporaneity, overcomed by communication, and where the informations' and images' operating speed tend to produce another apprehension of time and space, shattering and defining how we relate to private and collective memory.
I use several practices said to be esoteric as spiritism, l'hypnosis, or conjuring to question our trust in image and ways of representation. These areas sometimes act in my work as a pointer of invisible space (Space Off, 2002) or even as a tools revisiting a conscience haunted an icon of the modern cinema (Le projet Norma Jean, 2003). Recently my work is more concerned by an issue linked to the stage and it's borders (the missing viewer) or even to the exhibition space and it's artworks (abtsract telling), working from the grammar of modern conjuring." O.D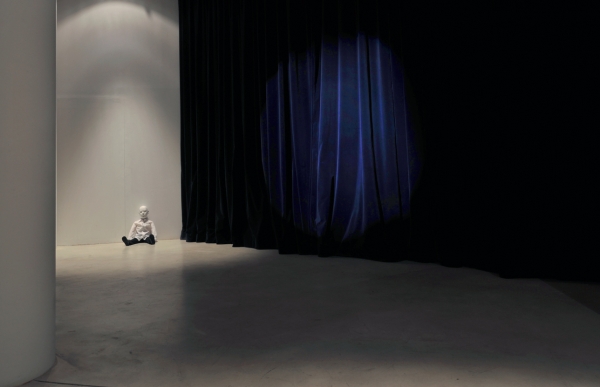 Olivier Dollinger, Dissolving View, 2009, velours curtains, projection, puppet, variables dimensions ©OlivierDollinger
_
SAMUEL MONCHARMONT (FR)
French, lives and works in Lyon. Born in 1981
The music as a stage is the starting point or the anchoring point of the work. Popular music is an excuse and a pre-material for constructing audio and visual spaces. As it embodies a 'myth', the music, the song or the chorus are subject to an adaptation process, to a translation,to a transfer, by audio, images , sound, installation or vidéo.
Samuel Moncharmont collects ; he piles up and compile ; he replays cult references and almost cult, he dissects or disassemble ; he works on their defaults and desagrees. A new writting is on the march.
adaptation from the text of Céline Ohanessian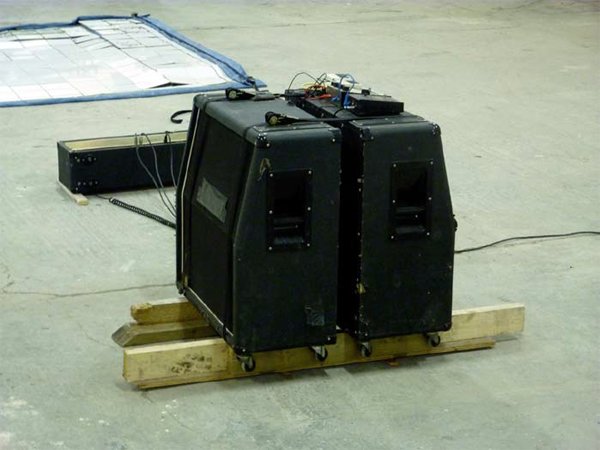 View of the exhibition, Echantillons - Namedropper, at the IMOCA, Dublin, 2009
_
MARZIA CORINNE ROSSI (IT)
Italian born in 1984, lives and works in Milan
"It's all about the research of the beginning: I don't mean the Start of everything, but the beginning like the "getting" of something. I particularly find interesting that starting moment, where everything is charge of expectation and optimism, like something of common at all the mankind. Every person does it, it's a thing you cannot stop to do. To search a beginning, however, it's already an action, a minimum movement: so the possibility to get a beginning concerns the understanding of his own mechanism. This fulcrum, as a strictly relative variable to space, is excluding the projectual phase and it's privileging the moment just behind the thought. The visual result of the entire process it's a surface dialogue, a matter invasion, the direct consequence of this first chaotic step. The space is being a fragments container, a matters reliquary that tries to reproduce the balance where "radiance" of a beginning it's possible."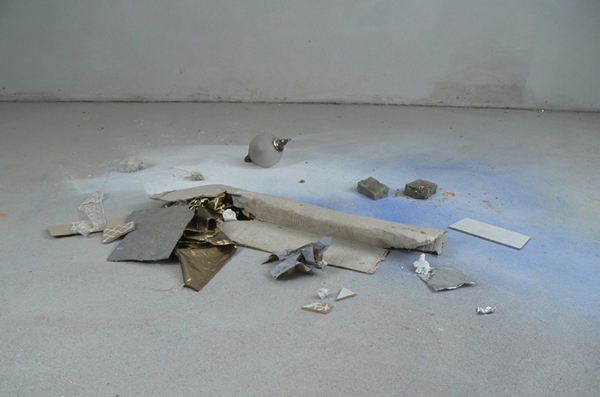 Untitled, Silver, fabric, silk, cardboard, gres, chalk, clay, sandpaper, gold, copper, glass, pigment - variable size, 2010
MARZIA CORINNE ROSSI'S BOOK
www.marzia-rossi.com
_
YANNICK LANGLOIS (FR)
French, lives and works in Paris
"It unfolds in the installation, drawing, photography, my work interrogates the relevance of a sculptural production in the regime of movement of images.
Think of sculpture from the image can appear as a paradoxical condition that seeks to live two different dimensions.
My practice aims to tension these paradoxical and ambiguous spaces simultaneously working regimes aesthetic and practical fields." Extracts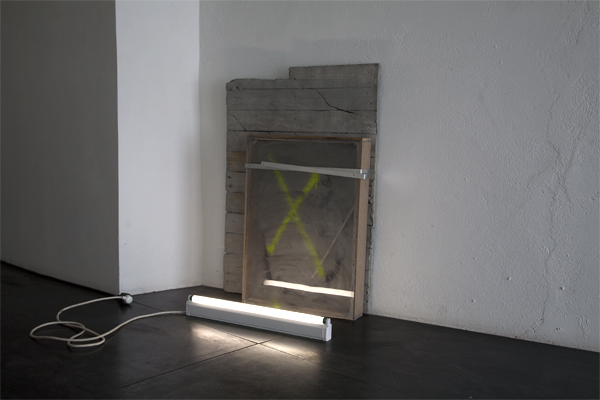 Yannick Langlois, View of the exhibition at the Atelier National, july 8 and 9th 2011©samir.ramdani
_
SAMIR RAMDANI (FR)
French born in 1979, lives and works in Paris
"The questions I address in my work comes from my interest in every media (television, press, culture of entertainment ...) and cinema in particular. I wonder about the status of these images and the report intimate that it has with them. In practice, this leads me to suggest or video devices to implement projects that challenge and play with the nature of these images. A protocol is defined, then the project runs with its accidents and unexpected (see Scarface, a video where children of the city of Toulouse Izards to realize a remake of Brian De Palma Scarface in memory). For relatively simple gestures, I offer the viewer many levels and reading directions, offering a point where ideas meet and where meaning escapes branching. A simple form of reflection objects producing larger and equivocal. ". Extract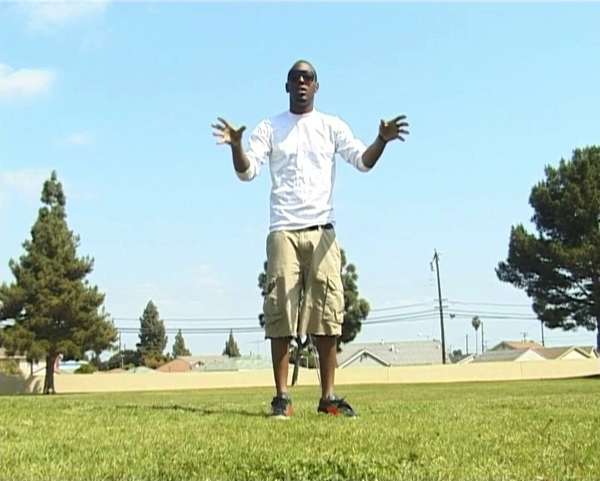 Samir Ramdani, Broken leg, colored video, sound, DV, 8'00'', 2010. Produced by le Pavillon (Palais de Tokyo) and the Musée de la danse de Rennes. In the popular district of Compton in Los Angeles, D.Michael explains his sa vision of Krump, and his life.
_
LUCA MONTERASTELLI (IT)
Italian born in 1983, lives and works in Milan
A haven, a mooring for travelling thoughts and for the soul of those who are ready to follow them.
The voyage as an occasion to go far away through the thought and also to find oneself daydreaming about Bocklin 's painting " The isle of the dead". In the painting your imagination
pauses on a oarsman carrying a white figure from behind, hooded, he could be defined as a ferryman of souls . Just the role that the artist can assume in transporting those who observe another terrible and mysterious dimension. Psicopompo is the Greek term that best defines this figure, a medium role between different worlds, the one who travels between an external reality and a small closed universe.

Luca Monterastelli,In memory of a great explorer, Portrait, old frame - cm 25 x 19, 2010
_
NICOLAS PELZER (DE)
German born in 1982, lives and works in Berlin
"My sidespecific works mostly consist out of installations and sculptures. I am interested in reacting on real existing locations with artworks that interfere with architecture and the historical context of the side.The sculpures always use an abstract language, which appears as formal and geometrical elements, holding up aspects of order. On the other hand the choise of using fragile material and the aspect of imperfectness in many of my works deconstruct this arranged structure. It creates a relation between the demand of the absolute and more fragmented circumstances. All of my works are in a way mobile, because they imply the aspect of unmonumentality, which is meant as a resistance against changelessness.
I prefer creating my work for locations that are already contextualized in terms of specific historical or political conditions. The mixture between the space and the artwork creates an important relation between reality and abstraction. I see my work as a kind of research about structures and cultural patterns, that have an influence in how we perceive our everyday life."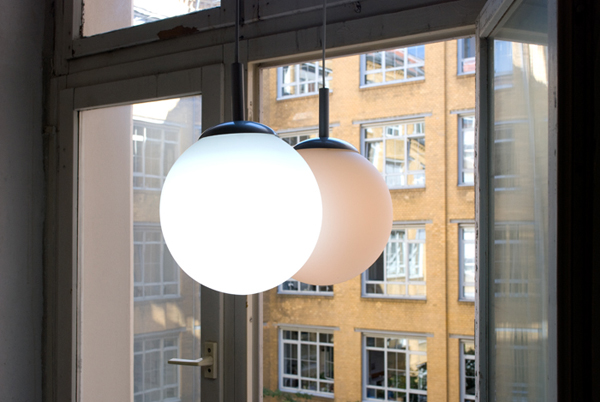 Nicolas Pelzer,Gradient Utopia, 2010, Installation: two light hanging lamps, 25 x 25 x 50 cm, Ryan's, organized by The Future Gallery, Berlin, 18. - 20. June 2010 © Nicolas Pelzer. All rights reserved
_
DOMINIQUE HURTH (FR/DE)
French born in 1985, lives and works between Berlin and Maastricht
Dominique Hurth is an artist and researcher. In her artwork, research and writing, she explores the traces of personal, cultural and historical memories that are present in localities, texts and images.
Through drawings, films, texts and installations, Dominique Hurth's practice deals with the mechanisms of memory and history, how it is constructed and narrated. The starting-point for new artistic researches is often a document, that is re-manifested via translation, quotation, re-enactement or reconstruction. She questions the shifts from narrative to cultural memory, looks at unresolved historical figures and events, and observes from diverse starting-points the gaps and dislocations of references that occur from original to copy. The installations initiate confrontations with contemporary and historical remembrance of both collective and individual memories, and unload different readings of History.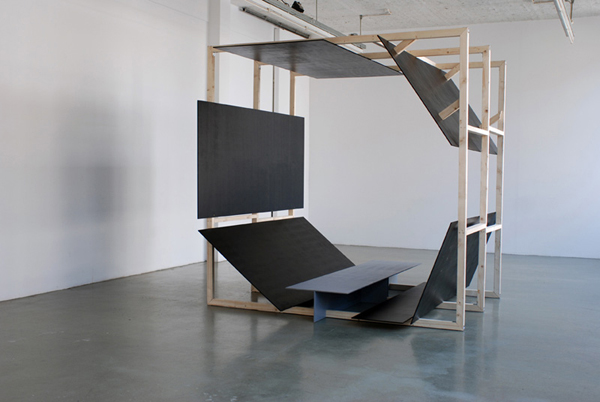 Dominique Hurth, "drawing (inclusive picture of all possibilities)", MDF, wooden beams, 2,75 x 2,75 x 2,75m - installation view Jan Van Eyck Academy, Gallery Space, NL