RESIDENCY
CURRENT NEWS:
RESIDENCY EXCHANGE PROGRAMM WITH GLASGOW SCULPTURE STUDIO
OPEN CALL ONLINE NOW !
For the second edition of our partnership with Glasgow Sculpture Studios, Triangle France was pleased to welcome Alexander Millar as the recipient of the 2013 GSS/TRIANGLE FRANCE Residency Exchange, he had working with us from September to December 2013.
Glasgow Sculpture Studios will offer next Spring a spot to an artist from Marseille.
For emerging artists no longer enrolled in academic training, living and working in Marseille-Provence only
Deadline for application: february 9, 2014
residency: april 7 - july 14, 2014
Download the call for applications here.
_
OUR RESIDENCY PROGRAM
You will find here information about our residency program.
Our call for applications is CLOSE.
_
FOREIGN EXCHANGES
Triangle France is not only a residency program based in Marseille. We also provide artists with the opportunity to go on residency abroad with our partners organizations.
_
UPCOMING RESIDENTS
JANUARY-APRIL : ISAAC CONTRERAS (MX), ÉLÉONORE FALSE (FR) & THOMAS KOENIG (CH)
MAY-JULY : IOSU ARAMBURU (PE), PATRICK STAFF (GB) & LAUREN TORTIL (FR)
SEPTEMBER-DECEMBER : EVA BARTO (FR), PIERRE FISHER-JUSTIN MEEKEL (FR)
_
RESIDENTS FROM JANUARY TO APRIL 2014
ISAAC CONTRERAS
Born in 1984, lives and works in Mexico


"O.O.O (the milanese set), 68 pieces made of plaster and paint, variable dimensions, 2013."
ÉLÉONORE FALSE
Born in 1987 lives and works in Paris.



Exhibition view "Bistouri, Scalpel, agrafe, un autographe", 2013, © photo Ana Drittanti
THOMAS KOENIG
Born in 1983, lives and work in Vevey, Suisse


"Sans titre (cendrier), technique mixte, 2013. © Robert Hofer, photographe, Sion"
_
FORMER RESIDENTS FROM SEPTEMBER TO DECEMBER 2013
MATHIS COLLINS (FR)
Born 1986, live and works in the mediterranean.
Mathis Collins' work is a seasonal theatre on tour with the rural and urban arts traditions of the mediterranean regions. His actors are the influences that these art forms generate on people's lives, and his stage designs are the weeps and silences that march with daily tragedies.
During the summer in the cork forests where are celebrated bark harvests and during winter when ablutions are done in bars by barrel's taps ; Mathis is an anthropomorphic public stage, drunk and silent. A stage to project the vision of one's own tragi-comédie, caricature and pamphlet.
Looking at the influences that art has on agriculture, craft, religion and tourism ; Forests, bars libraries and public fountains are places favoured by the artist, to reveal unknown artistic practices, while harvesting, drinking and cleaning it's laundry.
Bio
Recently, the work of Mathis Collins was shown at the Chalet Society in L'atelier des testeurs (2013), at the Centre d'art Edouard Manet de Gennevilliers in Les référents (2013), at 1M3 in Lausanne in a solo show, BARK (2012) and at Palais de Tokyo in collaboration with Cyril Verde in DYNASTY (2010).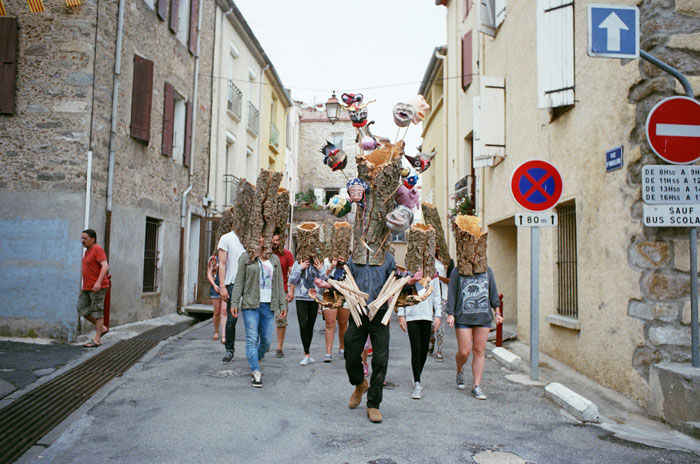 La fête de la récolte du liège de Maureillas (66) célébrée par des jeunes du village, 2013. Lambda Print, variables dimensions, Courtesy the artist.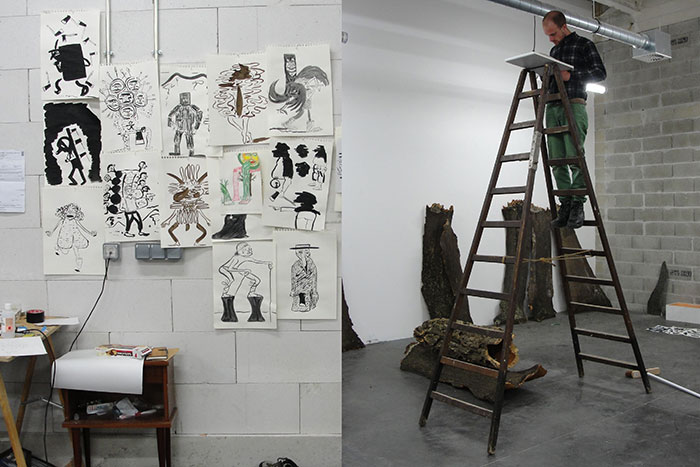 ALEXANDER MILLAR (GB)
Born in 1990, lives and works in Glasgow.
My work is an installation based practice that uses a variety of different elements, including video, photography and sculpture. I am interested in expressions of everyday monumentality and beauty, and in dislocating objects from their habitual context, I aim to expose some of the anxieties and desires that can underpin them. It is with a sense of humour and pathos that the work is most interrogative, while ideas around the theatre of the absurd and tableaux vivants are a continuing preoccupation of mine.
Frequently my aim is to re-animate an image through sculptural means, and in doing so, challenge its representative capabilities. What often results is a quite musical arrangement of both natural and designed forms.
Bio
Alex Millar (b.1990) is a Scottish artist that lives and works in Glasgow. He Graduated from Fine Art at The Glasgow School of Art in 2012 and currently has a studio in the west end of the city.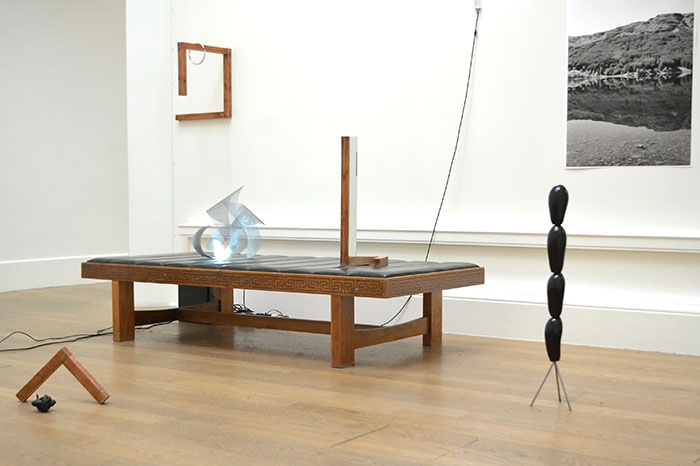 Alexander Millar, Wave 2013, Installation view - metal, wood, leather, lights, aubergines, mirror, looped video, print (2)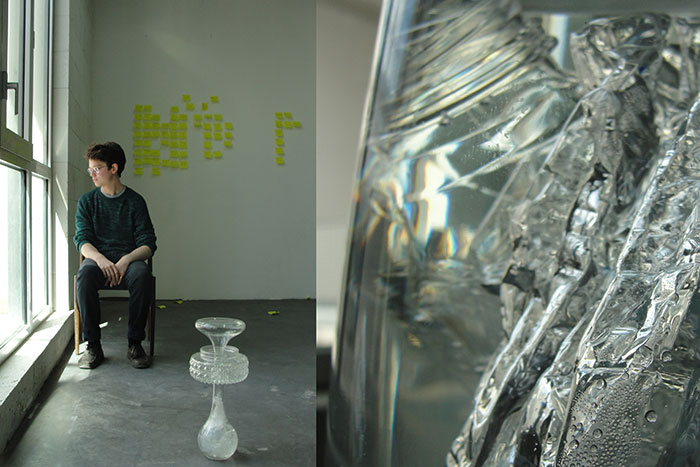 CATARINA OLIVEIRA (PT)
Born in 1984, lives and works in Lisbonne
Through films, performances and texts my work experiments with story-telling and (re)telling histories. I'm fascinated with how stories and images have the power of exposing us to poetics while simultaneously confronting us with slices of life, depictions of a social or individual reality. My works assemble different impressions, memories, allegories and thoughts, in montages of lapses, repetitions and motif variations that give rise to cyclical poly-vocal narratives.
I'm particularly interested in how contemporary western society understands and relates to time and memory. I have been investigating through my work how certain authorities and entities strive to perpetuate certain myths and how historical and cultural narratives are generated. Different authorities have found in progressive and dialectical forms of narrative a way to assert their agendas and secure their hegemony. In order to assure these forms as conductors of their authority it is necessary that the categories and entities they encompass are perceived as stable and unified truths. My practise is populated with characters, locations, objects and memories that aren't stable and fully crystallised entities, instead by fragmented ones or in flux. The narratives in my works rarely behave linearly, so that they can call attention to what the organisational and compositional models of story and history telling we have inherited might encompass. 
Bio
Catarina de Oliveira get a Master at Piet Zwart Institute (Rotterdam, NL) en 2012; recently her work was shown at Parkour (Lisbonne, PT), Serralves Museum (Porto, PT), The Watermill Center (NY, US), Bonheur Theater (Rotterdam, NL), and at HEAD (Genève, CH), she get a Grant from Fondation Calouste Gulbenkian.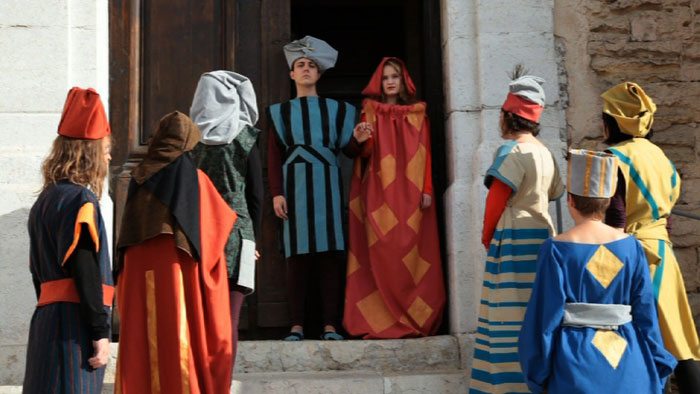 Le Couple Silencieux (2014) HD, color, sound. Co production Fondation Calouste Gulbenkian.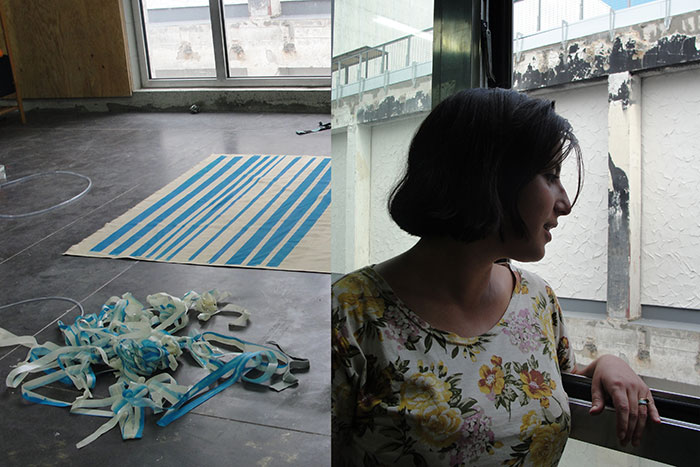 _
FORMER RESIDENTS
Triangle France's former residents (1995-ongoing).
_
STUDIO VISITS
Studio visits are only available to professionals. Please contact us for appointments: residence@trianglefrance.org.