ARTISTE IN RESIDENCE
_
AURILIAN
In residency from June 21 to July 19, 2021 as part of the 'at home' residency program with Glasgow Sculpture Studios
Aurilian explores intimacy and vulnerability in a body of work taking shape with texts, installations, performances, drawings, sound compositions. Like a loop, an obsession, they unveil a profound intimacy, a sensitive febrility, and asks questions on love, desire, fragility. A work frisking what is coming down the guts, between sincerity and lies, alternating suffocation, tension, loosening, caressing. (Sissi Club)
Aurilian lives and works in Marseille. They studied at the Gerrit Rietveld Academie, Amsterdam and Cooper Union School of Art, New York. In 2018 they created the editorial platform i apologize. Their works have been presented in De Brakke Grond (Amsterdam), De Oude Kerk (Amsterdam), Cooper Union (New York), Triangle - Astérides (Marseille), Belsunce Projects (Marseille), Montez Press Radio (New York), Merzbau (Torino), Sissi Club (Marseille), CipM (Marseille).
Find our mote about 'at home' residency program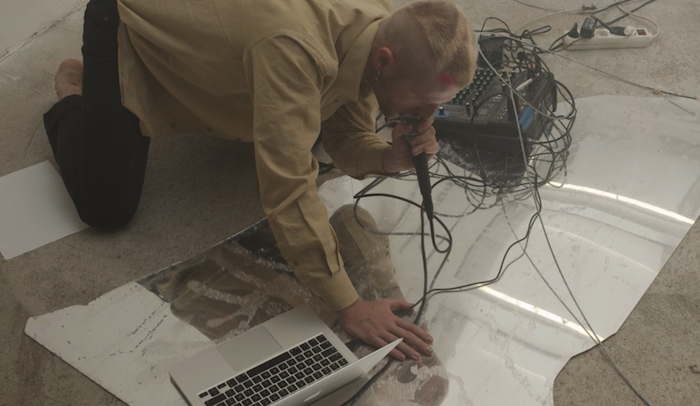 Aurilian, LANA CAVE, performance, Sissi Club, Marseille, 2021.