ARTIST IN RESIDENCE
_
BIANCA BALDI
Born in 1985 in Johannesburg (ZA). Lives and works in Brussels (BE).
biancabaldi.net
Bianca Baldi's image making practice takes up historical plots to reveal complex webs of political, economic and cultural influences. Baldi addresses hidden power structures and narratives of oppression which are fashioned incorporating photography, film, writing, publishing and installation.
Bianca studied Fine Arts at the Michaelis School of Fine Art in Cape Town and the Staedelschule in Frankfurt am Main.
She has participated in large international exhibitions such as the 11th Rencontres de Bamako ML, Biennale Africaine de La Photographie (2017), 11th Shanghai Biennale, Power Station of Art, Shanghai, CN (2016), 8th Berlin Biennale, KW Institute for Contemporary Art, Berlin, DE (2014), the 19th Contemporary Art Festival SESC Videobrasil, Sao Paulo, BR (2015) and group exhibitions at Extra City Kunsthal, Antwerp, BE (2016), Kunstverein Braunschweig and Kunstverein Frankfurt, DE (2015). Recent solo exhibitions include "Eyes in the Back of Your Head", Kunstverein Harburger Bahnhof, Hamburg, DE (2017), "Pure Breaths". Swimming Pool projects Sofia, BG (2016) and "Zero Latitude" at the Goethe Institut Johannesburg, ZA (2014).
With the support of Wallonie-Bruxelles International.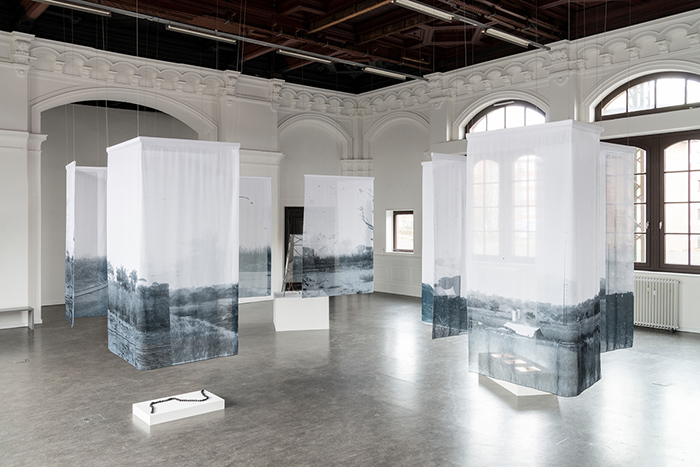 Installation view, Eyes in the Back of Your Head, Kunstverein Harburger Bahnhof, Hamburg, 2017
_
PROJECT DURING BIANCA BALDI'S RESIDENCY
Adopt the mood of the cunning octopus which seems to resemble the rock to which it clings.
Now follow along in this direction, now take on a different complexion.
Theognidean Sylloge, 213-218, part. 215-217
Bianca Baldi plays out "Versipellis" - a phenomenon that is read as both the adaptive quality to change one's skin and the photographic skin itself. She links it to the cultural practice of "passing" – understood as assuming a different racial identity in order to escape the discriminatory limitations imposed by a dominant classification in distinguished racial groups.
Bianca Baldi's research is subject to a lecture and a conversation with the curator and researcher Jana J. Haeckel, affiliated with the Goethe Institut Brussels. This event was part of the public program Tampered Emotions - Lust for Dust, organized in the frame of the exhibition Vos désirs sont les nôtres.