CURRENT
French Version

_
ARTISTS SELECTED FOR OUR 2018 RESIDENCY PROGRAM
JANUARY - MID-APRIL: Fahmy Shahin (EG), Valérie Blass (CA), Clémence de Montgolfier (FR)
MID-APRIL - JULY: Bianca Baldi (South Africa), Martin Belou (FR), Juan Diego Tobalina (PE)
SEPTEMBER-DECEMBER : Sara Sadik (FR), Kah Bee Chow (NZ) + 1 artist of our exchange program with Glasgow Sculpture Studios.
_
CONTACTS & STUDIO VISITS
Studio visits are only available to professionals. Please contact us for appointments: residence@trianglefrance.org.
_
IN RESIDENCY FROM JANUARY TO MID-APRIL 2018
Valérie Blass (CA)
Lives and works in Montréal (CA)
The recent works of Valérie Blass are filled with a dual tension that contrasts the notions of visibility and invisibility, as well as the boundaries between volume and surface. Her sculptures, whose anthropomorphic postures tend toward abstraction, arise out of deliberately unstable representations: the unity of the work is conceived so that it slips away, is transformed and then re-formed according to the viewer's positions and movements. The referential impact of the representation is made denser this way, and the sculpture acts as a plural entity.
Valérie Blass was born in 1967 in Montréal, where she lives and works. Solo exhibitions of her work have been presented at Catriona Jeffries, Vancouver (2015); Artspeak, Vancouver (2015); Daniel Faria Gallery, Toronto (2015); Parisian Laundry, Montréal (2014); Illingworth Kerr Gallery, Calgary, AB (2013); Musée d'art contemporain de Montréal, Montréal (2012); Art Gallery of Hamilton, Hamilton, ON (2012); The Hole, New York (2013); and Galeri Manâ, Istanbul (2013). Recent group exhibitions have been held at; Musée d'art contemporain, Montreal (2016); the Justina M. Barnicke Gallery, Toronto (2015); Luis De Jesus Los Angeles, Los Angeles (2015); Musée des beaux-arts de Montréal, Montréal (2014); Art Gallery of Alberta, Edmonton, AB (2013); Public Art Fund, New York (2013); MetroTech Center, Brooklyn (2013); Oakville Galleries, Oakville, ON (2012); National Gallery of Canada, Ottawa (2011); and The Power Plant, Toronto (2009). Valérie Blass was the recipient of the Prix Ozias-Leduc from the Fondation Émile-Nelligan in 2016, the Victor Martyn Lynch-Staunton award for Visual Arts in 2012, and the Prix Louis-Comtois from the City of Montreal in 2010.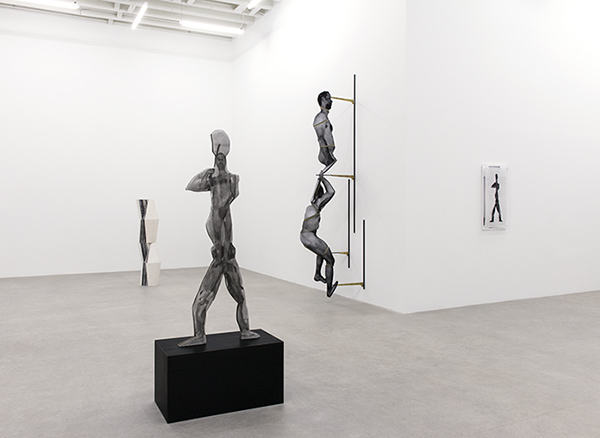 _
Clémence de Montgolfier (FR)
Lives and works in Paris (FR)
thebigconversationspace.org
Clémence de Montgolfier (born in 1987), collaborates as The Big Conversation Space (TBCS) since 2010 with American artist Niki Korth (born in 1987, lives and works in San Francisco). Together and apart, they interrogate the circulation of discourse within the frame of its contemporary technologies of production and reproduction, and its uncertain future. They create events, conversations, performances, publications, games, documents and video broadcasts or media platforms that seek to create and question relations between individuals, artists and audiences alike, in an interactional understanding of the artwork. At the intersection of mediation, art and media, their work generates situations of conversation, real or imagined, through communication devices that they interpretate or design. They aim to find the space between the self and the other, and to propose modes of cohabitation and understanding, in the context of the political and technical history of the media which we have inherited.
Clémence de Montgolfier is graduated from the School of Fine Arts of Angers in 2011, and recently completed her PhD program in information and communication sciences in the Sorbonne-Nouvelle University in Paris. She is co-founder of the storefront artspace Indice 50 in Paris with Hugo Brégeau. Niki Korth and her have participated in a number of exhibitions in France and abroad, such as recently at CAC Brétigny, Brétigny-sur-Orges, France ; Villa du Parc, Annemasse, France ; 8, Rue Saint-Bon, Paris, France ; Nouveau Festival Centre Pompidou, Paris, France ; Human Ressources, Los Angeles, United-States. Since 2015, they have been invited by le149.net (Anna Hess & Sacha Béraud) to realize the online video broadcasting project BCC Channel in collaboration with Alexander Rhobs.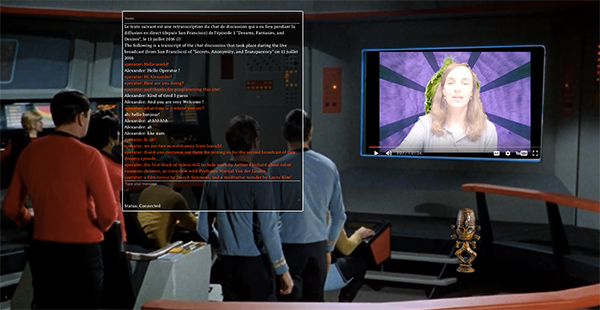 _
Fahmy Shahin (EG)
Lives and works between Amsterdam (NL) and Cairo (EG)
www.fahmyshahin.net
His work includes a range of media; from instinctive drawings to 3D rendered images and digitally fabricated objects and sculptures. Layers of materials - visual, textural, archaeological, chemical, hierarchical, financial, historical, cartographic, etc, - call our trusted narratives of places into question and challenge how stories are constructed and how realities are shaped. Like a stage of familiar historical elements that are taken out of their context and given different interpretations, his installations function as a made-visible zone between religion, politics and myth.
Fahmy Shahin (1983) was born and raised in Cairo, Egypt, where he studied Textile Printing at Helwan University's Faculty of Applied Arts. Currently, he resides in Amsterdam and has recently graduated from the Royal Academy of Art, The Hague. His graduation project Plastic/Ocean/Desert/Sky was awarded the Interactive, Media, Design department award and received an honourable mention from the Stroom Encouragement Award. It was later featured in a solo presentation at Petra Ark Space (Amsterdam) in 2016, and in the 3D Additivist Cookbook by Morehshin Allahyari and Daniel Rourke. His latest project Journey In The Land Where Time Rests has recently been presented in a solo exhibition at Vriend Van Bavink (Amsterdam) in 2017.
With the support of Mophradat.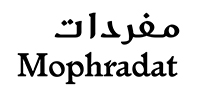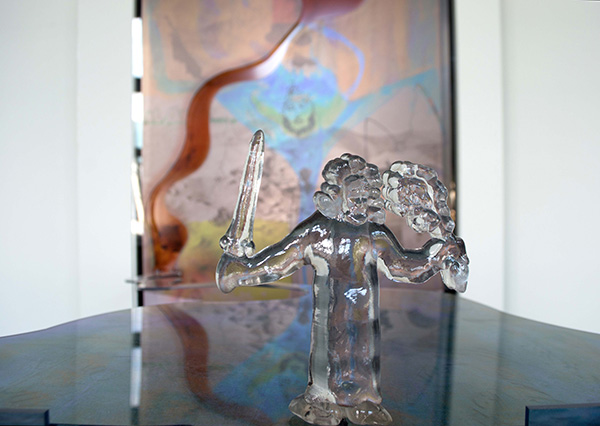 _
IN RESIDENCY FROM SEPTEMBER TO DECEMBER 2017
Maya Beaudry (CA)
Lives and works in Vancouver (CA).
www.mayabeaudry.com
Maya Beaudry (b. 1988 Vancouver) works predominantly in sculpture and installation, exploring the concept of interiority as it relates to domestic architecture and the symbiotic relationship of mental states and living spaces. Her most recent work has centred on the architectural prevalence of the rectangle as a shape for containment and the corporeal experience of inhabiting geometric space as an organically shaped organism. She is interested in both the act of building and the "softening" of the built environment, approaching textiles, upholstery and furniture as a kind of membrane between bodies and architecture.
She holds a BFA from Emily Carr University and an MFA from the California Institute of the Arts. In 2016 she received the Felix Gonzales Torres Grant to construct a free-standing studio on an island in British Columbia, the first step towards a long-term project of operating a small residency. She is the founder of Sunset Terrace, an artist-run space in Vancouver and the recipient of the Hnatyshyn Foundation prize for emerging artists. Recent exhibitions include "Period Pieces: A Sunset Terrace Retrospective" at Projet Pangee in Montreal, "Ambivalent Pleasures" at the Vancouver Art Gallery, and "Enter the Fog" at The Rooms, St. John's, Newfoundland. She holds a BFA from Emily Carr University and an MFA from the California Institute of the Arts.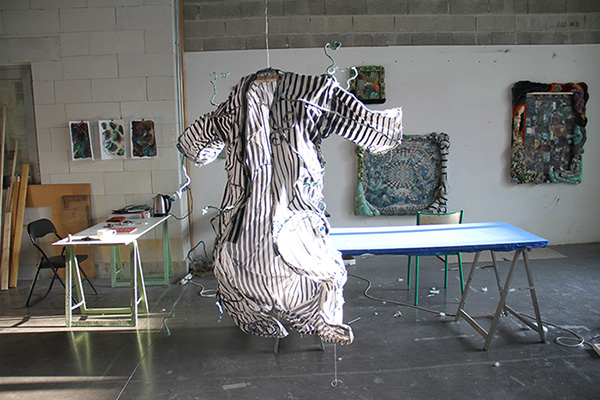 _
Adam Lewis Jacob (GB)
Lives and works in Glasgow (GB)
I'm interested in developing situations for shared authorship, in which I explore filmmaking as a space for relinquishing total control, incorporating traces of process and performance, amidst a surplus of objects, information, images and stuff. Currently I am interested in exploring the intersections between Spiritualism and Anarchism. Through this research I have started to combine different styles of filmmaking, creating dream-like portals as triggers for psychedelic experiences. While my work is predominantly moving image based, I often make installations that incorporate the material used to create the film. This can include altered lighting, objects, sound and animation.
Adam Lewis Jacob is graduated from the MFA programme at the Glasgow School of Art in 2015 during which he studied on exchange at Piet Zwart Institute and in 2011 was selected for the Mountain School of Arts program in Los Angeles. In 2016, Adam was the recipient of the Superlux research award alongside Elizabeth Murphy. Recent exhibitions include: Emotional Need, Collective, Edinburgh, ANITPHON, Kochi-Muziris Biennale 2016, India, Double Parrhesia, Catalyst, Belfast and FFWD, Duolon Museum of Contemporary Art, Shanghai. Adam is co-founder of exhibition space Celine and until May 2017 was a committee member at Transmission Gallery.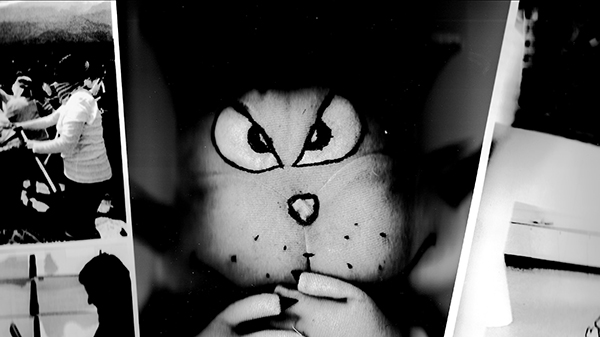 _
Anoucha Oler (FR/CH)
Lives and works in Brussels (BE)
Her practice brings together sculpture, writing and performance within videos in which the narratives often focus on the encounter between the characters that she creates and a disruptive material environment. Objects and individuals refuse to function as planned leading the characters to ponder about how this refusal to co-operate will affect their lives. Actors then engage in inquiring with impetuosity how, what and of whom are they made of. Through their speculative narratives and implicit to their playful and idiosyncratic attitude, they question the way that power circulates in shared and constructed spaces and its impacts on the construction of the self. So far in her work, numerous investigators explored affects, caring, sociability and living together.
Born in 1988, Saint Malo (FR) Lives and Works in Brussels (BE).
She holds an MFA from the Piet Zwart Institute in Rotterdam and was part of the post-master program of the Lyon's School of Arts in 2014/2015. Recent solo and two-person shows include Out of Place Artefacts, Galería Javier Silva, Valladolid (SP) with Amélie Bouvier (2016) ; Thingness? at Cooper Gallery (UK); Irma, Wisconsin, Present Works in Milwaukee (2015) ; I Smoked a Cigarette, Wondered About the Colour and Looked at You Once More in AiR-Jakobstad (FI) with Marion Jaulin (2014) and It Is Forbidden To Feed The Sculptures, Kölnischer Kunstverein/OG2, Cologne (2013).
Since 2010 she showed her works amongst group exhibithions at apes&castles, Bruxelles (BE), MOTinternational, Bruxelles (BE), Frac Île de France / Le Plateau, Paris (FR), Le Magasin-CNAC, Grenoble (FR), La Villa Arson, Nice (FR), The Front Gallery, New-Orleans (USA), De Appel, Amsterdam (NL), Tent, Rotterdam (NL), LIVEINYOURHEAD, Geneva (CH).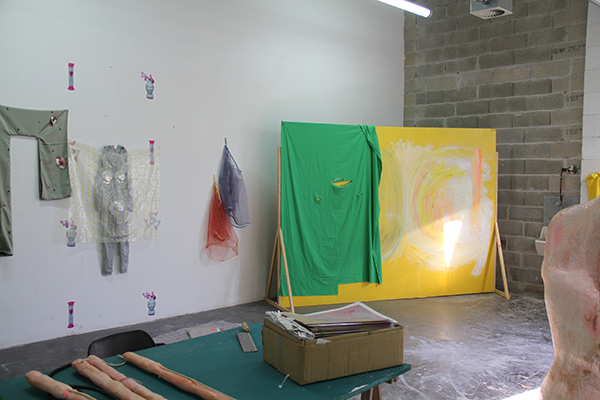 _
FORMER RESIDENTS IN 2017
JANUARY-APRIL : Arthur Eskenazi (FR), Gina Folly (CH), Tiziana La Melia (CA)
MAY-JULY : Madison Bycroft (AU), Camille Dumond (FR), Liv Schulman (AR/FR)
_
FORMER RESIDENTS IN 2016
JANUARY-APRIL : Virgile Fraisse (FR), Dan Walwin (GB/NL), Lauren Hall (GB)
MAY-JULY : David Perreard (FR), Davide Stucchi (IT), Beny Wagner (DE/US/IL)
SEPTEMBER-DECEMBER : Hannah James (GB), Matthew McQuillan (GB), Timothy Simonds (US)
_
FORMER RESIDENTS IN 2015
JANUARY-APRIL : Benjamin Blaquart (FR), Kevin Gallagher (US), Camilla Wills (GB)
MAY-JULY : Vittorio Brodmann (CH), Thomas Merret (FR), Gala Porras-Kim (CO/US)
SEPTEMBER-DECEMBER : Morgan Courtois (FR), Cecilia Jonsson (NO), Rachel Levine (GB)
_
FORMER RESIDENTS IN 2014
JANUARY-APRIL : Isaac Contreras (MX), Éléonore False (FR) and Thomas Koenig (CH)
MAY-JULY : Iosu Aramburu (PE), Marie Michelle-Deschamps (CA) and Lauren Tortil (FR)
SEPTEMBER-DECEMBER : Eva Barto (FR), Pierre Fischer & Justin Meekel (FR), Allison Gibbs (AU/GB)