ARTIST IN RESIDENCE
_
SARA OUHADDOU
In residency from January 7 to 31st, 2020.
In partnership with Manifesta 13 Marseille as part of Traits d'union.s program.
Born in 1986 in Draguignan (FR). Lives and works in Paris (FR) and Marrakech (MA).
"I am obsessed by what I call the right place, that is to say a place, a moment, an equal state for everyone but not the same for everyone, always different because it is specific to everyone. Therefore, I am fascinated by the idea that somewhere we could all understand each other through systems (of writing among others) that would be specific to each other. That's how the signs of the Berber carpet work, a person expresses himself by weaving, and all the different communities can decipher. The history of the alphabets is the history of identities, a civilization that replaces another by destroying its mode of expression, and that tries to extend it to the maximum = a smoothing of diversity, a loss of precision for me. It is the world that is becoming less and less fair. I am looking for ways of writing where nothing is equal, nothing is parallel and nothing is opposite, it is multidimensional. It is what allows me to create and, in short, to express myself and share my point of view on the world."
Born in France in a Moroccan family, Sara Ouhaddou dual culture informs her practice as a continuous dialogue. She studied at the École Olivier De Serres, Paris. She strikes a balance between traditional Moroccan art forms and the conventions of contemporary art, aiming to place artistic creation's forgotten cultural continuities into new perspectives.
After a residence in Marseille in 2019, she pursues her research on the history of the alphabets, that reveals the history of identities and the successive replacement of a civilization by another. She explores the history of Marseille, interested in the unknown passages, the objects found in the various archaeological excavations of the city and its surroundings, which create a doubt in the History.

Sara Ouhaddou, Atlas 2, wool and marble, 2017.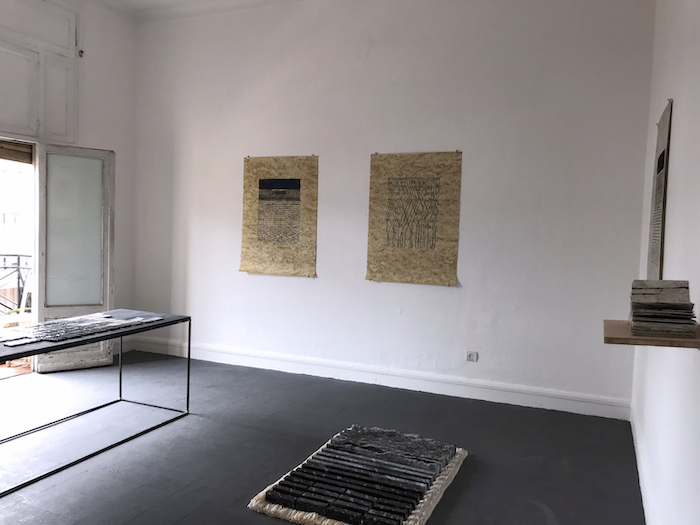 Sara Ouhaddou, Project AA, study on the collective memory between Japan and Morocco, Appartement 22, Rabat, 2017-18.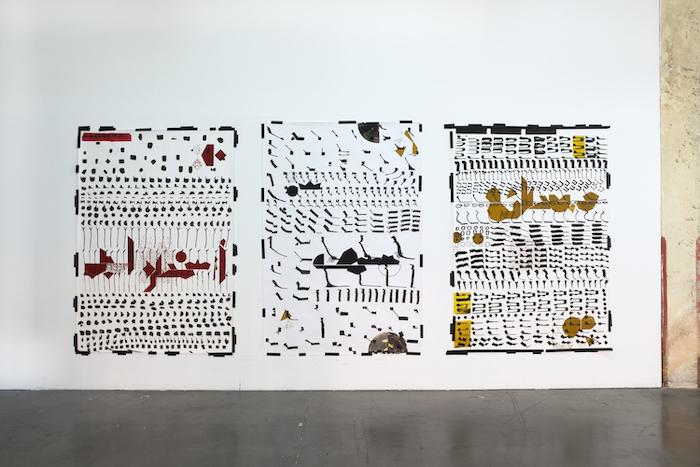 Sara Ouhaddou, Sainte Barbe, research in progress, silkscreen printing on paper, Marseille, 2019.