_
OUR EXTRA-SENSORY SELVES: A DEVELOPMENT CIRCLE FOR RADICAL SUBJECTIVITY
A project by Allison Gibbs
4 sessions will run weekly, each Tuesday from 18 November to 9 December included.
06:30 – 08:30 P.M.
Triangle France
Friche la Belle de Mai
41 rue Jobin
13003 Marseille
Atelier 2.X.3
To book a spot and/or get further information:
ourextrasensoryselves@gmail.com
+33 6 02 68 93 32
Our Extra Sensory Selves Tumblr !
OESS What is this ? If you have questions click here !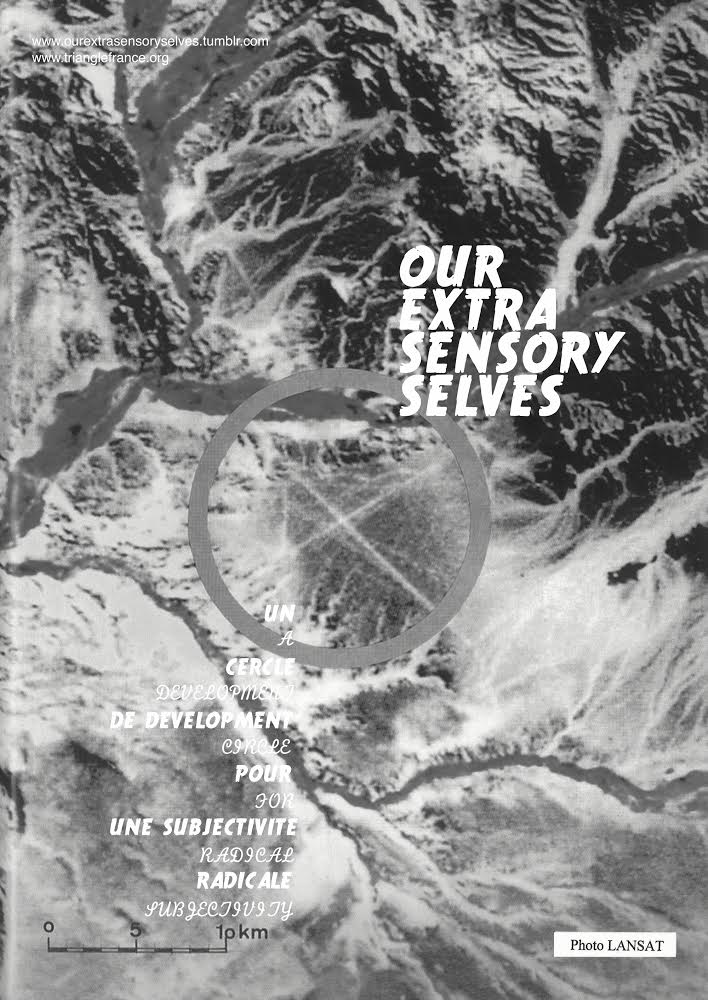 Have you ever wanted to develop your psychic, telepathic, clairvoyant, mediumistic, clairaudient, shamanistic, clairsentient, telekinetic, psychometric and animal magnetic aptitude with like-minded others?
Do you want your body and mind to become a vital conduit for receiving and transmitting external information by means beyond the realm of the regular human senses of vision, hearing, touch, taste and smell?
Have you ever wondered whether a "self", your-self, can become transitory, unmanageable, slippery, un-institutionalised and temporarily indistinguishable from the selves of human, plant, object, animal or energy Others?
Have you ever wanted to just get some extra senses?
Yes?
Then join Our Extra-Sensory Selves! It's a workshop designed to explore the self in relation to power by considering the extra-sensorial as a site for radical subjective transformation and mobilisation.
The Development Circle for Radical Subjectivity will consist of practical exercises in extra-sensory development and the reading/screening of specific texts and films. Practice will include exercises in psychometry, telepathy, psychic mediumship, meditation and visualisation, mimesis and automatic writing.
Through collective reading, discussion and extra-sensory development, each session will explore and embody a variety of ideas and practices from the ancient to the contemporary. We'll also be taking into account how, historically, extra-sensory practices have been viewed by institutional systems of power; how has psychic ability been understood, represented and marginalised, for example throughout Modernity, and how is it perceived within contemporary society?
Can we, like the psychic medium, parapsychologist or animist be vital conduits for receiving and channelling other sources of knowledge, experiences and emotions beyond our "own"? By becoming extra-sensory can we expand subjectivity into a more amorphous, and potentially freer, realm of contingency, fluidity and multiplicity of self?
The development circle is free and open to anyone. Booking is open and subject to availability, It is advisable to pre-book a spot in advance by email or phone. No prior extra-sensory experience is needed. Commitment to attending all sessions is desirable, but not essential.
Allison Gibbs (born in Australia, lives and works in Glasgow) graduated with a Masters of Fine Art from The Glasgow School of Art in 2013, with an Erasmus exchange at The Piet Zwart Institute Rotterdam, NL. Working predominantly with 16mm film, video, writing and extra-sensory activity, Allison devises methodologies for working by translating things into actions; like a constellation, a table or a psychic medium as a way of channeling and representing multiple points of philosophical, anecdotal, historical and visual reference through her practice.
Recent exhibitions and projects include Let The Body Be Electric, Let There Be Whistleblowers, an exhibition with Allison Gibbs, Ken Jacobs and Joachim Koester at Dan Gunn gallery Berlin, curated by Heidi Ballet and Anselm Franke; an adaptation of the scripted film work Spirits of Ecstasy (Murnau's Death Mask) for The Happy Hypocrite- Heat Island (issue 7 spring 2014 edited by Isla Leaver-Yap); Kelly, a collaborative exhibition with Jennifer Bailey, Tessa Lynch & Þorgerður Ólafsdóttir for Glasgow International 2014 and SPIRIT SHADOW SPECTRE BONES and PHANTOM (solo exhibition) at Intermedia, CCA Glasgow 2013. In 2014 Allison has undertaken residencies at Rupert Vilnius, Lithuania and Hospitalfield Arts Arbroath, Scotland and was shortlisted for the Lux/Glasgow International Film Festival Margaret Tait Award.
This program is supported by Ville de Marseille, Conseil Général des Bouches-du-Rhône, Conseil Régional PACA, DRAC PACA and SCIC Friche la Belle de Mai. It is made possible in partnership with Glasgow Sculpture Studios and with support of the Programme de Relations Internationales de la Ville de Marseille.