EXHIBITION NEWS
_
NO FEAR, NO SHAME, NO CONFUSION
Opening 11 October 6.30pm, exhibition 12 October 2013 - 2 February 2014,
La Friche Belle de Mai, R+5, 41 rue Jobin 13003 Marseille
From Tuesday to Sunday 1pm to 7pm
Night on last friday of each month till 10 pm.
With Liz Magor (born in 1948, lives and works in Vancouver, CA), with Jean-Marie Appriou (born in 1986, lives and works in Brest, FR), Andrea Büttner (born in 1972, lives and works in Francfort, DE) and Laure Prouvost (born in 1978, lives and works in London, GB, Winner of 2013 Turner Prize).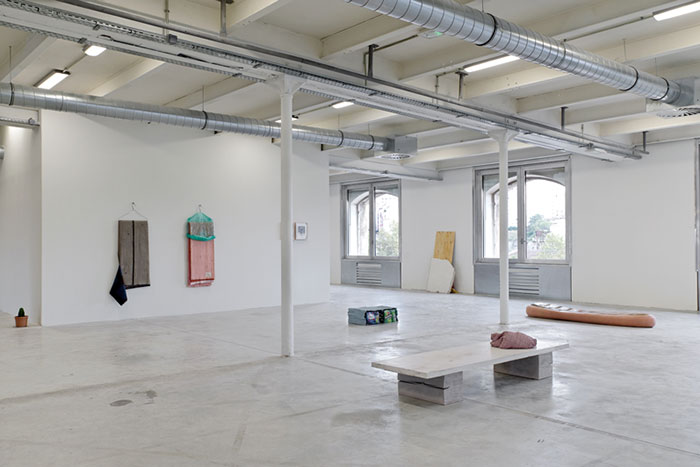 No Fear, No Shame, No Confusion, vue d'exposition © Photo Aurélien Mole
Triangle France is pleased to announce the first European solo exhibition by Canadian artist Liz Magor. Gathering a rigorous selection of her works from the past 20 years as well as new works, No Fear, No Shame, No Confusion is an unprecedented presentation of Liz Magor's work in Europe since her participation in Documenta VII in Kassel (1987). This solo exhibition opens towards a specific reading of her work through a dialogue with artists sharing a similar sensibility, interests, or processes. Three artists were commissioned new works and invited to present their practice in dialogue with hers: Jean-Marie Appriou, Laure Prouvost and Andrea Büttner, whose woodcut from 2006: No Fear, No Shame, No Confusion gives the exhibition its title.
Since the mid-1970s, Liz Magor has contributed a vast body of work across sculpture and photography exploring with measure and subtlety the layers of information shaping what is apparent in objects and people, how they reveal themselves, claim to be, or pretend. From her early 'machines' that automatically processed mundane materials and produced sculptural forms, to her photographic series documenting historical reenactment groups in the early 1990s, she has sought to reveal how meaning can be concealed and generated, released and reproduced. Often referencing domestic environments, as well as exploiting the belief that nature is the ideal or authentic refuge, Liz Magor questions the desire and sometimes compulsion for emotional and physical comfort, and the fragility of the human body and identity. The works gathered in this exhibition, some of which have been created especially for the occasion, are shown together for the first time and constitute a precise selection of sculptures from the past twenty years. Amongst them, her famous One Bedroom Apartment (1996), her ambiguous cast objects from the past decade, and her latest works on textile using found blankets, which through alterations, she has bestowed with attributes releasing parts of their history and temperament. Re-using, duplicating and transforming objects coming from a daily life that is already done consuming them, Liz Magor addresses their status and inconsistency, and reveals their anxiety.
If anxiety and confusion are recurrent emotions addressed by Liz Magor's work, feelings of shame and embarrassment are at the core of the conceptual and formal work Andrea Büttner has developed for the past ten years. Ranging from traditional media like woodcuts to video and performance. Her work is concerned with systems of judgment, values and vulnerability. She sees shame as a productive emotion, politically valuable as a heuristic feeling: a feeling reflecting on cultural conventions regarding what we are supposed to show or hide.?For the past three years, she has been developing a body of works focusing on a sisterhood of nuns who manage an arcade in a small amusement park in Ostia, near Rome. Shown for the first time in 2012 for Documenta XIII, the video Little Sisters: Lunapark Ostia (2012) is at the center of Andrea Büttner's proposition for this exhibition. She created a new projection display for the video, entirely made in blue fabric manufactured for work uniforms. The shape evokes as much a tent from a temporary market tent as the iconography of the Virgin of Mercy, typically showing a group of people sheltering for protection under the outspread cloak of the Virgin Mary. The heavy materiality of the fabric and two different shades of blue bring together a socio-historical context with an art-historical discourse on the use and symbol of colors. Alongside with this proposition, Fallen Lassen (2010) is a conceptual work based on instructions for gestures performed during the installation of the exhibition. Each of these gestures consists in letting something fall down expressing an affirmative attitude to falling.
References to folklore, beliefs systems, and the use of traditional technics are a recurrent element of young French artist Jean-Marie Appriou. Using outmoded techniques like stone cutting, woodcarving, ceramic, metal casts and fur tanning, Jean-Marie explores the myths surrounding the figure of the artist and in which figures can appear from raw matter. Though grounded in tradition, Jean-Marie Appriou does not operate in the craftsman way of respect towards it. His way of approaching the process is the one of an adolescent teaching himself how to make something DIY in his parent's backyard while being on acid.
This experimental approach, creating objects and stories where everything seems possible to the point of a complete loss of markers is probably present in the strongest manner in the work of Laure Prouvost. For this exhibition, she created an immersive video installation, which comes as the latest episode narrating the lives of her fictional grand father, a conceptual artist who supposedly disappeared while performing his last grand work consisting of digging a tunnel to Africa from the middle of his living room. After creating the Grand Father's living room at Tate Britain earlier this year (Wantee, 2013), Laure Prouvost is now concentrating on the sorrow and dreams of the Grand Mother, Grandma's Dream work for which she is, with Wantee, the winner of the prestigious Turner Prize 2013. Images, sounds, objects, misspellings and successive translations seem to auto-generate a narration which leads us to look at our surrounding in a way where what we see might not be what it seems.
Download the press release here.

One Bedroom appartment, Liz Magor 1996. No Fear, No Shame, No Confusion, vue d'exposition © Photo Aurélien Mole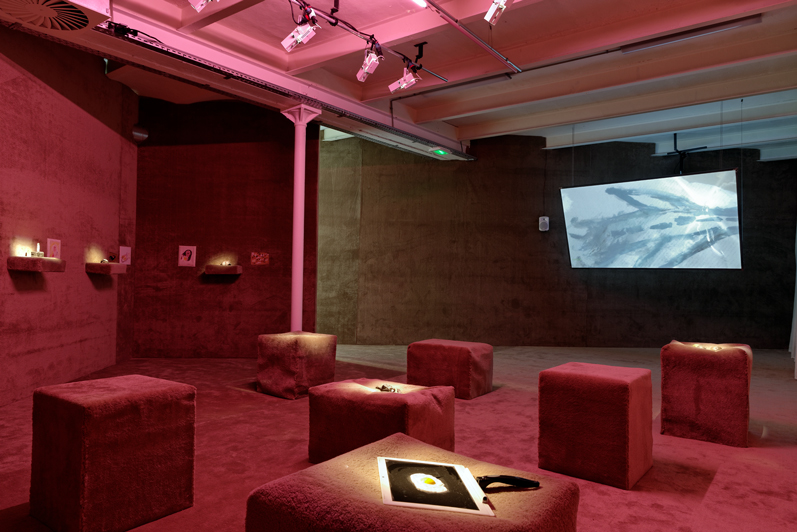 Laure Prouvost, Grandma's Dream 2013, Co-production FNAGP. Courtesy The artist & MOTINTERNATIONAL Londres et Bruxelles. Exhibition View No Fear, No Shame, No Confusion, © photo Aurélien Mole
Production :
Le Cartel, a federation of six visual art organizations :
Astérides, le Dernier Cri, Documents d'artistes, Group/ART-O-RAMA, Sextant et plus, and Triangle France.
Co-production :
Marseille-Provence 2013 and La Friche belle de mai
Sponsors & Partners
Ministère de la Culture, Direction Régionale des Affaires Culturelles Provence-Alpes-Côte d'Azur,
Conseil Régional Provence-Alpes-Côte d'Azur,
Conseil Général des Bouches du Rhône,
Ville de Marseille,
FNAGP
Goethe Institut
British Columbia Arts Council
Centre Culturel Canadien à Paris,
Or Gallery
Mécènes du Sud,
Fondation d'entreprise Ricard,
Groupe Galeries Lafayette,
Rent A Car
Metrobus,
Château La Coste,
Les Meubles de métiers
Media partners :
Le Quotidien de l'art, Cote Magazine, Les Inrockuptibles, Beaux-Arts Magazine, ParisArt
France Télévisions, Radio France, La Provence, La Marseillaise, TV5 Monde, ina.
_
TRANSMISSION(S)
Opening Friday December 6, 6:30 p.m, solo exhibition December 9, 2013 - January 24, 2014
Cour de la mairie du 11e, 12 place Léon Blum 75011 Paris
Opening hours: Monday - Friday, 8:30 a.m. - 5 p.m, 7:30 p.m. on Thursday
Triangle France is invited by Mairie du 11e arrondissement de Paris to organize a series of three solo exhibitions within the framework of the program entitled Transmission(s). For the occasion Triangle France asked three young artists from France and abroad to take over the city hall's yard. One after another they will make site-specific productions questioning the place and its history.
Laurie Charles, Triangle France resident in 2012, will be the one to kick off the 2013-2014 Transmission(s) program. She will be followed by Guillaume Gattier and Nicolas Momein.
Laurie Charles was born in 1987, Brussels (BE). She lives and works in Brussels and Paris (FR).
To Laurie Charles every object is an opportunity to lead an in-depth research in which she puts together different elements into a fictional narrative. The work is the outcome of the narrative.
Lying on historical events, popular references or her own history of the place, she unveils « ghosts » that become the protagonists of her work. From a project to another those resurgences get connected to one another in order to form a cosmography in which she is the keystone.
Recent exhibitions: Year 2012, Komplot, Brussels (BE) ; Romantic Duo, Friche la Belle de Mai, Marseilles (FR) ; Trompe le Monde, Ecole supérieure des Beaux Arts des Bordeaux (FR) ; La Force de l'Art (projet parasite d'Olivier Bardin), Grand Palais, Paris (FR).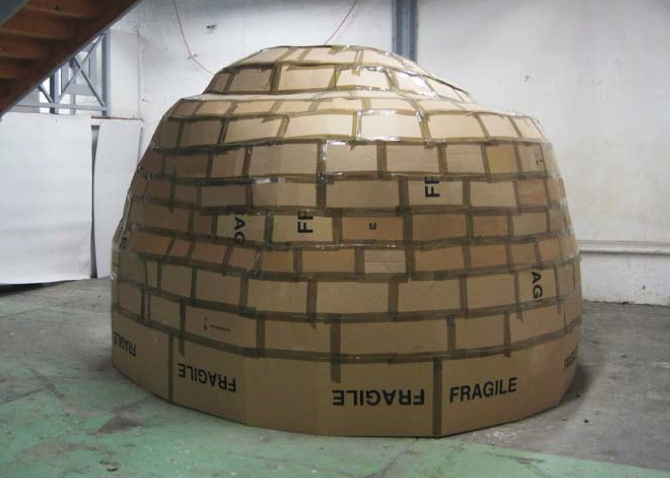 Laurie Charles, Second Sight, 2011, tape, cardboard, paper, neon, spray paint, variable dimensions, courtesy of the artist
Transmission(s) is a project initiated by Mairie du 11e, Paris.
www.mairie11.paris.fr
_
0,00€
A PROJECT BY JEAN-ALAIN CORRE with Simon Bergala, Anne Bourse, Grégory Cuquel, Florence Giroud, Anthony Jacquot- Boeykens, Renaud Jerez, Thomas Léon, Jean-Baptiste Sauvage, Thomas Teurlai and Philip Vormwald.
Exhibition from April 27th to May 19th, 2013.
Preview: April 26th, from 6:30 pm.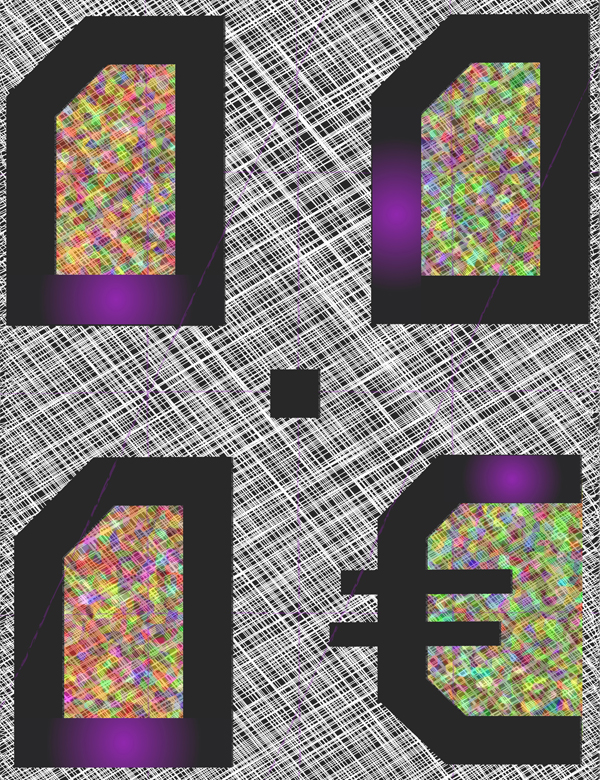 0,00€, poster by Jean-Alain Corre, 2013.
Triangle France and Galerie Arnaud Deschin are pleased to present 0,00€, an exhibition project conceived by Jean-Alain Corre during the time of his residency at Triangle France. Jean-Alain Corre decided to invite ten artists to join him rue Espérandieu. There, they attempted to convince small business owners to let them exhibit works in their shops. Conversations happened and bakers, hairdressers, sandwich makers, became curators and gallery invigilators so that artworks could in turn integrate the shops and the daily life of this small neighbourhood community. Stories are added to existing ones.
The list of venues are available at La GAD - 34, rue Espérandieu - 13001 Marseille and at the bakery! (number 29 of the same street).
_
THE POSSESSED
Exhibition from May 3rd to June 2nd 2012
Opening on Wednesday 2nd 2012 at 7pm
Hors-Les-Murs / HLM - 20 rue St Antoine – 13002 Marseille
with works by Tim Braden, Sophie Bueno-Boutellier, Cécile Dauchez, Guillaume Gattier, Theo Michael, Lidwine Prolonge, Fabrice Samyn, Analia Saban, Jocelyn Villemont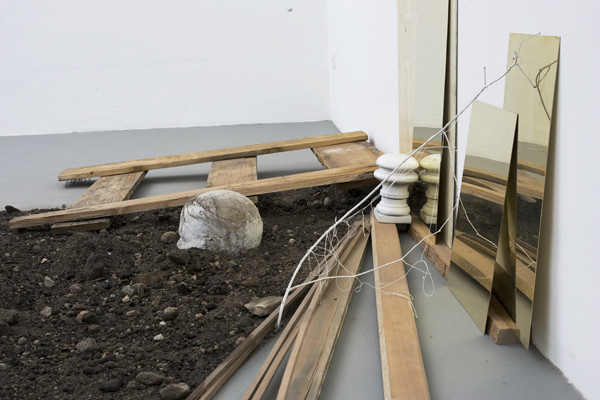 Sophie Bueno-Boutellier, Oursin Fossile, 2008, Brass, wood, plaster, soil, various materials, 450 x 300 cm circa, Collection Ginette et Guillaume Houzé, Paris, artist's courtesy, © Alexis Zavialoff
"The Possessed" proposes to observe the work of art as the place of negotiation between two dissenting voices, that of the world and the artist, through the allegory of the Medium. The Medium, person "able to perceive the messages of the spirits of the dead," achieves the feat of speaking for the other, at least as long as he convinces his audience of so. But as he faces the difficulty of transcribing the most humbly as possible those alien voices, he paradoxically starts standing as an author, driving apart from his simple role of servant.
The question is then not so much whether the Medium tells the truth, than to understand by what means and what strategies he is implementing his speech. The chimera of an objective artistic truth was generally dismissed in the 60's: from then, art rather seeks to report the increasing complexity of our subjectivities, opposed to a once unique world order. The artist asserts her/himself as a kind of conveyor of experiences, and whose virtuosity only can tell from her/his position as an impostor or a demiurge, like a medium particularly possessed by the spirits that visit him.
In the show are chosen artworks that reflect on this author / servant paradox : the word of the artist plays hide and seek with what she/he claims for. Heirs to a centuries-old art history (Analia Saban, Theo Michael), observers of Civilization (Jocelyn Villemont, Tim Braden), critic spokespersons of secret societies (Lidwine Prolonge, Guillaume Gattier) agnostic mystics (Sophie Bueno- Boutellier, Fabrice Samyn), or technologic ones (Cécile Dauchez)... the artists, like if they were possessed, often talk for something or someone else; and they always have the last word. When culminates this mediumistic schizophrenia, and the artist manages to combine subjectivity and universal truth until they can't part anymore, a work of art has the power to silence for a moment the clamor of our differences.
View of the exhibition here
Opening pics here
Clic here to read the press review !