_
MARGARET HONDA

MARGARET HONDA
WRITINGS
This limited edition book was published on the occasion of Margaret Honda's exhibition Sculptures at Triangle France, and her upcoming project at Künstlerhaus Bremen in 2016.
As one of three works of Sculptures, a monographic exhibition by Margret Honda at Triangle France in Marseille, the artist published Writings, a collection of texts about her own work. This limited artist's edition, co-published by Triangle France and Künstlerhaus Bremen, is a complete written record of Margaret Honda's work.
All the proceeds will go towards the production of a revised second edition of Writings published next year for a wider distribution.
Writings was edited by Matthew Evans, Tensing Barshee, and designed by Dan Solbach.
Writings
Publishers: Triangle France, Künstlerhaus Bremen
Softcover, 6.6 x 4.5 niches
100 pages
Texts in English
ISBN 978-2-9522763
Edition of 150 + 15 Artist's proof
signed and numbered by the artist
€95
BUY WRITINGS:
Shipping to France + 5€
ADD TO CART
Shipping elsewhere + 10€
ADD TO CART
More information about the exhibition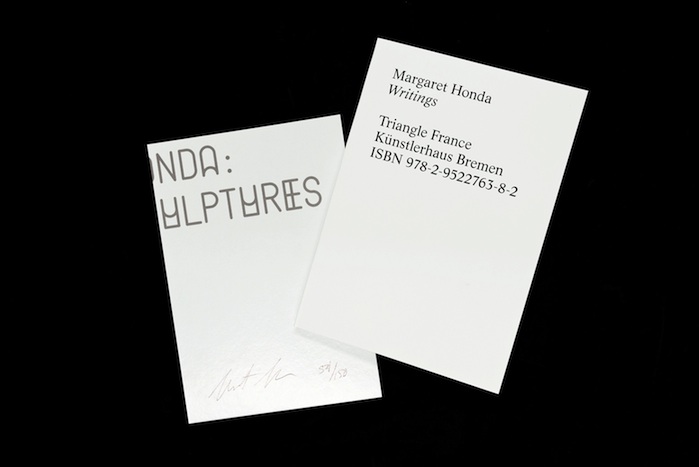 Photo credits: Aurélien Mole.