EXPOSITIONS 2010 RETOUR
_
HITCH UP EXHIBITION OF THE RESIDENTS WORKS
from december the 17th to the 19th 2010
Galerie de la Friche La Belle de Mai, La Tour, 2e étage, 41 rue Jobin, 13003 Marseille

Exhibition with Jean-Baptiste Bouvet, Isabelle Frémin, Esther Hiepler, Christian Newby, Nicolas Ramel, Monica Restrepo, Hélène Rivière
More informations on Astérides and it's residents : www.asterides.org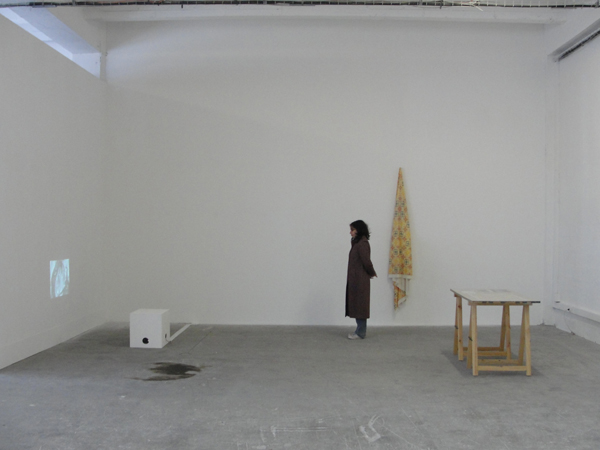 View of the exhibition at the Galerie la Friche Belle de Mai
_
CRASH TASTE
from november the 5th to the 27th 2010 /
Buy-Sellf Art Club, 101, rue Consolat, 13001 Marseille
Fondation Vasarely, 1, avenue Marcel Pagnol, 13090 Aix-en Provence
Exhibition with works of Boris Achour, Agathe Alberti Bock, Fayçal Baghriche, Charlotte Benedittini, Karina Bisch, Mireille Blanc, Aurélie Bourguet, Emilie Caldieron, Colin Champsaur, Grégory Cuquel, Elodie Garrone, Alexandre Gérard, Justine Giliberto, Natacha Gomet, Mahjoub el Hassini, Seong-Hye Hong, Anthony Jacquot-Boeykens, Guillaume Linard-Osorio, Guillermo Moncayo, Samuel Montcharmont, Olivier Muller, Catalina Niculescu, Yannick Papailhau, Kirsty Roberts, Thomas Royez, Arnaud Vasseux
This collective exhibition results from a workshop with the group C.A.K.E, made of art students from Marseille and Aix-en-Provence. After being introduced to residents of Triangle and from the region, they were able to establish a curatorial project fed by their own production.

View of the exhibition at the Buy Sellf Art Club, ©Emilie Franco
To download the press release click here
_
IT'S LIKE A JUNGLE SOMETIMES, IT MAKES ME WONDER HOW I KEEP FROM GOING UNDER (BIS)
Exposition collective/monographie de l'artiste Matthieu Clainchard from april 17th to june 5th 2010 at Galerie de la Friche Belle de Mai
With Fayçal Baghriche, Lewis Baltz, Yves Bélorgey, Stanley Brouwn, Dector & Dupuy, Vincent Ganivet, Liam Gillick, Peter Halley, Denis Hopper, Colombe Marcasiano, Benjamin Seror, Veit Stratmann et Raphaël Zarka
Grand Master Flash & The Furious Five describe, through the rapper Melle Mel's words, in the seven minutes long song The Message, their everyday life in the New York of the eighty's in a disillusioned, though realistic way. In breach with the hip hop music of the time, meant more as a festive outlet to the still segregated misery of blacks' ghettos, The Message marks the political turn of a musical movement which aims to gain from its production context rather than ignore it in order to forget its harshness. This position, where lucidity prevails on the spectacle by sabotaging it, is the starting point of Matthieu Clainchard's first personal exhibition, since the cease of his activity with the Bad Beuys Entertainment1 group. The exhibition is thought as a schematic and fragmented representation of landscape, connoted as highly urban. The artist, thanks to this familiar frame, can propose a fiction of reality, where the city has to be considered like a physical AND virtual object. It becomes both a place, a period, a mental space and a cultural place: historical, social and political. The composition of this new occurrence "city", on a pure imaginary level, which mixes different dimensions: temporal, spatial and philosophical, clearly borrows its construction from science fiction classical scheme2 (familiar/unfamiliar objects). This artifice allows Clainchard to articulate different levels of speeches and representations, and to state the hypothetical existence of alternative, "trans-distinctional"3 perceptions. Talking about social body, community, media, political and administrative systems, major and minor history, artists' role and alternative cultures, Clainchard is trying to break up the construction of bodies and social spaces, and in the same time declares imagination as both a way out and an active fiction.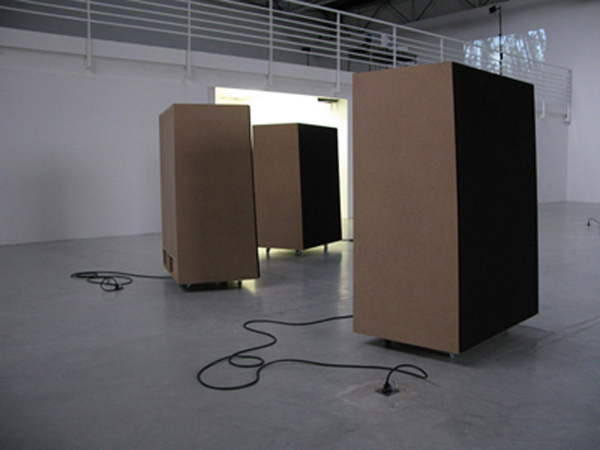 Matthieu Clainchard, Bruit vert, Bruit coloré, cd audio, amplificateur, bois, hauts parleurs, 2010