NEW EVENTS
_
NO FEAR, NO SHAME, NO CONFUSION: THE END

Late night opening at la Friche la Belle de mai january 31, 2014
Free admission from 6 to 10. p.m. to the exhibition No fear, No shame, No confusion at the 5th floor of tour-panorama, concert organized by radio grenouille, with L'AMATEUR & CHRISTOPHE GANTELMI at les grandes tables from 10 p.m. to 1 a.m.
A solo presentation of Liz Magor with new projects by Jean-Marie Appriou, Andrea Buettner and Laure Prouvost (Winner of 2013 Turner Prize).
Exhibition 12 October 2013 - 2 February 2014,
La Friche Belle de Mai, R+5, 41 rue Jobin 13003 Marseille
From Tuesday to Sunday 1pm to 7pm
Night on last friday of each month till 10 pm.
No Fear, No Shame, No Confusion will be over soon... In order to celebrate the end of the exhibition, we invite you to the late night opening next Friday, and discover the works of the Canadian artist Liz Magor as well as Jean-Marie Appriou, Andrea Büttner and the Turner Prize-winning artist Laure Prouvost.
The evening will continue at the restaurant Les Grandes Tables with Radio Grenouille who will present the two sound artists l'Amateur and Christophe Gantelmi.
For further information visit Friche la Belle de Mai's website www.lafriche.org.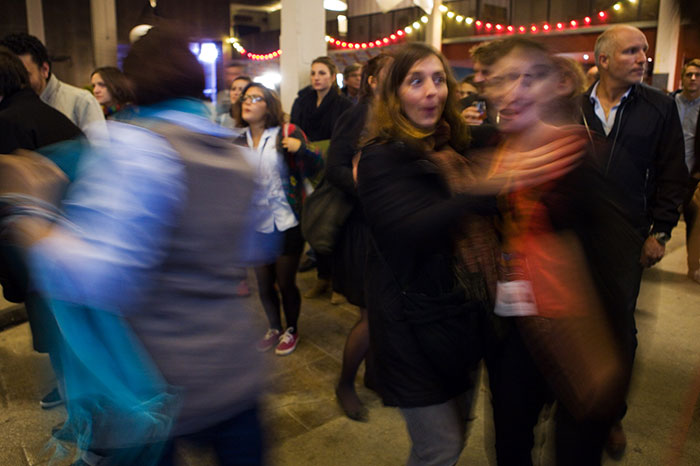 © Photo J.C Lett
_
TRANSMISSION(S): GUILLAUME GATTIER EXHIBITION OPENING
Solo exhibition
From february 10 to march 14, 2014
Opening february 7, 2014 at 6:30 p.m.
Monday - Friday,
8:30 am. - 5 pm,
on Thursday 7:30 pm
Cour de la Mairie du 11ème
12 Place Léon Blum
75011 PARIS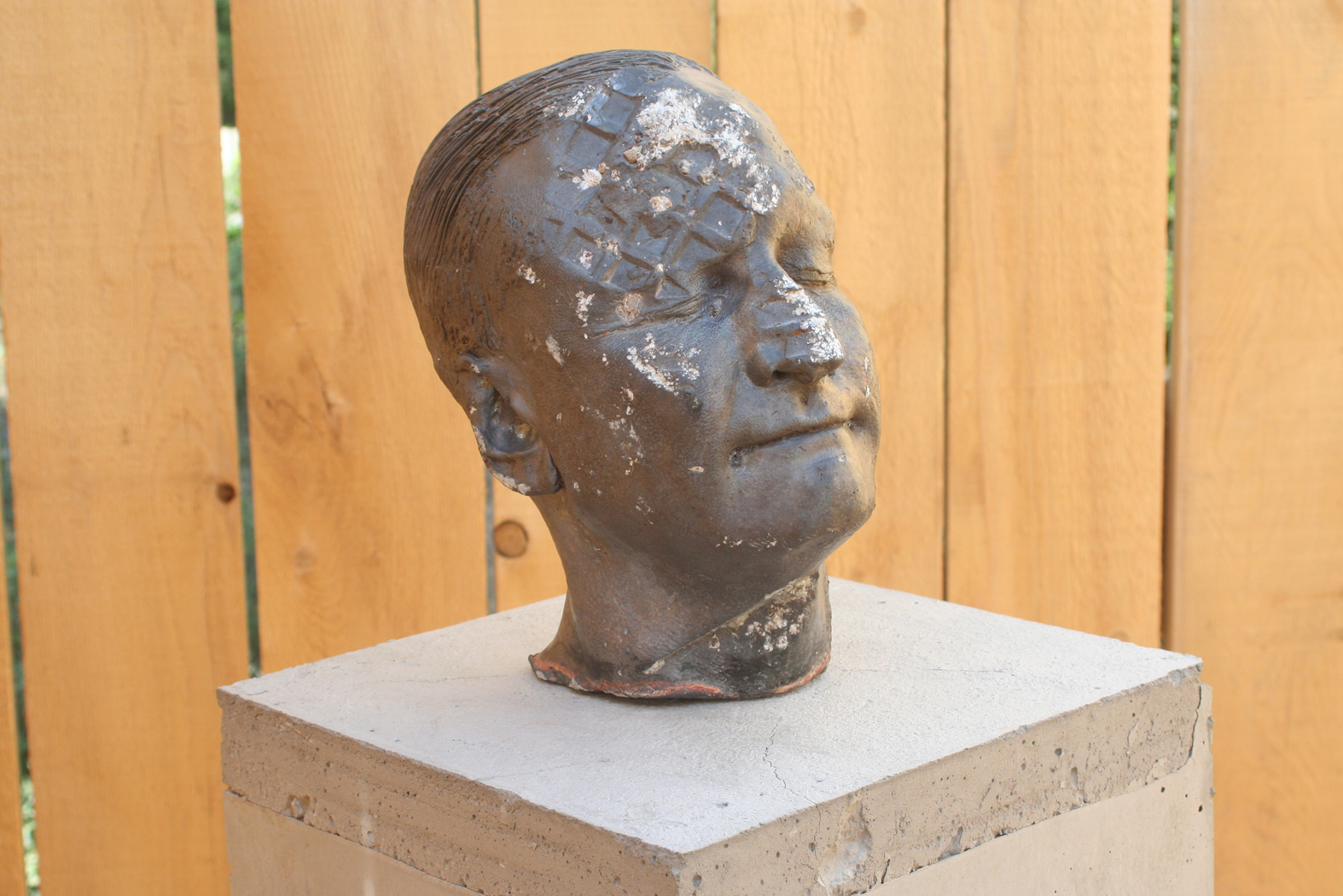 Guillaume Gattier, Respice Finem, 2012, plomb, béton, bois, ciste, 3x3x3m, courtesy de l'artiste
The first part of Transmission(s) with Laurie Charles exhibition is almost over but the program continues with a new artist. For the second part Triangle France invites Guillaume Gattier who will take over the City Hall's yard. Come and see his site-specific works at the opening on February 7, 2014, 6:30 p.m.
Transmission(s) is a program initiated by Marie du 11e, Paris. It offers every year a series of three solo shows, art history classes and writing workshops. Guillaume Gattier will make a presentation of his work during the art history class on February 6, 2014. You will also have the opportunity to meet him and discuss his works on February 7, 2014, from 2:00 to 6:00 p.m.
For further inofrmation visit our website www.trianglefrance.org and Mairie du 11e's website www.mairie11.paris.fr.
_
MONDAY DECEMBER 2013 LAURE PROUVOST WINNER OF TURNER PRIZE !!!
French artist Laure Prouvost is victorious of prestigious Turner Prize ! Discover now the work involved in this success: Grandma's Dream (2013) Video produced and presented by Triangle France in the framework of the exhibition No Fear, No Shame, No Confusion. (12 octobre 2013 – 2 février 2014).

Download the press release here.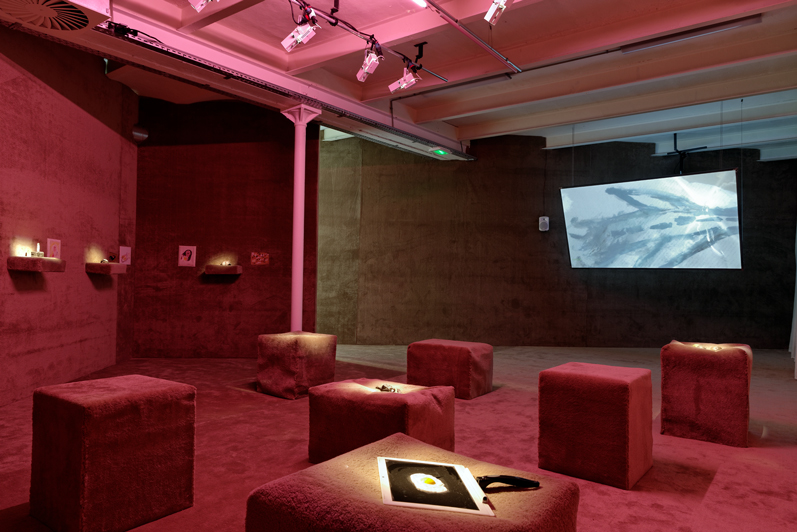 Laure Prouvost, Grandma's Dream 2013, Co-production FNAGP. Courtesy The artist & MOTINTERNATIONAL Londres et Bruxelles. Exhibition View No Fear, No Shame, No Confusion, © photo Aurélien Mole
_
LAURIE CHARLES EXHIBITION OPENING
Friday December 6, 2013, 6:30 p.m.
Transmission(s) program / curated by Triangle France
Cour de la mairie du 11e
12 place Léon Blum
75011 Paris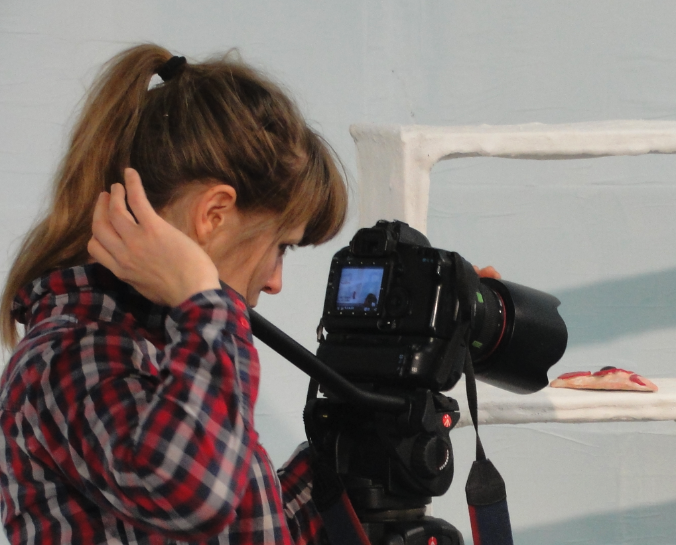 Within the framework of Transmission(s) program initiated by Mairie du 11e, Paris, Triangle France has invited Laurie Charles to produce a brand new site-specific work especially for the occasion.
Laurie Charles will make a presentation of her work during the art history class on Thursday December 5, and you will have the opportunity to meet her on Friday December 6, from 2 to 6 p.m.
For further information see the Mairie du 11e's website.
_
OPENING NO FEAR NO SHAME NO CONFUSION
October 11 2013 6pm, Showcase of SAUVAGE 10.30pm
A solo presentation of Liz Magor with new projects by Jean-Marie Appriou, Andrea Buettner and Laure Prouvost.
Exhibition 12 October 2013 - 2 February 2014,
La Friche Belle de Mai, R+5, 41 rue Jobin 13003 Marseille
From Tuesday to Sunday 1pm to 7pm
Night on friday till 10 pm.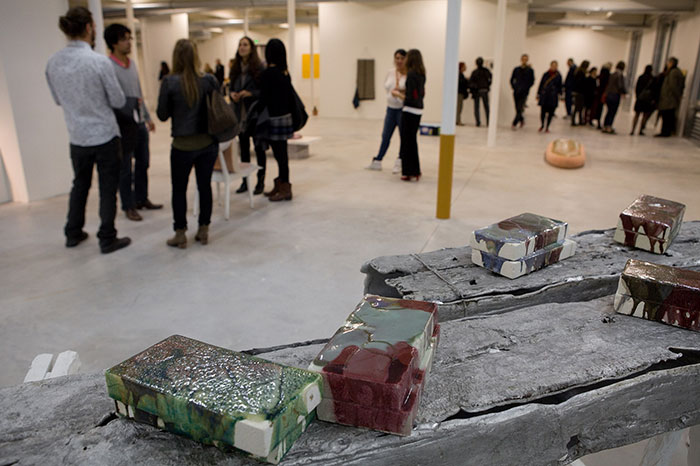 © Photo J.C Lett
_
2013 TRIANGLE GALA
End of Summer Party
31 August, 2013 - 8:30pm
La Vieille Charité - Marseille
_
NICK DEVEREUX
VISHAL JUGDEO
EMMANUELLE LAINÉ
DAVID MALJKOVIC
ADRIEN MISSIKA
FRANÇOIS MORELLET
LAURE PROUVOST
CALLY SPOONER
MORGANE TSCHIEMBER
RAPHAËL ZARKA.
_
Triangle France, in collaboration with Fondation d'entreprise Ricard and
ART-O-RAMA, is pleased to invite you to the 6th edition of its annual Gala.
Join the artists supporting Triangle France for a cocktail dinner party.
A piano, a singer, a playlist,
some overly-familiar pop-musical hits with strange lyrics...
A drink in your hand. Performance.
Hotel lobby, cocktail bar, cruise ship...
Les Archipels Réinventés (2). Exhibition.
Music.
One of Memphis' finest indie rock musician.
And artworks at prices like you will not see anytime soon.
/
CALLY SPOONER, Eight Thirty Till Ten. Performance.
/
HARLAN T BOBO, Solo. Concert. Memphis, TN's most mysterious musician.
/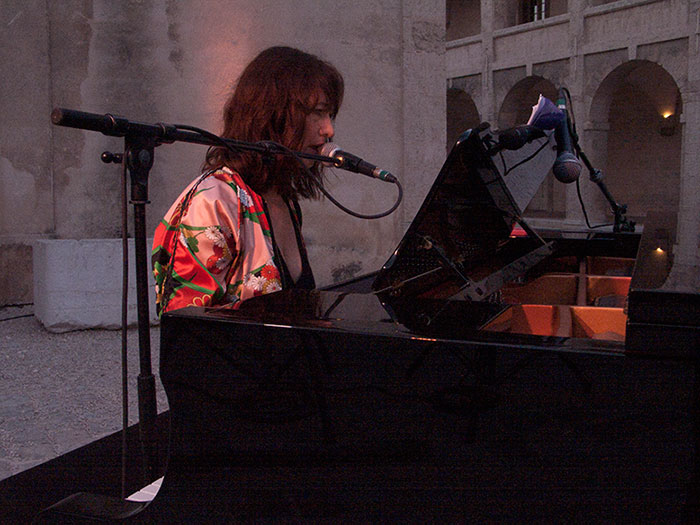 _
2013 TRIANGLE GALA: New Formula.
40€.
Exclusive visit of the Fondation d'Entreprise Ricard's exhibition: Les Archipels Réinventés (2), cocktail dinner party, performance, concert, presentation of the artworks for sale, and to end the soirée: a signed screen print by French artist Bruno Peinado will be drawn amongst all the
guests (presence non required for participation)..
400–1000€.
To celebrate the end of Summer and support our ambitious residency and exhibition program, Triangle France gives you the opportunity to acquire exceptional artworks, especially made for the occasion by a list of internationally renowned artists.
_
Dress code: Flat shoes.
RSVP before 25 August: support@trianglefrance.org (subject to availability).
Information: +33 4 95 04 96 11
_
Triangle France is supported by the City of Marseille, Conseil Régional PACA, Conseil Général des Bouches du Rhône, DRAC PACA and SCIC Friche la Belle de Mai.
This event is made possible by a partnership with Fondation d'Entreprise Ricard,
ART-O-RAMA, Domaine de Saint-Ser, EBS Organisation Communication, Provence Restauration, Scotto Musique and Transports Cremades..
_
ART-O-RAMA
Salon international
d'art contemporain
29, 30 & 31 août 2014
Exposition
-> 14 septembre 2014
La Cartonnerie
Friche la Belle de Mai
41 rue Jobin, 13003 Marseille
Entrée parking
12 rue François Simon
t. 04 95 04 95 36
contact@art-o-rama.fr
Triangle France in must visit Marseille's art fair!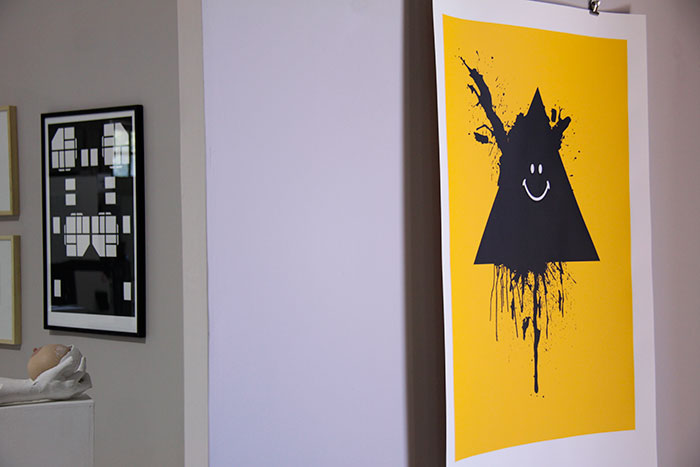 _
A SIX STAGE MANIFESTO ON ACTION - PART 2
A PERFORMANCE WRITTEN AND DIRECTED BY CALLY SPOONER
Devised with and performed by Dulcie Lewis. Musical Arrangement by Peter Joslyn
Accompagnied by Christophe Castan, Stéphane Zef Richard, Davis Timsit
October 3rd, 9:30pm, Montévidéo, impasse Montévidéo, 13006 Marseille
Coproduction: International Project Space, Birmingham / Triangle France / Actoral.12
For the fifth consecutive year Triangle France is renewing its partnership with Actoral.12. Within this context, we are very pleased to introduce British artist Cally Spooner with a performance adapted in French for the very first time. Untitled "A six stage manifesto on action - Part 2", this performance is part of a project produced this year by International Project Space in Birmingham (UK). After "Part 1" was shown at the ICA in London, "Part 2" was created exclusively for Triangle France in collaboration and co-production with the artist and IPS. A third occurrence of this project will travel to Les Ateliers de Rennes Contemporary Art Biennale this fall.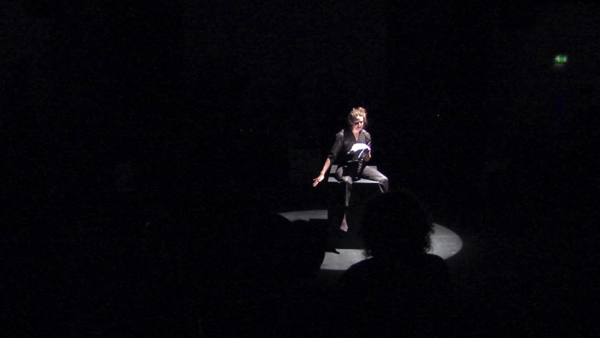 Cally Spooner, A Six Stage Manifesto On Action - Part 1, ICA, Londres, Devised with and performed by Dulcie Lewis, Musical Arrangement by Peter Joslyn. Photos courtesy of Kirsty Bard at Bard productions and the artist.
'A Six Stage Manifesto On Action - Part 2' is a 40' performance developed by Cally Spooner as part of 'Collapsing In Parts', a long term project commissioned by International Project Space in Birmingham (UK). Since June 2011, the project has been an investigation into progress, publicness, and the notion of performance as promise, wherein the challenge to produce and the constant revisions involved become part of the performance itself.
Part musical theatre production, part perpetual rehearsal, for a future production, 'A Six Stage Manifesto On Action - Part 2' is a structure for a solo performer and a changeable collective of musicians. The piece operates in versions, developing new works within a Six Stage sketch show system, using this model to explore the notion of innovation and improvement. Responding to different conditions, casts and musical genres, the piece produces a new performance that never finally arrives, as part of an evolving work that continues remaking itself from the same fixed structure and changing contributors.
For more information on 'Collapsing in Parts' final exhibition at IPS: http://internationalprojectspace.org/exhibitions/cally-spooner-exhibition/
Cally Spooner (b. 1983) is an artist based in London. Recent solo presentations include Seven Thirty Till Nine, Shanaynay, Paris (2012); At Five to Ten, Neue Alte Bruecke, Frankfurt (2010) and A Solo Event for Thinking, Basso, Berlin (2009). Recent and upcoming group shows include Memory Marathon, Serpentine Gallery, London; I Proclaim You Proclaim We Proclaim, Stroom, The Hague; Making Words Marking Words, Cooper Gallery, Dundee; An Exhibition to Hear Read, ICA Philadelphia (all 2012); Outrageous Fortune, Hayward Touring; Double Bill (with Tai Shani), LOOP Festival, Barcelona; The Department of Wrong Answers, Wysing Arts Centre (all 2011); Perform a Lecture!, The Office (curated by Ellen Blumenstein and Dieter Roelstraete), Arsenale, Berlin (2010).
_
A DRINK ON THE CÉCILE DAUCHEZ'S MONOGRAPH
AT COMMISSARIAT, 24 RUE MORET, 75011 PARIS ON MAY, 20TH 2012 AT 05:00 P.M.
Le Dimanche 20 Mai 2012 à 17h au Commissariat, 24 rue Moret, 75011 Paris
Triangle France and the Commissariat are glad to invite you around a drink at the launching of the first Cécile Dauchez' monograph, coproduction of Triangle France, Art Center 3 bis F and P. editions, published with support of Région Provence-Alpes-Côte d'Azur.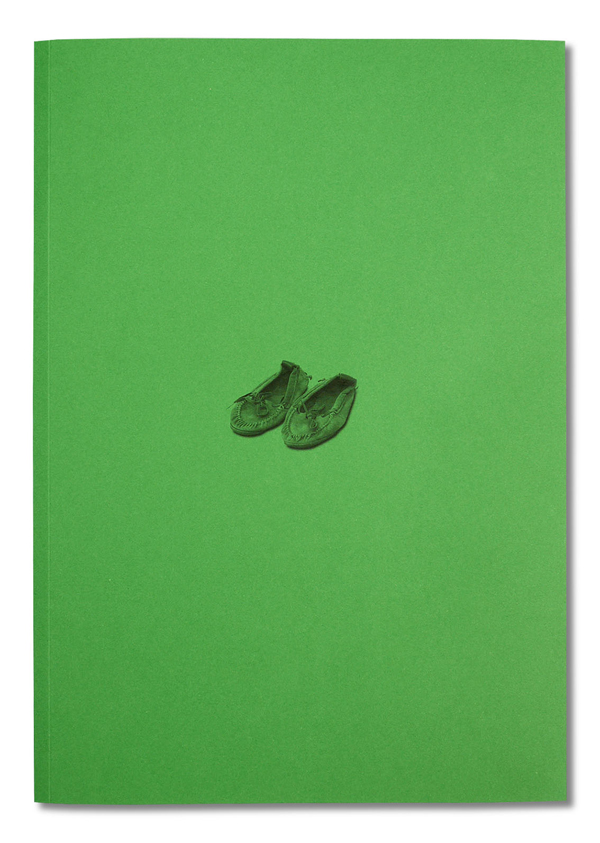 couverture du catalogue
« The Cécile Dauchez' plastic work looks for changes of matter's state to seize the instant of its new aspect, and to manifest informations that it delivers us. What arises, in the materials' manipulation, transform them into pictures, and gives rise to a « forms which looks like themselves » experience. The materials' multiplicity used and presented in this monograph, helps bring about a overview very simple ; the impression of a delight state. The text of the artist Maxime Thieffine offers an inspired lecture, where revealed marks on materials work like screens. This lecture becomes clearer by the participation of artists' work as Cheyney Thompson, Sean Snyder, Paul Thek or Richard Serra. Then, Cécile Dauchez reveals, during the discussion with Dorothée Dupuis, an intimate analysis of her artistic practice's motives and destinies. Their dialogue puts into perspective the artist' renewed experience during her studio's work. »
(extract of the press release from P. editions, disponible here)
The artist and the autors will be present and will introduce the project in a few words.
It will be the occasion to discover the first exhibition of the Commissariat's new team too (for those who didn't see it anymore), with the artists Pablo Cots, Nicolas Giraud, Justin Meekel, Julien Tiberi and Nicholas Vargelis.
Hoping to meet many of you May, 20th!
_
CONFERENCE BY VANESSA DESCLAUX
«POSSESSION AND STORYTELLING : THE PERFORMANCES OF MATT MULLICAN UNDER HYPNOSIS »
at Hors Les Murs/HLM, 20 rue Saint Antoine, 13002 Marseille, On May 17th 2012, at 7.30pm

Vanessa Desclaux was born in 1981 at Remiremont, France, she lives and works in Paris.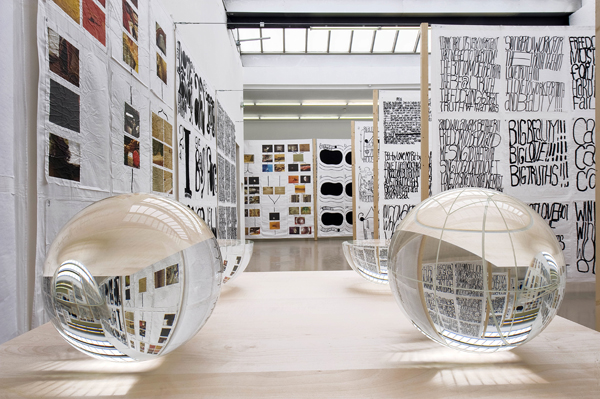 Matt Mullican, Untitled (Learning from that Person's Work: room 1 to room 7), 2005, Matt Mullican, Cityplan etched on crystal balls, 2009, View of the exhibition Matt Mullican, 12 x 2, 4 june - 19 september 2010, Institut d'art contemporain Villeurbanne/Rhône Alpes © Blaise Adilon
The american artist Matt Mullican (born in 1951, Santa Monica, États-Unis ; lives and works in New York and Berlin) uses hypnosis in it's practice since the early 70's. Almost 40 years later, a corpus of works is then existing – performances, texts, drawings, installations – testify this singular production, that was develloped at the same time as another well known corpus of works by the artist using a vocabulary of signs and symbols displaying all over a cosmology peculiar to Mullican spirit.
Order and chaos gather in this work with numerous and complex subdvisions in wich he keeps questionning the process of artistic production and the coherence of his own identity which is the origin of it. Hypnosis and trance state reach by Mullican through this experience reveals another psycho-identity, the fantasy of a drama character who the artist names« That Person ».
The control by the artist on this production becomes then the main question, his « conscience » of what he is showing in the context of his performances : how much can he be someone else ? rom wich point of view do we consider this "else" ?
_
EVENTS ARCHIVES
2011 & previous archives