EVENTS
_
UPCOMING EVENTS
Triangle France - Astérides programs public events as part of our exhibitions and residencies programs.
For more info, contact us : contact(at)trianglefrance.org
_
YGRG 162
DOROTA GAWEDA & EGLE KULBOKAITE
Reading group
Thursday 6 June, 2019
6:00 - 8:00 P.M.
Studio 2A3
2nd floor, red staircase
Friche la Belle de Mai
41 rue Jobin
13003 Marseille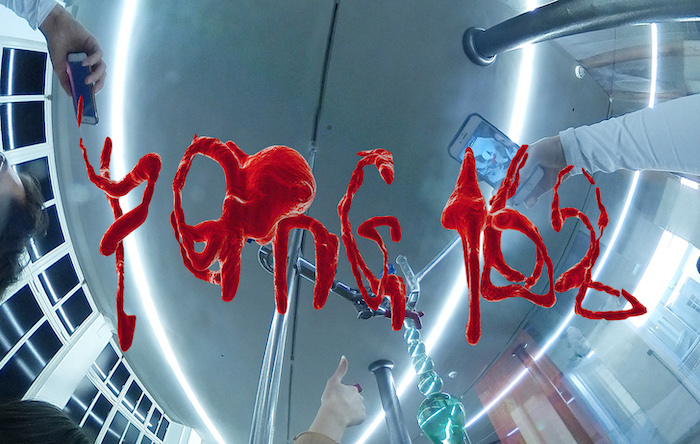 © YGRG 162, Dorota Gaweda & Egle Kulbokaite, 2019
Young Girl Reading Group (YGRG) is an ongoing project initiated in 2013 by Dorota Gaw?da and Egle Kulbokaite, artists currently in residency at Triangle France - Astérides. In the frame of their residency, the artistes purpose a reading group of the newest book by Silvia Federici "Witches, Witch-hunting and Women". The reading group will be followed by a discussion between participants.
YGRG investigates the act of reading as an intimate experience, holding the potentiality to become public performance through the "outlouding" of words. YGRG is a sonar-social architecture of shared curiosity and synchronicity.
All the participants will read for the group. English only.
_
PAST EVENTS
You will find below our events (public programs, performances, lectures, book launch, open studios...) we hosted, organized or co-organized since 2013.
_
OPEN STUDIOS
SHIRLEY BRUNO, ESTEL FONSECA,
DOROTA GAWEDA & EGLE KULBOKAITE,
JOSÈFA NTJAM, BEN SAINT-MAXENT
Saturday 1 June
3:00 - 5:00PM
Friche la Belle de Mai - 2nd floor
41 rue Jobin
13003 Marseille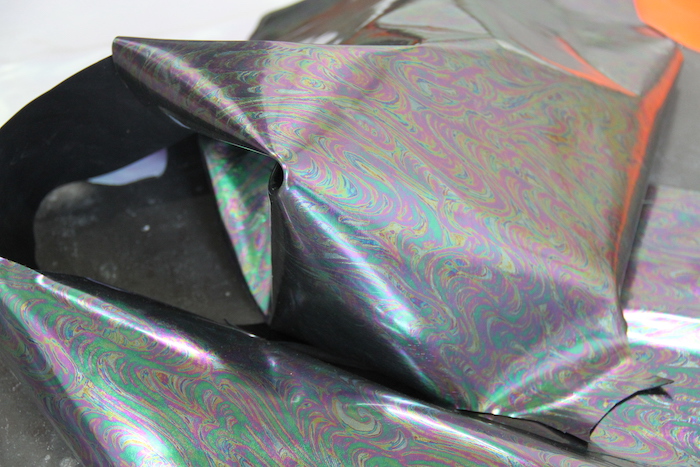 Studios public opening evening with artists in residency from January at Triangle France - Astérides.
More info about our residents here
_
FRUXUS (furukususu)
ARCADE MAJEURE
Sound live and talk
Invited by Josèfa Ntjam, artist in residency
Tuesday 28 May
6:30 - 8:30 P.M.
Studio 2A3
Friche la Belle de Mai - 2nd floor - red staircase
41 rue Jobin
13003 Marseille
Josèfa appeal to Arcade Majeure, in the frame of her residency at Triangle France - Astérides, for a radio event, FM and web broadcasting. During this intervention, based on sound practices, from talk to muzak, the collective Arcade Majeure welcome you for two hours within an installation created by Josèfa Ntjam for a presentation of their activities, with housemade juice and gaspacho.
Arcade Majeure: a collaboration between Paola Quilici (core member Arc Maj) and Lina Schlagetter, with contributions by Raphaelle Giaretto (AKA Alto A, core member Arc Maj), Armand Bultheel (core member Arc Maj), Alexandre Simon (core member Arc Maj), Alexandre Delauw Rivière (coremember Arc Maj), and Suzanne Moreau (ephemeral member).
More info about Josèfa Ntjam
More info about Arcade Majeure
_
DO DISTURB !
ARTHUR ESKENAZI, SARA SADIK
Off-site program by Triangle France - Astérides for the fifth edition of Do Disturb, the performance arts festival at Palais de Tokyo, Paris.
From 12 to 14 April 2019
Palais de Tokyo
13 avenue du Président Wilson
75116 Paris
IDEAL CORPUS
Arthur Eskenazi
Friday at 8:30 P.M.
Saturday at 8:00 P.M.
Sunday at 3:45 P.M.
Galerie basse niveau 0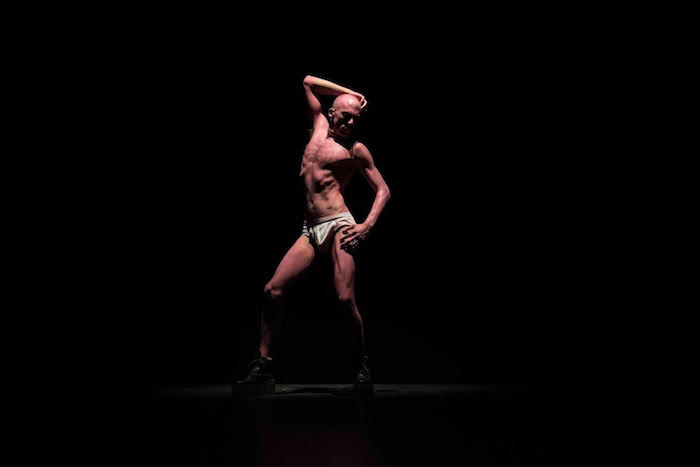 © Margaux Vendassi - Théatre des Bernardines, Marseille
With this nod towards the duo of the same name who were active in the 2010-2016 period in the underground Seapunk scene in Marseilles, Arthur Eskenazi is attempting to create points of convergence while building up a bodily presence run through by a stream having multiple entries. He chooses to bring together things that seem, initially, quite opposed. Worlds of images, quotations, artistic disciplines or narrative registers build up as across a territory that has to be crossed over. The artist thus sounds out forms of otherness.
ALLO LE BLED
Sara Sadik
Friday at 7:30 P.M.
Saturday at 7:00 P.M.
Sunday at 2:45 P.M.
Galerie basse niveau 0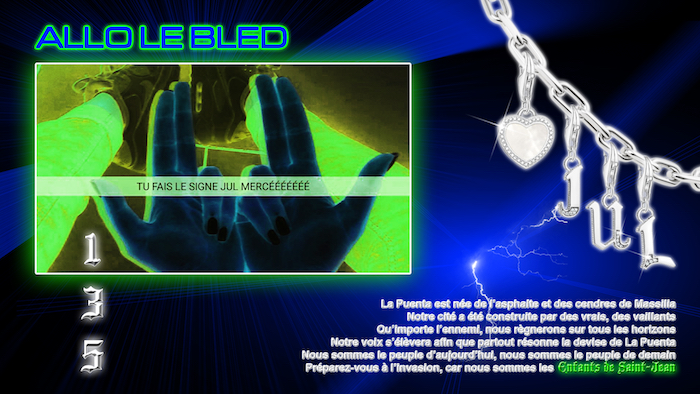 © Sara Sadik - Allo Le Bled, 2019
Sara Sadik's work is based in what she calls "beurcore", the culture of the young Maghrebin diaspora living in France, whose particularities she analyses so as to document them through fiction. "Allo le bled" is a sonic and visual ceremony during which Sara Sadik plunges us into the world of La Puenta: a new town run by the president Jul Saint-Jean. Through the character of Tchikita, she sets down the notions of fandom and cults.
_
THE CHRISTIAN BALL
FLORENT AUDOYE
Performance / end of residency presentation
Thursday 28 March 2019
6:00 – 7:00 PM
Studio 2A3
2nd floor Friche la Belle de Mai (red staircase)
41 rue Jobin
13003 Marseille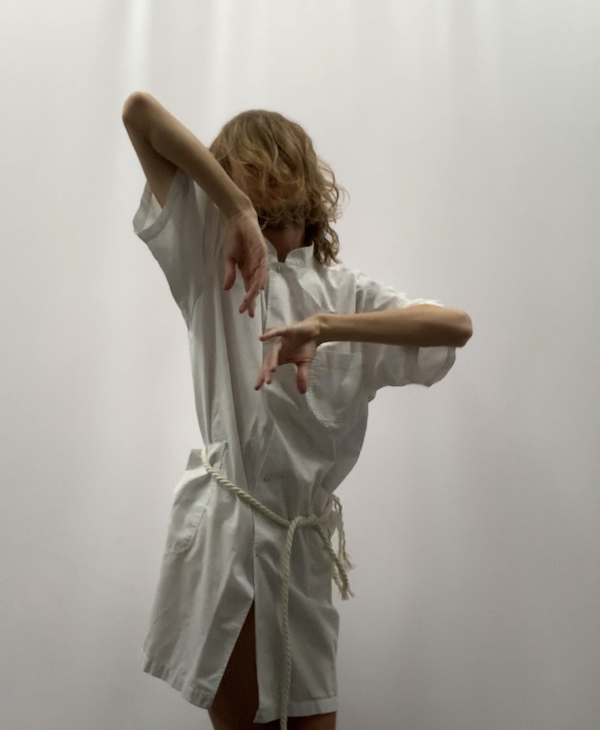 With THE CHRISTIAN BALL, a performance bringing together healing rituals, danse, music and trance, Florent Audoye, aka CHRISTIAN, presents the result of his 3 months residency research for the creation of his first choregraphic piece for 3 performers.
For a duration of an hour, between 6:00 and 7:00 P.M., visitors will be free to enter, exit, and/or immerse themselves in a performative space filled with sounds, images and a range of gestures observed in several professional fields and contexts.

More info about Florent Audoye
_
Performance
JEAN-CHARLES DE QUILLACQ
In the frame of the exhibition Vos désirs sont les nôtres
Thursday 11, Friday 12, Saturday 13 October
Modified days, the artist Jean-Charles de Quillacq replaes his own work inside the exhibition space.
Friche la Belle de Mai - 3e étage
41 rue Jobin
13003 Marseille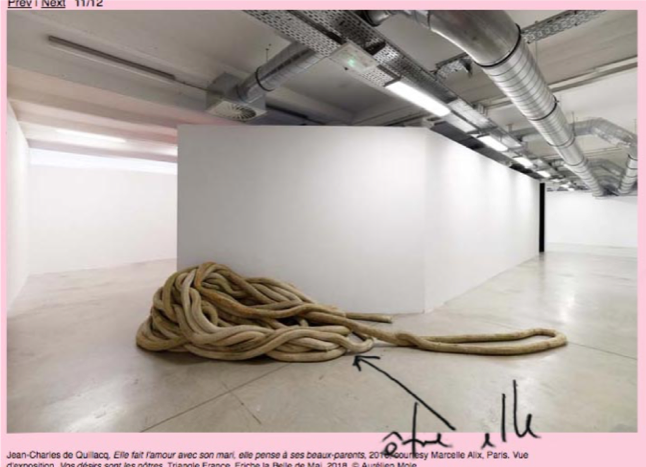 [in French]
Je voudrais être elle avant que l'exposition se termine. Je vais l'enlever pendant trois jours. Je la ramènerai ensuite. Je la déplacerai sur le palier derrière les portes et je me mettrai à sa place. Je m'allongerai au pied du mur qu'elle occupe. Je vais me mettre dans sa peau, la posséder autant qu'elle me possède. Je ferai exactement tout ce qu'elle fait dans l'exposition. J'espère que les visiteu.r.se.s qui me regarderont, ressentiront aussi quelque chose avec moi. Chaque jour, je maintiendrai cette situation jusqu'à ce que j'arrête d'y croire.
Je vais retourner ma position d'artiste, me mettre à la place de ma sculpture, et de là, j'essaierai d'avoir conscience de l'exposition entière et de résonner avec les œuvres.
Il s'agit aussi de majorer mes sensations, en remplaçant par moi-même ce que je produis, pour mon seul plaisir, comme une reconversion qui prolongerait ce qui existe déjà, et le stimulerait à nouveau.
Jean-Charles de Quillacq
_
EMPOWER, Perspectives from sex workers
A film by MARIANNE CHARGOIS
Presented by MAÏA IZZO-FOULQUIER
A proposition by Anne Marchis Mouren, as part of the exhibition Vos désirs sont les nôtres.
Wednesday 19 September
19 PM
Friche la Belle de Mai - 3rd floor
41 rue Jobin
13003 Marseille
Free entrance
Screening and Q&A in French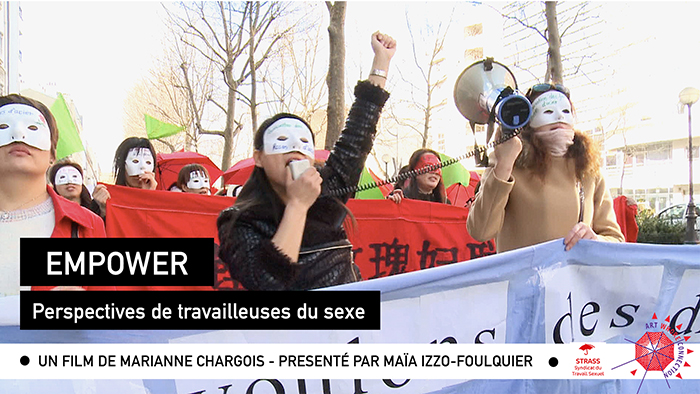 _
SMW_S
VIRGILE FRAISSE
Performance and screening as part of Ateliers Quel Amour!
Saturday 1st of September
17:00
Frac Provence-Alpes-Côte d'Azur
20 boulevard de Dunkerque
13002 Marseille

Virgile Fraisse, SEA_ME_WE 3, 2018.
Virgile Fraisse presents his project SMW_S at Frac Provence-Alpes-Côte d'Azur through a multi-voice performance. This proposition is developed in parallel of SEA_ME_WE, a research initiated in 2014 and followed by Triangle France - Astérides since 2016, year of Virgile Fraisse's residency.
In partnership with Triangle France - Astérides, MP2018, Mécènes du Sud, Décalab.
More info here:
Ateliers Quel Amour !
_
PERFORMATIVE VISITS
ARTHUR ESKENAZI, ESTEL FONSECA, DORIANE SOUILHOL
As part of the exhibition Vos désirs sont les nôtres
3rd floor - Tour Panorama
Friche la Belle de Mai
41 rue Jobin - 13003 Marseille
Curators Marie de Gaulejac and Céline Kopp invite three Marseille based artists to develop a performative visit within the exhibition Vos désirs sont les nôtres.
THIS LOC / SLOW / LOW / COMMOTION
Arthur Eskenazi
Saturday 1st September
14:30
Free entrance to the exhibitions on the 1st September only.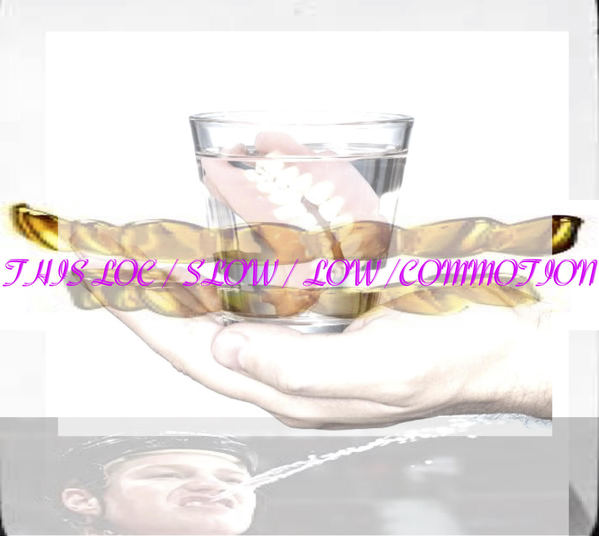 In the frame of the public program of our exhibition Vos désirs sont les nôtres, Arthur Eskenazi presents a performance in four acts developped especially for the occasion. A performed visit in which body frictions won't be avoided.
The work of Arthur Eskenazi is multiple and protean, not attaching itself to any particular discipline but considering them all as territories with particular topographies that we would have to cross.
Performance, dance, theater, scenography, but also video, installation, drawing, writing or painting represent like a great planisphere with porous and moving boundaries depending on the body that passes through them, the specific situations which it makes the experience and which can only be transmitted by telling the story. But which one?
TRAVERSÉ.E.S DE DÉSIR
Doriane Souilhol
Saturday 21 July 2018
17:30
Free entrance to the exhibitions from 17:00 on the 21st July.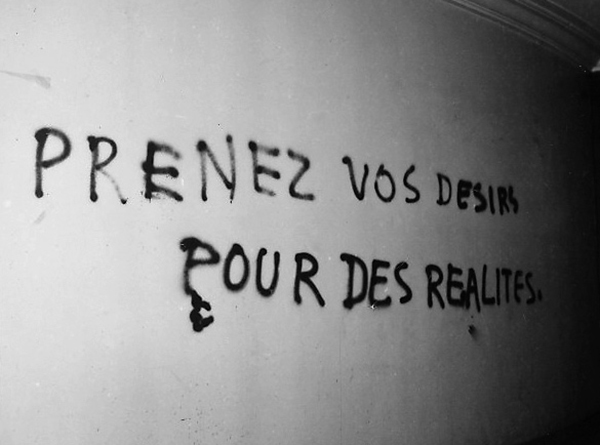 Wall (Sorbonne?), anonym, 6 x 6 cm, National Library of France, Paris.
Doriane Souilhol proposes a subjective journey infiltrating the exhibition Vos désirs sont les nôtres. In the form of a perfomative visit, desire will here be understood as a twisting matter and its mechanisms as gesture or experience of failure.
The artist addresses the question: what is desire? How are we crossed by desire? Through a psycho-analytico-poetic approach, Doriane Souilhol proposes to survey the uses of the word desire in the language, what is woven between body and speech, what are the (obscure) objects of desire and why Jacques Lacan was doing knots...
With voices and words by Jacques Lacan, Gilles Deleuze , Jacques Derrida, Jean-Luc Nancy, Véronique Botte-Hallée, Aurélie William Levaux, RD Laing, Paul. B. Preciado, l'esprit du clan, Sonic Youth, 68's walls...
Doriane Souilhol's artistic research focuses on the notion of desire, and more specifically addresses issues of emptiness, of creative proces and image. Doriane develops a reflexive work on art. This results in collaborations and exchanges with other artists or art professionals that take the shape of curatorial projects, interviews and writings.
Doriane Souilhol (b. 1981) lives and works in Marseille. She graduated from the Ecole d'arts appliqués Duperré in Paris. Recent exhibitions include Pan noir, galerie Deux, Marseille (2017); à la recherche de l'objet petit a, INACT festival, Strasbourg (2017); Fail better V, Alma art space, Paris (2017); Objet photographique, Galerie Immix, Paris (2016); Fail better II, théâtre de Vanves gallery (2015); Fail better I, galerie Vol de nuits, Marseille (2014).
_
STUDIOS OPENING
Triangle France - Astérides
Thursday 5 July, 2018
6 - 9 pm
Floor 2 - Magasins
Friche la Belle de Mai
13003 Marseille
Studios opening of Triangle France - Astérides artists in residency.
_
TAMPERED EMOTIONS - LUST FOR DUST
Encounters and performances, a program conceived by Lotte Arndt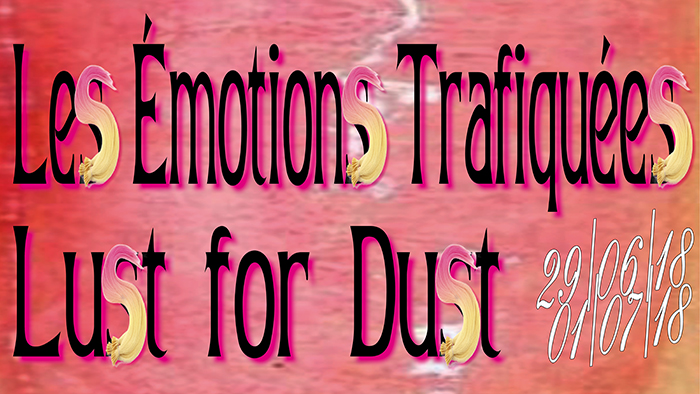 Graphic design: Roxanne Maillet
In the backstage areas of global trade ec-static subjectivities decompose into sweating skins. The air is heavy with far traveled smells, overwhelming, asphyxiating. The state stands stiff, stamps forms, wiggles bars and barriers, raises banners, and proclaims in strong voice willful redemption, but the sound is too loud. The film may be from last year and everybody gets bored. With surprising certitude, the remote corners of the abject selves walk in; they are vested in hairy dresses. As on a sign given to them, they gather in a crowd, accelerate the gestures of their toxic habits, until they loose heir contours and morph into liquid flows, leaving behind only prosthetic parts of their luxuriously shining bodies. From beyond, trembling wills without Visa cross borders as theft. They move closely tied to each other, while, nearby, she sits motionless on her own and smokes another hundred smuggled cigarettes. She has abandoned to wait long ago. She rather takes the backdoor. She'd rather not…. Here, passing is a mode of survival and dream comes as a kleptomaniac.
The public program Tampered Emotions – Lust for Dust accompanies the exhibition Vos désirs sont les nôtres. On 29 & 30, June the participating artists are invited for presentations, performances, and exchange with writers and theorists around desire and violence, and the affections of the intimate by the mutilations of life. This program conceived by Lotte Arndt will be closed on 1, July, 2018, by a book release by artist Liv Schulman, an evening of projections and a performative lecture by the artist Roee Rosen, event organized in collaboration with FIDMarseille and the [MAC] Museum of Contemporary Art of the City of Marseille at Mucem. In the beginning of September 2018, during the fair Art-o-rama a performance will close the program.
More details about the program here
_
STUDIOS OPENING
Astérides & Triangle France
Thursday 22 March, 2018
6 – 9 pm
Floor 2 - Magasins
Friche la Belle de Mai
13003 Marseille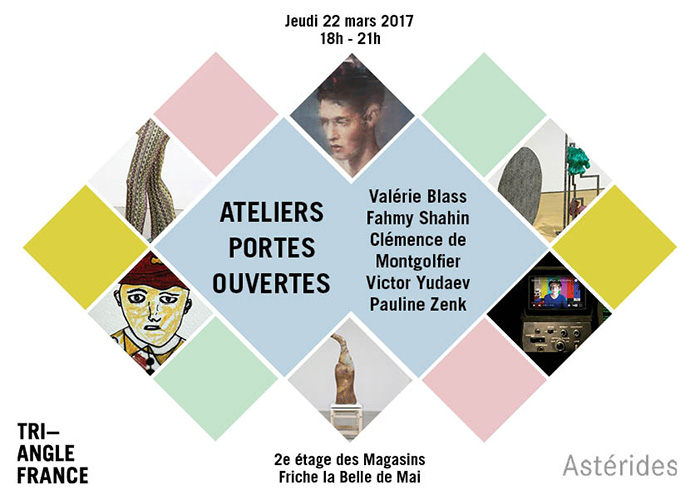 Studios opening of Triangle France and Astérides artists in residency (winter session):
- Valérie Blass, Clémence de Montgolfier and Fahmy Shahin (Triangle France)
- Victor Yudaev and Pauline Zenk (Astérides)
_
STUDIOS OPENING
Astérides & Triangle France
Thursday December 7, 2017
6 - 9 pm
Floor 2 - Magasins
Friche la Belle de Mai
13003 Marseille
Studios opening of Triangle France and Astérides artists in residency (fall session 2017):
- Maya Beaudry, Adam Lewis Jacob and Anouchka Oler (Triangle France)
- Romuald Dumas-Jandolo, Pauline Ghersi, Alan Schmalz and Anna Solal (Astérides)
_
TALK OF MATTHEW MCQUILLAN
In collaboration with Rond-Point Projects

Wednesday, November 16th
From 07:00 to 08:00 P.M
4e floor, Friche la Belle de Mai
41 rue Jobin 13003
Free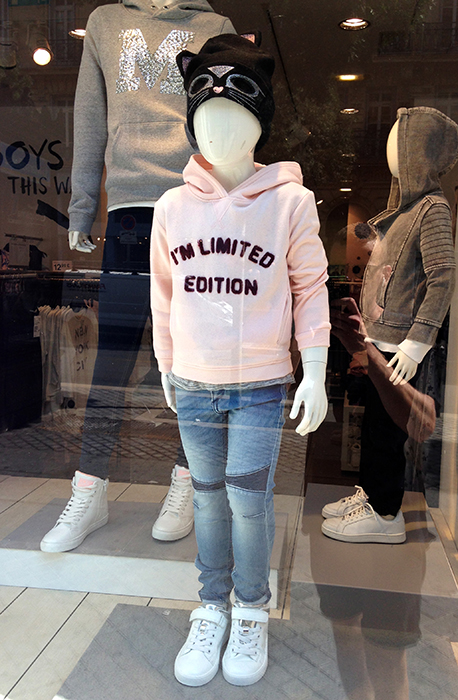 Artist Matthew McQuillan will give a presentation from ongoing research into the contemporary values and conceptions placed upon the child and childhood, in the global north. Using examples from films, literature and theory, his presentation will consider the child/childhood as a social construct, the role of the family, and various political viewpoints; to explore our current emphasis on the child as an investment and a symbol of hope.
Working across written text, performance and installation, Mcquillan's practice combines found material and personal experience to focus on the overlooked; the nature of rubbish on a Los Angeles Street, a gesture of dismissal in a botched youtube selfie or a character's attachment to a missing, cherished pet, for example. These details harbour ambiguous, and sometimes conflicting affects, such as care, anxiety, inertia and hysteria which the artist looks to question, in relation to personal and wider social relations. His practice often draws on situations and scenarios of suspended agency; in which a subject's ability to act is obstructed or blurred. In recent years, his work has widened to include organising exhibitions and thematic events, as another means to explore and test ideas.
Matthew McQuillan is a London-based artist, currently in residence at Triangle Marseille. Born 1982, (Bristol, UK) he graduated with an MFA from Goldsmiths University in 2010. Recent exhibitions / events include 'Rough House', at The glue Factory (part of Glasgow International); 'A Public Resource', Cubitt (London, UK); 'Bottom Natures', GCP (London, UK); 'Concerning the Bodyguard', The Tetley, (Leeds, UK); 'Soft Evidence', Legion TV (London, UK) and 'Winter Escape', The Common House, (London, UK).
_
DAVIDE STUCCHI
ART-O-RAMA 2016

During his residency at Triangle France, Davide Stucchi has produced two sculptures with soap of Marseille. The Munich gallery Deborah Schamoni present these two sculptures in a solo show at ART-O-RAMA 2016.
ART-O-RAMA 2016.
From August 25th to août September 11th 2016
Friche la Belle de Mai
These sculptures are in casts, scale 1:1 of the bodies of the artist, Davide Stucchi, and his boyfriend while swimming-sleeping, made of soap and then 'washed into the sea' so that the facial features of the figures get 'dispersed'. The work is created as a purely representative intent, but that intent is immediately denied. Indeed, the denial takes the form of a ceremony. The intimacy of the couple is so apparently shared — actually it remains in the pair — and is further enhanced by the ceremony of the birth of the work.
For more information on Davide Stucchi, it's here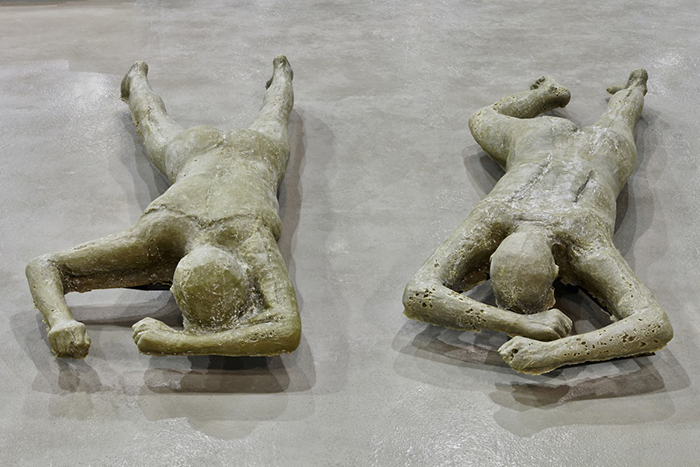 David Stucchi, Heat Dispersion (Mattia and Davide), details, soap, steel, 35 x 180 x 210 cm, 2016
We warmly thank our partner, the Savonnerie Fer à Cheval for its support.

_
SCÉNARIOS D'OCCUPATION
VIRGILE FRAISSE

Performance into two parts carried out as part of exhibition Wicked Problem
I - Thursday March 17th, 7:00 p.m.
Atelier de l'artiste, Friche la Belle de Mai
II – Tuesday April 19th , 7:30 p.m.
La Gad : Etoile Run Space, Eglise St Théodore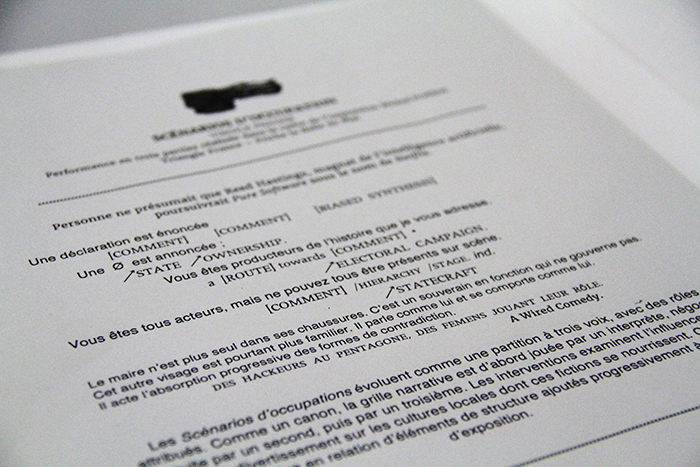 The Scénarios d'occupations evolve like a score for three voices, with assigned roles. Like a cannon, the narrative grid is first played by a performer, then negotiated by a second, and finally by a third. The interventions examine the influence of the entertainment lobbies on local cultures in which these fictions feed. Each participant evolves in connection with the space in which he performs: a workshop, an exhibition space, a church.
_
THE BLUE ONE COMES IN BLACK
BOOK LAUNCH: LIZ MAGOR

Join us tomorrow at FIAC, on Marcelle Alix's booth (1.G11-Grand Palais) for the book launch of Liz Magor "The Blue One Comes in Black" from 5 P.M. to 8 P.M. in the presence of the artist (Book signing at 5P.M.)
LIZ MAGOR
THE BLUE ONE COMES IN BLACK
English/French
170 pages + booklet
Softcover, 22,5 x 31 cm
ISBN 9788867491704
€ 28
Copublished by Mousse Publishing and Triangle France
Texts by Céline Kopp, Liz Magor, Lisa Robertson and Jan Verwoert.
Graphic Design by Mathias Schweizer
Published in partnership with Art Gallery of Ontario - AGO and Gershon Iskowitz Foundation; Le Cartel; Centre d'art contemporain d'Ivry - le Crédac; Contemporary Art Gallery, Vancouver and with the support of Catriona Jeffries Gallery, Vancouver; Marcelle Alix, Paris and Susan Hobbs Gallery, Toronto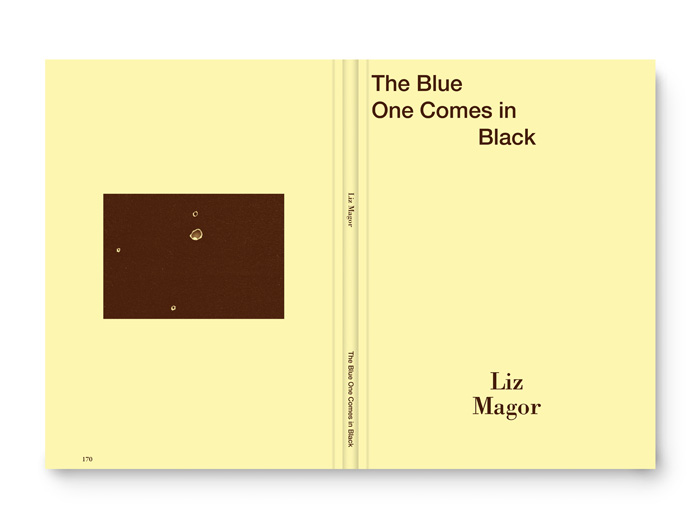 "This is not a picture to show how things are. It's a proposal as to how we connect to what matters and how it comes to matter. It's one of the vital intuitions Liz Magor could be understood to advance in her work: bodies, souls, memories and matter interconnect in peculiar ways and activating this connection may be more strikingly simple than many would believe".
Jan Verwoert, 2015
This book offers a new contribution to the thinking around Magor's long standing practice by gathering newly commissioned critical texts and creative writing, as well as texts by the artist herself, some of which were previously unpublished. This book not only highlights important works from throughout Magor's career but also present her latest work for the first time in a publication form.
Liz Magor (b. 1948, Canada) lives and works in Vancouver, Canada. Practicing for over 40 years, Magor has had numerous solo exhibitions including Surrender, Iskowitz Award, Art Gallery of Ontario, Toronto (2015); Six Ways to Sunday #06, Peep-Hole, Milan (2015); Liz Magor: A Thousand Quarrels, Presentation House Gallery, Vancouver (2014); No Fear, No Shame, No Confusion, Triangle France, Marseille (2013); I is being This, Catriona Jeffries, Vancouver (2012); The Mouth and other storage facilities, Henry Art Gallery, Seattle; Simon Fraser University Gallery, Vancouver (2008). Magor exhibited at documenta 8, Kassel, Germany (1987) and represented Canada at the Venice Biennale (1984). Her forthcoming solo exhibitions include Marcelle Alix Gallery, Paris (2016), Crédac, Centre d'art contemporain d'Ivry, Paris (2016), Musée d'Art Contemporain de Montréal (2016), and Glasgow Sculpture Studios as part of Glasgow International (2016).
_
FILM PREMIÈRE: PACACOSMOS
BY PIERRE FISHER & JUSTIN MEEKEL

PROJECTION
Wednesday 13 May, 2015. 7:00 P.M.
Duration: 40 min
Followed by a second projection at 8:00 P.M.
Galerie éphémère
Friche la Belle de Mai
41 rue Jobin
13003 Marseille
Free entrance.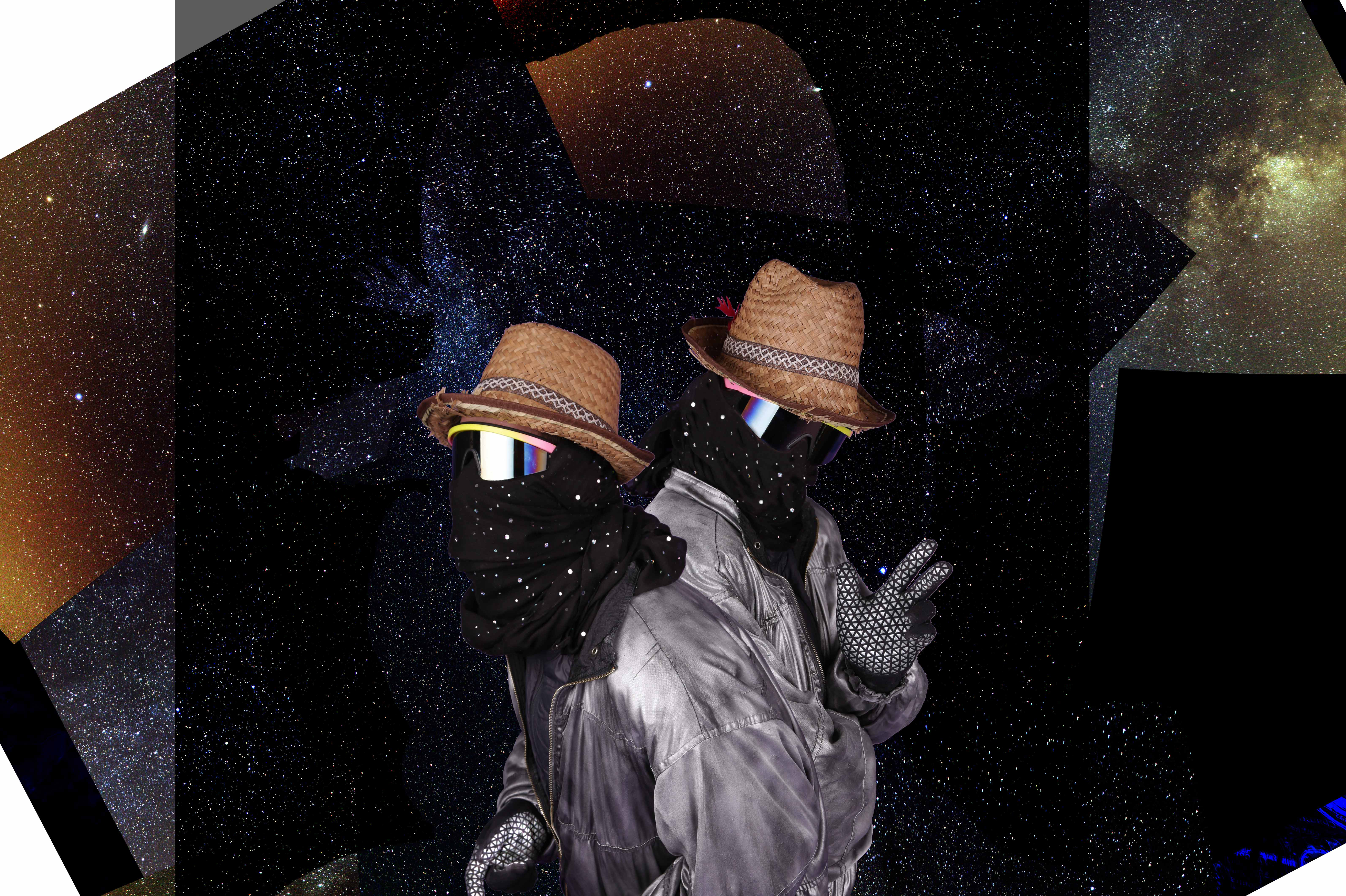 In the occasion of the inauguration of the 2015 Printemps de l'Art Contemporain in Marseille and in collaboration with les Mécènes du Sud, Triangle France et Rond-Point Projects are pleased to present the first projection of PACACOSMOS, a film by Pierre Fisher & Jusin Meekel.
PACACOSMOS is a film attempting to show the links between the banal and the cosmos within the overall territory of the French Region PACA (Provence-Alpes-Côte d'Azur). This is a fiction, created in collaboration with the region's inhabitants, whose script is being written while the images are captured, following adventures and encounters, and using the fictional potential of reality. The film functions like a road movie where the main character - a mysterious other - wanders around with poetry, looking for traces of the cosmos on earth. The hero, in the midst of an unusual quest, leaves his destiny to the stroke of luck and the stars.
Pierre Fisher & Justin Meekel were artists in residency at Triangle France for the conception and production of this project in 2014.
PACACOSMOS
Pierre Fisher & Justin Meekel
Production: Rond-Point Projects and Triangle France
A project recipient of the 2914 Mécènes du Sud award.
Coproduction: CAIRN Centre d'art, Digne-les-Bains
With support from la Direction Régionale des Affaires Culturelles Provence-Alpes-Côte d'Azur
Next and unique public projection date
within the overall program of the 2015 Printemps de l'Art Contemporain:
Friday 22 May, 2015. 8:00 P.M. (same venue).
_
FILM PROJECTION OF MAYA DEREN : "DIVINE HORSEMEN : THE LIVING GODS OF HAÏTI"

THIS RARE FILM IS INTRODUCED BY THE ARTIST RAYMOND BOISJOLY FOR THE 'FINISSAGE' OF MOUCHARABIEH'S EXHIBITION.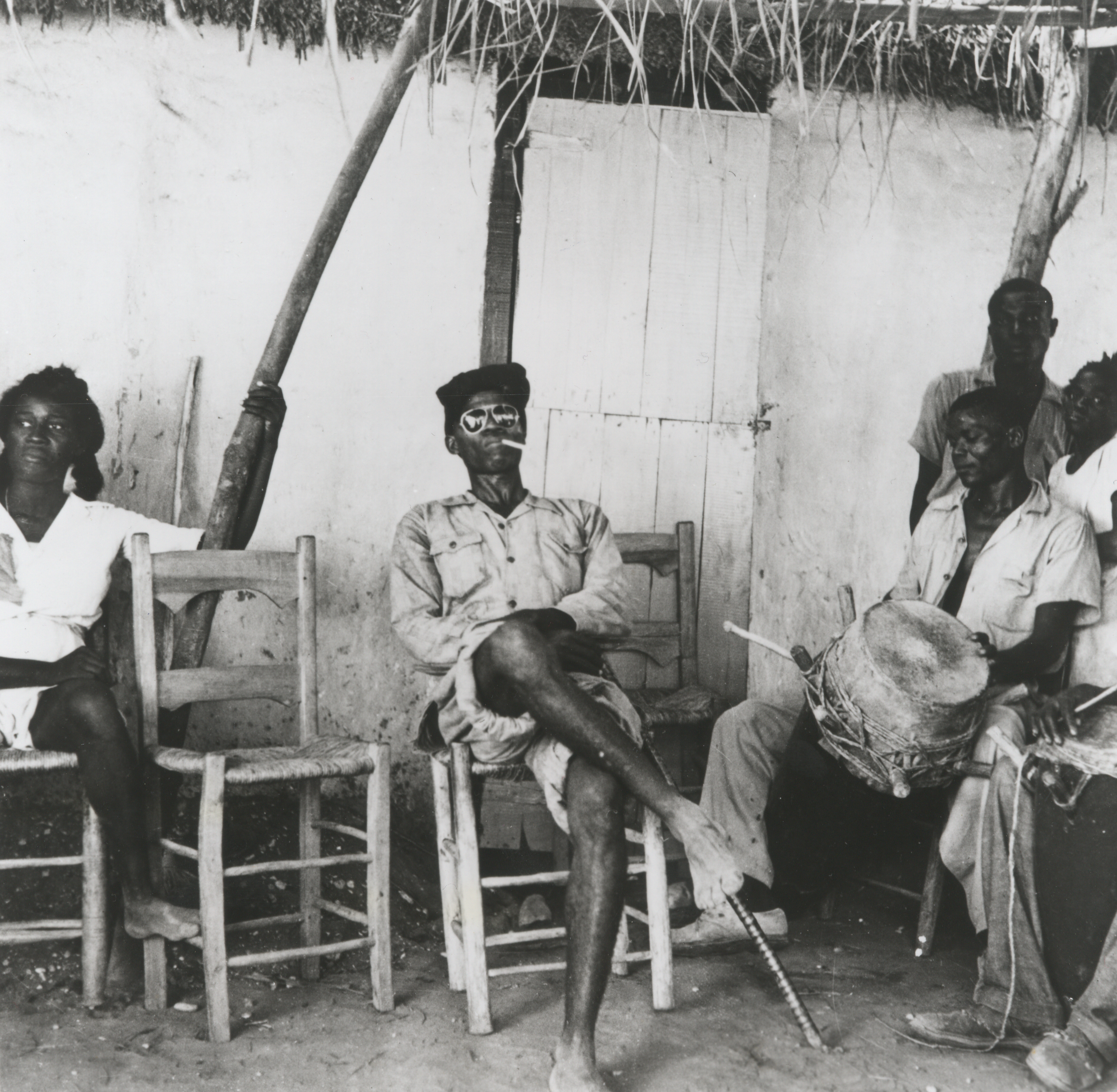 16mm film transferred to DVD
Black & White, sound, 1951
Duration: 55 minutes
From 7pm to 8pm
This film projection is proposed and introduced by the artist Raymond Boisjoly for the 'finissage' of MOUCHARABIEH exhibition. A drink will follow the screening to close the program celebrating Triangle France's 20th birthday.
Best known as a pioneer of 1940's American experimental cinema, Maya Deren produce series of short films inspired by surrealism and psychology – like Cocteau. In 1962, a year after her death, Jonas Mekas honour her work by producing in collaboration with other filmmakers her melting dream, The Film-Makers' Cooperative.
Between 1947 and 1951, Maya Deren spent significant periods of time in Haiti. The footage she made of Voodoo rituals was left unedited on her death and only assembled later as a film Divine Horsemen : The Living Gods of Haiti 1947-51. The commentary added to the footage is composed of extracts from the book of the same title Deren published in 1953.
Conceived as a "film-poem", Maya Deren's film reveals the ongoing merging of art and ethnography which was one of the legacies of Surrealism. It travel in the Voodoo's religion between dance and possession with the sounds of drums - a religion based upon West African beliefs and practices, combined with aspects of Roman Catholicism. The film captures the rituals of Rada, Petro and Congo cults, whose devotees commune with the cosmic powers through invocations — ritual offerings, song and dance. The Vodoun pantheon of deities, or loa are introduced as living gods, actually taking possession of their devotees.
This film experience and the reason why the editing remain unfinished results of the artist's change of approach during the film production:
"The disposition of the objects related to my original Haitian project–evidence that this book was written not because I had so intended but in spite of my intentions–is to me, the most eloquent tribute to the irrefutable reality and impact of Voudoun mythology. I had begun as an artist, as one who would manipulate the elements of a reality into a work of art in the image of my creative integrity; I end by recording, as humbly and accurately as I can, the logics of a reality which had forced me to recognize its integrity, and to abandon my manipulations."
-Maya Deren, "Authors's Preface" in Divine Horsemen: The Living Gods of Haiti (1953)
_
KEVIN GALLAGHER: CHEW

AN OfF-SITE EXHIBITION-PERFORMANCE PRESENTED BY ROND-POINT PROJECTS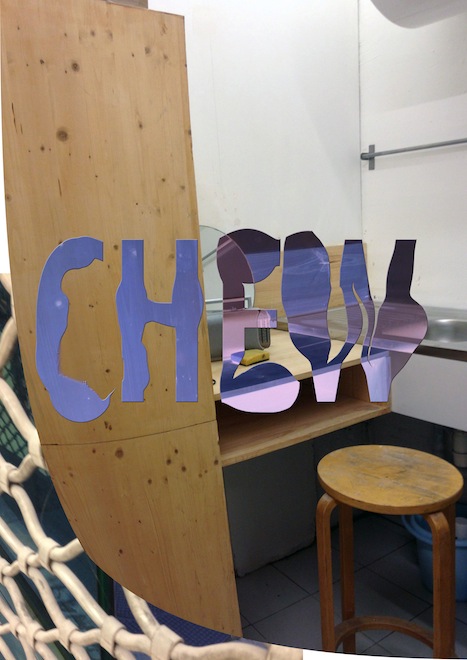 12 April, 2015
3:00–5:00 P.M.
36, rue Ferrari
13005 Marseille.
Performance by Kevin Gallagher with a sculptural contribution by Elise Carron and collaborations with Camilla Wills and Erin Gigl.
Curated by Anja Isabel Schneider
Followed by a conversation between Kevin Gallagher, Camille Videcoq and Anja Isabel Schneider
CHEW marks the first manifestation at Rond Point Projects' new space ofd-e u-m-a l-í-n-g-u-a p-a-r-a o-u-t-r-a / f-r-o-m o-n-e l-a-n-g-u-a-g-e t-o a-n-o-t-h-e-r, a long term research project developed by Anja Isabel Schneider, art historian, critic and curator. Inscribed within research initiated in Brazil in 2014 (JA.CA, Belo Horizonte) and pursued throughout 2015 within the framework of Session #5 Entrée Principale, résidence de recherche et de production curatoriale et critique à Marseille, this project reunites artists, poets, critics and translators in a program of exhibitions and events to explore the notion of translation within the context of artistic practice and exhibition making.
CHEW also marks the inauguration of Rond Point Projects Room, laboratory-exhibition space of Rond Point Projects.
For many years now, Rond Pont Projects and Triangle France have established a strong partnership for their residencies programs. Kevin Gallagher is currently artist in residency at Triangle France, a context that provided the production and allowed the research for this project.
_
THE 5-8 YEARS OLD TAKE OVER THE EXHIBITION MOUCHARABIEH
WITH COLLECTIVE TAKE ME ON
"MY FIRST TECHNO PARTY"
Saturday 28 March, 2015
Duration 90 min, 3:00–4:30 P.M.
Venue: Panorama, within the exhibition MOUCHARABIEH.
Friche la belle de Mai
41 rue Jobin
13003 Marseille
Free entrance, booking strongly suggested.
_
THE 5-8 YEARS OLD TAKE OVER THE EXHIBITION MOUCHARABIEH
WITH COLLECTIVE TAKE ME ON
"MY FIRST TECHNO PARTY"
Saturday 28 March, 2015
Duration 90 min, 3:00–4:30 P.M.
Venue: Panorama, within the exhibition MOUCHARABIEH.
Friche la belle de Mai
41 rue Jobin
13003 Marseille
Free entrance, booking strongly suggested.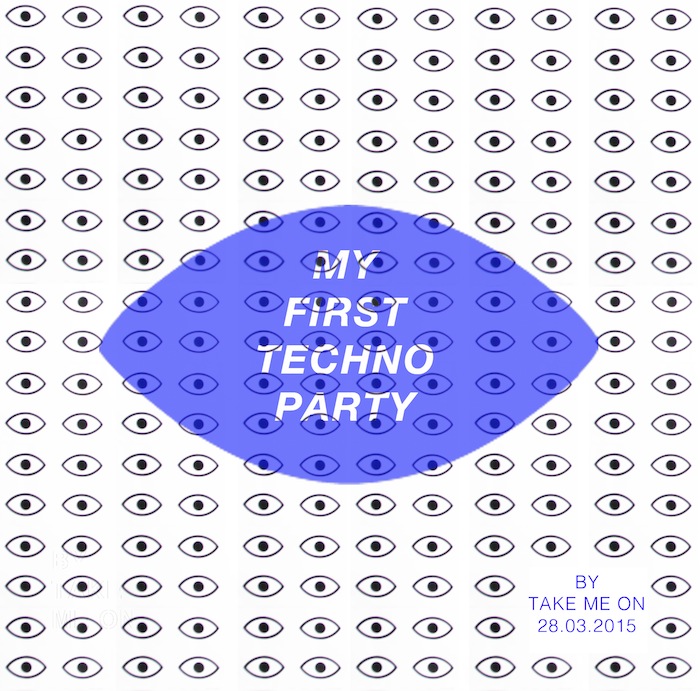 My First Techno Party, 2015. ©TMO
In the context of Clémence Seilles's work for MOUCHARABIEH, the collective "Take Me On" invites the 5-8 years old to attend to "My first Techno Party", and celebrate the energy of childhood. They will adorn face paint and costumes to dance on the carpeted temple and contribute to 'live' electronic music production.
TMO : Leïla Arenou, Oona Linke and Laure Jaffuel. http://takemeonpodcast.tumblr.com/
Free, booking strongly suggested, limited to availability.
Facial painting, creation of costumes, dance and music. Snack included.
Pack a swim suit if possible.
Access to all exhibitions will be free.
BOOKING :
support@trianglefrance.org or +33 4 95 04 96 11
_
SOUND PERFORMANCE
TAKE ME ON: "LONG HAIR LOVE CALL"

Friday 27 March, 2015
Duration 60 min, 7:00–8:00 P.M.
With support from fondation d'entreprise Ricard.
Venue : Panorama, within the exhibition MOUCHARABIEH.
Friche la belle de Mai
41 rue Jobin
13003 Marseille
Free entrance. All exhibition open and free until 10:00 P.M.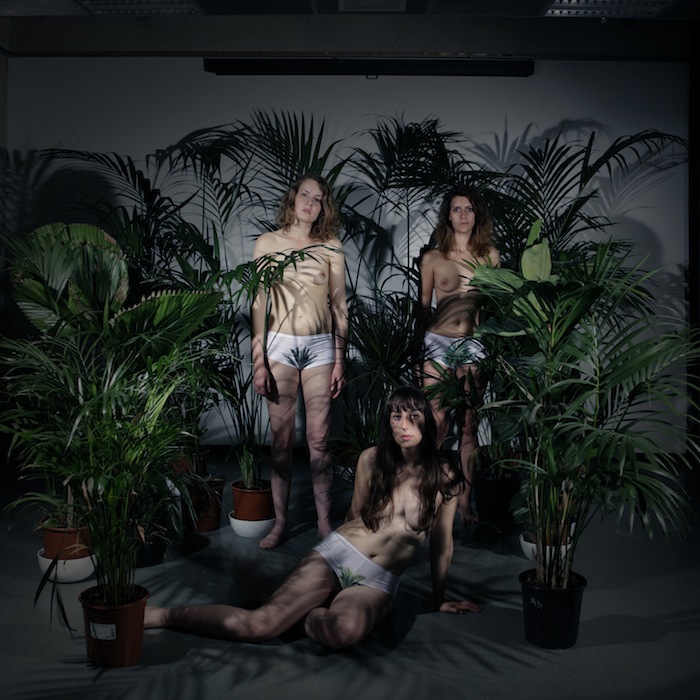 Artificial Paradise, 2014. ©TMO
As part of the program of exhibitions and events celebrating Triangle France's 20th birthday, Clémence Seilles was commissioned to create an ambitious new work which eventually gave its title to the group exhibition MOUCHARABIEH. As a continuation of her logic of collaboration, she invites the collective "Take me On" for the exhibition's late night opening of Friday 27 March. Delivered between a DJ set and sound performance, Long Hair Love Call is a contemporary interpretation of the siren's myth as a post-feminist figure. Female empowerment, seduction and music; this sound collage proposes a narrative as festive as it is compelling.
TMO : Leïla Arenou, Oona Linke and Laure Jaffuel. http://takemeonpodcast.tumblr.com/
This event was created in collaboration with Annee Grøtte Viken and Naïmé Perrette.
This performance is part of "EXPONENTIELLE": late night opening and free entrance each last sunday of the month at La Friche.
More info about the overall program (6:00 P.M.–­01:00 A.M.)
T.+33 4 95 04 95 95
Web site : http://lafriche.org/content/exponentielles-de-mars
_
MARGARET HONDA'S BOOK LAUNCH
IN LOS ANGELES

MARGARET HONDA
WRITINGS
Sunday 8 March, 2015
6:00–8:00 P.M
at Document
3850 Wilshire Boulevard #107
Los Angeles 90010
Parking entrance on Wilshire Boulevard
$1 valet after 6pm (mention "Document")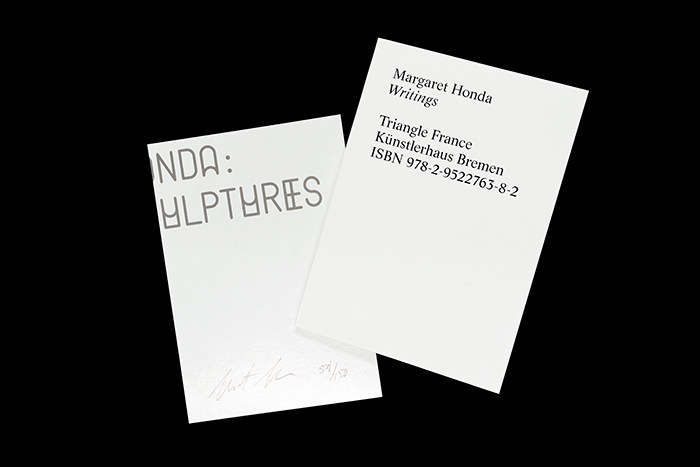 Photo credits: Aurélien Mole.
This joint event happens on the occasion of Margaret Honda's exhibition Sculptures at Triangle France, and her upcoming project at Künstlerhaus Bremen in 2016.
As one of three works of Sculptures, a monographic exhibition by Margret Honda at Triangle France in Marseille, the artist published Writings, a collection of texts about her own work. This limited artist's edition, co-published by Triangle France and Künstlerhaus Bremen, is a complete written record of Margaret Honda's work.
Triangle France and Künstlerhaus Bremen invite you to a special viewing and reading of this book in Los Angeles. Followed by a conversation between Margaret Honda and Tenzing Barshee. On this evening you will be able to purchase this signed and numbered edition at a 10% discount for $90. All the proceeds will go towards the production of a revised second edition of Writings published next year for a wider distribution.
On the occasion of the twentieth anniversary of Triangle France Dorothée Dupuis, Céline Kopp and Sandra Patron invited Tenzing Barshee to curate Sculptures. Writings was edited by Matthew Evans and designed by Dan Solbach. Fanny Gonella invited Margaret Honda to respond to Sculptures with a project at Künstlerhaus Bremen in 2016.
Writings
Publishers: Triangle France, Künstlerhaus Bremen
100 pages
ISBN 978-2-9522763
6.6 x 4.5 inches
Edition of 150 + 15 Artist's proof
More information about the exhibition
_
LECTURE
DOROTHÉE DUPUIS : "MY FEMINISM"

FRIDAY 27 FEBRUARY, 2015. 07:00 P.M.
PANORAMA, FRICHE LA BELLE DE MAI.
Within the exhibition MOUCHARABIEH programmed as part of Triangle France's 20th anniversary and for the 2015 season of Le Cartel, Dorothée Dupuis's lecture will take place at the fictionnal director's desk conceived by Clemence Seilles as part of her commissioned project. The audience will be welcome to lay on Clemence's device which is especially made for comfort! (+coffee+)
The lecture in free access will begin at 7:00 P.M. (duration about 1H). Free access to all exhibitions until 10:00 P.M.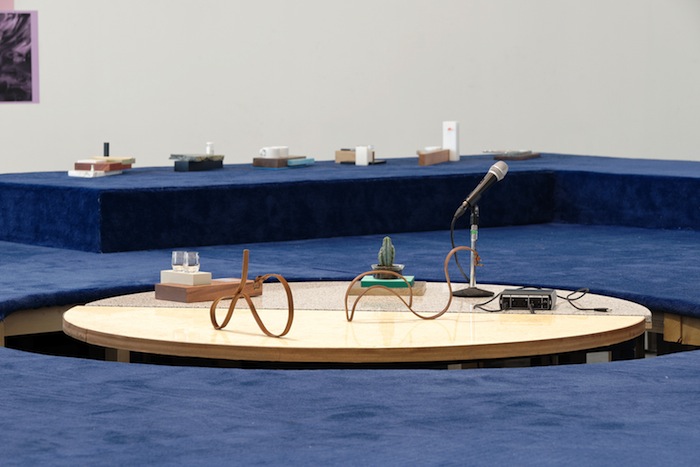 Exhibition view MOUCHARABIEH (from top to bottom : Raymond Boisjoly (cropped), SANKS, Clémence Seilles, Lina Viste Grønli). Photo credits: Aurélien Mole.
Responding to Lili Reynaud Dewar's lecture « Mon épidémie » ( held during the inauguration of Triangle France's 20th anniversary program, where she described her experience of the emergence of AIDS and her position towards the fear of contamination that was symptomatic of the 1990s), curator Dorothée Dupuis will reflect on her commitments and the research she initiated while director of Triangle France from 2007 to 2012). She will talk about her experience of confronting and linking feminist theories and visual arts and about her vision of feminism as a committed way of thinking towards an active and inclusive exercise of our responsibilities as citizens and subjects. A vision that is impossible to separate from an understanding of the politics of power and their unequal distribution.
Questions will be asked such as : "What do we mean by Feminism? Where does it come from? How is it still useful today? What does it mean to be a feminist visual artist? How can we articulate a multicultural vision of Feminism? What is essentialist or constructivist Feminism?". Potential answers and discussion will consider projects and exhibitions such as « Les Formes Féminines » (Triangle France 2009); « Kathy Acker : The Office / Rulin' n' Freakin' » (Triangle France 2011); the magazine Petunia, as well as references linked with visual arts in general, pop culture, history, theory and geopolitics.
The lecture will be followed by a Q&A session.
Dorothée Dupuis (b.1980, Paris) is a curator, author and publisher based between France and Mexico City. Trained at the Centre Pompidou, Co founder of Le Commissariat in 2006 in Paris, she was the Director of Triangle France in Marseille from 2007 until 2012. A dedicated feminist, she is Co-director of Petunia magazine. Her curatorial and writing practice seeks to question, expose, and challenge existing power structures within the visual arts. Recent projects include: Dewar & Gicquel (Prix Marcel Duchamp 2012) at the Centre Pompidou (2013); Pro-choice at Kunsthalle Freiburg, Switzerland, curated with Petunia (2013); Momentum? May be it's time… also with Petunia at PSM Gallery in Berlin (2014); Matthieu Laurette at Parallel, Oaxaca; Renaud Jerez at Lodos, Mexico City (2014). In 2014, she was curator-in-residence at Fahrenheit by Flax in Los Angeles and at Capacete in Rio de Janeiro. She was also guest curator at Les Ateliers des Arques in the Lot region in France. Since 2013, she is the editor of Terremoto, an online quarterly magazine about contemporary art in the Americas. Her writings have appeared in numerous exhibition catalogues as well as art publications such as Spike, Metropolis M, Mousse, Kaleidoscope, ArtReview, Flash Art, among others.
* Philosopher and researcher Géraldine Gourbe, whose presence for this event was announced, will unfortunately not be able to join us. She however participated in conversations that led to this program whose content has not been modified.